Aircraft engine is a highly complex machine. Manufacturers of these engines have to ensure that they are able to operate at very high altitudes and at very high speeds in different temperatures.
The GTF engine, with its geared fan technology, incorporates advances in aerodynamics, lightweight materials and other major improvements
The turbofan engine market is dominated by a handful of, mostly western, players. In an increasingly globally-linked world, aircraft engines are an important component for transport applications, including commercial, military, business, and general aviation. Many large companies have large portfolios of engines for different uses. As per Global Commercial Aircraft Turbofan Engines Market Report 2022-2041, the top four engine manufacturers were GE Aviation, Pratt & Whitney, Rolls-Royce, & Safran (CFM International). GE and Safran of France have a joint venture, called CFM International. Pratt & Whitney also have a joint venture, International Aero Engines with Japanese Aeroengine Corporation and MTU Aero Engines of Germany. Pratt & Whitney and General Electric have a joint venture, Engine Alliance selling a range of engines for aircraft such as the Airbus 380. There are others like Honeywell Aerospace and Russian and Chinese companies into aircraft engine manufacturing. Most engine manufacturers make engines for both civil and military aircraft. Business of most companies was badly affected by the Covid pandemic, but is expected to reach pre-Covid levels in 2023. As per the report released by global business data platform "Statista" in May 2021, CFM International had 39 per cent market share of the commercial aircraft engines in 2020; Pratt & Whitney (35 per cent); GE Aviation (14 per cent); and Rolls-Royce (12 per cent). It is interesting to look at the product range and size of some of the top engine manufacturers.
PRATT & WHITNEY
Pratt & Whitney is now a subsidiary of Raytheon Technologies, and its aircraft engines are widely used in both civil and military aviation. Interestingly it has many joint ventures with the leading engine manufacturers. They have more than 13,000 large commercial engines installed. The GTF engine, with its revolutionary geared fan technology, powers the Airbus A220, the Airbus A320neo family and Embraer E190-E2. The Mitsubishi Regional Jet (MRJ) and Irkut MC-21 are currently undergoing flight testing. The GTF engine also incorporates advances in aerodynamics, lightweight materials and other major technology improvements.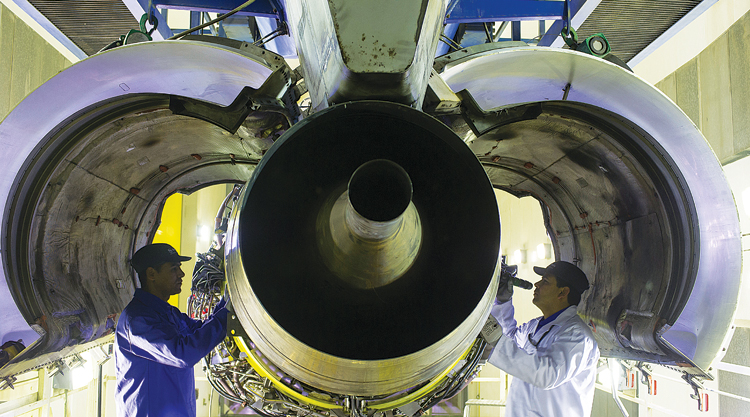 CFM56-7B Engine: More than 35,000 CFM Engines have been delivered to more than 600 operators around the globe
The JT9D has the distinction of being chosen by Boeing to power the original Boeing 747 "Jumbo jet". The PW4000 series is the successor to the JT9D, and powers some Airbus A310, Airbus A300, Boeing 747, Boeing 767, Boeing 777, Airbus A330 and MD-11 aircraft. The PW4000 is certified for 180-minute Extended Twin Operations (ETOPS) when used in twinjets. PW4000 has three variants with 94-inch (2.4 m) fan diameter, 100 inch (2.5 m) fan engine developed specifically for the Airbus A330 twinjet, and the 112-inch (2.8 m) designed to power Boeing 777.
GENERAL ELECTRIC AVIATION
GE was formed through the 1892. Today GE's primary business divisions are Additive, Aviation, Capital, Digital, Healthcare, Power, Renewable Energy and Global Research. On November 9, 2021, the company announced it would divide into three public companies. The new companies will be focused on aviation, healthcare, and energy respectively. The GE engines include the CF6 on the Boeing 767, Boeing 747, and Airbus A330. The GE90 is only on Boeing 777. The GenX was developed for the Boeing 747-8 and Boeing 787 Dreamliner, and proposed for the Airbus A350. The GE9X currently holds the title for the most powerful engine in the world. The engine is derived from the General Electric GE90 with a larger fan, advanced materials like ceramic matrix composites (CMCs), and higher bypass and compression ratios, it was designed to improve fuel efficiency by 10 per cent compared to the GE90. It powered the 777-9's maiden flight in early 2020. It received its Federal Aviation Administration (FAA) type certificate on September 25, 2020. The engine will feature on the upcoming 777X and has already flown a number of test flights.
ROLLS-ROYCE
Rolls-Royce Holdings plc is a British multinational engineering company incorporated in February 2011 that owns Rolls-Royce, a business established in 1904. The company is most known for the RB211 (high-bypass turbofans) and Trent series. Rolls-Royce Trent 970s were the first engines to power the new Airbus A380. In 2015 Rolls-Royce received its largest order to date worth £6.1 billion ($9.2 billion) to supply engines for 50 Emirates A380 planes. Rolls-Royce powers more than 35 types of commercial aircraft and has over 13,000 engines in service around the world. Rolls-Royce engines range from M250 to the Trent 900. The Trent engine family are now in service on the Airbus A330, A340, A350, and A380, as well as the Boeing 777 and 787 Dreamliner. In November 2022, Rolls-Royce announced that they had successfully tested a hydrogen-powered jet engine. In December 2022, Rolls-Royce claims to have finished building the first demonstrator for its massive UltraFan engine, which will eventually hit the skies in airliners to be developed in the 2030s, with expectations of a 25 per cent leap in efficiency.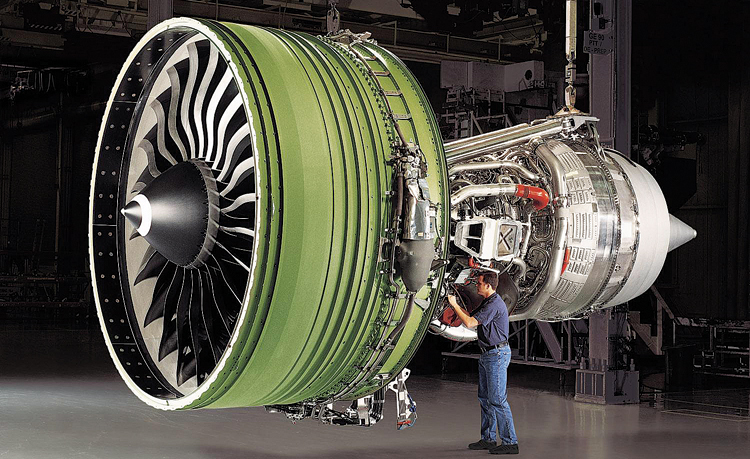 GE90-115B Engine: The GE Engines include the CF6 on the Boeing 767, Boeing 747, and Airbus A330
CFM INTERNATIONAL
CFM International is a 50:50 joint venture between GE Aviation and Safran (earlier Snecma) Aircraft Engines. It was formed to build and support the CFM56 series of turbofan engines. The company is the world's leading supplier of commercial aircraft engines, delivering to date more than 37,500 of its engines to more than 570 operators. The CFM56 is derived from the two parent companies' commercial engine designations, GE's CF6 and Snecma's M56. The LEAP (Leading Edge Aviation Propulsion) is a high-bypass turbofan successor of CFM56. The fan has flexible blades manufactured by a resin transfer molding process, which are designed to untwist as the fans rotational speed increases. They deliver a 15 per cent improvement in fuel consumption, compared to latest CFM56 models, and maintains the same level of dispatch reliability and life-cycle maintenance costs. Over 2,500 LEAP engine variants are flying on Airbus A320neo, Boeing 737 MAX, and COMAC C919. The company claims over 14,000 orders.
CFM RISE PROGRAM
GE Aviation and Safran's CFM RISE (Revolutionary Innovation for Sustainable Engines) bring in bold technology targeting more than 20 per cent lower fuel consumption and CO2 emissions compared to today's engines. The programme will demonstrate and mature a range of new, disruptive technologies for future engines that could enter service by the mid-2030s. It will reinvent the future of flight that will take the next generation of single-aisle aircraft to a new level of fuel efficiency and reduced emissions. The two have extended their partnership to the year 2050, with an intent to lead the way for more sustainable aviation and to half CO2 emissions by 2050. Their LEAP engine launched in 2008 already reduces emissions by 15 per cent compared to previous generation engines. The technologies from the RISE Program will serve as the foundation for the next-generation CFM engine that could be available by the mid-2030s. It will bring 100 per cent compatibility with alternative energy sources such as Sustainable Aviation Fuels and hydrogen. The state-of-the-art propulsive efficiency for the engine, including developing an open fan architecture. The programme will also use the hybrid electric capability to optimise engine efficiency while enabling the electrification of many aircraft systems. More than 35,000 CFM engines have been delivered to more than 600 operators around the globe, accumulating more than one billion flight hours.
ADAPTIVE CYCLE ENGINE (ACE)
The Adaptive Cycle Engine (ACE), unlike traditional engines with fixed airflow, is a variable cycle engine that will automatically alternate between a high-thrust mode for maximum power and a high-efficiency mode for optimum fuel savings. ACE is designed to increase aircraft thrust by up to 20 per cent, improve fuel consumption by 25 per cent, and extend the range by over 30 per cent. The ADaptive Versatile ENgine Technology (ADVENT) programme is an aircraft engine development programme with the goal of developing an efficient adaptive cycle or variable cycle, engine for next-generation aircraft. Rolls-Royce, GE Aviation, and Pratt and Whitney are major participants in the programme.
ENGINE ALLIANCE
Engine Alliance is a 50:50 joint venture between GE and Pratt & Whitney. Their GP7200 engine was originally intended to power, the later cancelled, Boeing 747-500X/-600X. It was later re-optimised for use on the Airbus A380 superjumbo. In that market it is competing with the Rolls- Royce Trent 900, the launch engine for the aircraft. The engine powers an estimated 60 per cent of Airbus A380. The two variants are the GP7270 and the GP7277.
INTERNATIONAL AERO ENGINES
International Aero Engines is a joint-venture between Pratt & Whitney, MTU Aero Engines, and Japanese Aero Engine Corporation. The collaboration produced the V2500, the second most successful commercial jet engine programme in production today in terms of volume, and the third most successful commercial jet engine programme in aviation history. The V2500 is a two-shaft high-bypass turbofan engine which powers the Airbus A320 family, the McDonnell Douglas MD-90, and the Embraer KC-390. In July 2021 Pratt & Whitney announced that the V2500 engines currently powering more than 3,000 aircraft with over 200 customers.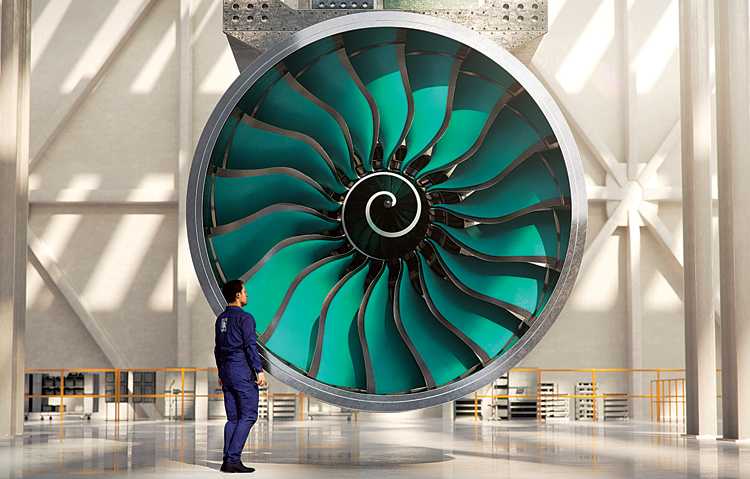 Rolls-Royce UltraFan with 140 inch Carbon Titanium fan set diameter
HONEYWELL AEROSPACE
Honeywell Aerospace is a major manufacturer of aircraft engines and avionics and a producer of auxiliary power units (APU) among other aviation products. It is a division of the Honeywell International conglomerate. The Honeywell HTF7000 series is used in the Bombardier Challenger 300 and the Gulfstream G280. The ALF502 and LF507 turbofans are produced by a partnership between Honeywell and China's state-owned Industrial Development Corporation. The partnership is called the International Turbine Engine Co.
WILLIAMS INTERNATIONAL
Williams International is a US based manufacturer of small gas turbine engines. They produce jet engines for small jet-powered aircraft in the range between 1,000 and 3,600 pounds of thrust. The engines are used as original equipment on the Cessna Citation Jet CJ1 to CJ4, Cessna Mustang, Beechcraft 400XPR and Premier 1A and there are several development programmes with other manufacturers. This range is also very popular with the re-engine market being used by Sierra Jet and Nextant to breathe new life into aging platforms.
ELECTRIC PROPULSION
There are challenges and opportunities for more-electric aircraft of the Boeing 787 or Airbus A350 class. Hydraulic and pneumatic systems such as those for actuation or air conditioning are already being replaced by electrical systems to save weight and improve reliability. Each 787 can produce around 1,000kVA for on-board systems, markedly more than previous-generation models. On-board power storage has also grown significantly. Boeing will initially develop an electrically powered ten-seater aircraft and an electrically powered 180-seat short-haul aircraft is expected by 2027. Research is on plasma jet engines that will use electricity to generate electromagnetic fields instead of fuel by compressing and exciting argon gas into a plasma similar to that inside a fusion reactor. By 2030, hybrid-electric architectures may be ready for 100-seater airliners.
TO SUMMARISE
As of June 2022, the total worldwide commercial aircraft fleet size was 28,674 aircraft (23,513 active and 5,161 grounded). Airbus forecasts a demand for 39,490 new passenger and freighter aircraft over the next 20 years, of which 31,620 typically Single Aisle and 7,870 typically widebody. There are very few major aircraft engine manufacturers who dominate the industry. Aircraft engine is a complex machine that is expected to operate very efficiently from sea level to very high altitudes; with some aircraft flying even at supersonic speeds. Its components have to with stand high rotation speeds and very high or low temperatures. With many single and twin engine aircraft, the engine reliabilities have to be very high.
Aircraft manufacturers and airlines are working closely to reduce emissions and fuel consumption through increasing fuel efficiency using new technologies, designs, and materials, improving engines, enhancing aerodynamics, and using lighter materials. The engines have to be very fuel efficient for better range and endurance and to give greater distance per passenger for fuel expended. High thrust-by-engine weight is a very important engine criteria. As per the Federal Aviation Administration (FAA) on an average turbine engines have a failure rate of one per 3,75,000 flight hours, compared to one every 3,200 flight hours for aircraft piston engines.
Despite years of investment in R&D, China continues to struggle in its engine development. India's fledgling attempt at the Kaveri engine has yet to succeed. As can be seen many major manufacturers have formed joint ventures to access both technology and markets. That perhaps is the best route to follow for India too. In the meantime it would be a good idea to get into the MRO market, by setting up maintenance, repair and overhaul facilities for existing major engine manufacturers.