With more than 13,000 large commercial engines installed, Pratt & Whitney provides dependable power to hundreds of airlines and operators every day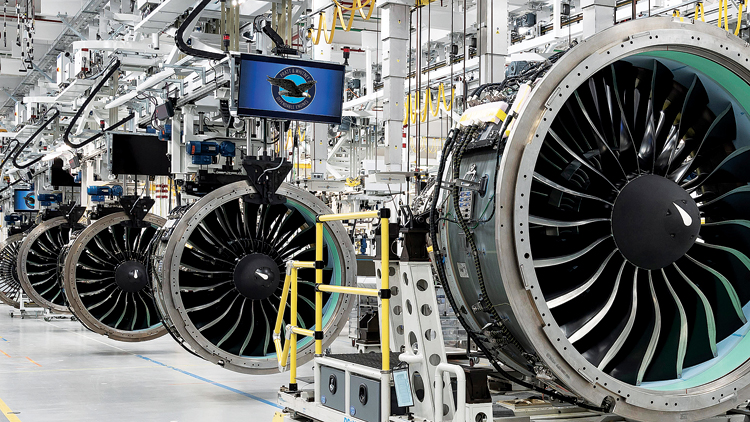 The GTF engine variants are fitted on the Airbus A220 & A320neo family, Embraer E190-E2, Mitsubishi Regional Jet (MRJ) and Irkut MC-21
Pratt & Whitney is a subsidiary of Raytheon Technologies and has joint ventures with the leading engine manufacturers. Today, it has more than 13,000 large commercial engines installed on various airlines. The revolutionary GTF engine variants with geared fan technology, advanced aerodynamics, lightweight materials and other technology innovations are fitted on the Airbus A220 & A320neo family, Embraer E190-E2, Mitsubishi Regional Jet (MRJ) and Irkut MC-21. It also has dominated the regional turboprop market with the PW100-series engines powering all ATR models, every derivative of the Dash 8 and Bombardier Q400. P&W PurePower based on PW1000G cores and the P&WC PurePower PW800 engines are also powering the Gulfstream G500 and G600, and Dassault Falcon 6X.
Engine Alliance a 50:50 joint venture between GE and Pratt & Whitney developed the two variants GP7270 and GP7277. The GP7200 engine was originally meant to power the Boeing 747-500X/-600X which was later cancelled. It was thereafter reoptimised for the Airbus A380 superjumbo. The Pratt & Whitney JT9D had the distinction of being chosen by Boeing to power the original Boeing 747 "Jumbo jet". The PW4000 series is the successor to the JT9D and powers some Airbus A310, Airbus A300, Boeing 747, Boeing 767, Boeing 777, Airbus A330 and MD-11 aircraft. PW4000 has three variants with 94-inch (2.4m) fan diameter, 100-inch (2.5m) fan engine developed specifically for the Airbus A330 twinjet and the 112-inch (2.8m) designed to power the Boeing 777.
The older rugged Pratt & Whitney PT6A numbering around 50,000 engines produced in 72 certified models remain a stalwart at the smaller end of regional operations. The modern PT6A-65SC is fitted on the Cessna's SkyCourier a twin-engine utility aircraft. This version has crucial high-power takeoff and climb with 6,000-hour time interval between overhaul.
The P&W GTF engine success story is the introduction of a gearbox between the forward fan and the rear turbine blades enabling them to operate at different RPMs. The fans at the front operate at low speeds but magnifies the torque by three times for the turbine to spin on. The differential RPM between the fan and the turbine enables a higher air bypass ratio of the cool air entering the engine to enhance its efficiency considerably. The use of advanced materials, hybrid electric configurations of various components has resulted in better operational efficiency of the GTF engines. These features have translated into lowering of fuel burn, reduction of carbon emissions and noise. Pratt & Whitney's successful use of a hundred per cent Sustainable Aviation Fuel reduces its carbon footprints by up to 20 per cent and noise footprint by about 75 per cent, as also achieve emissions up to 50 per cent of the Regulatory Standards set by the Committee on Aviation Environmental Protection (CAEP).
P&W FAMILY OF ENGINES
The V2500 engine is designed and manufactured by International Aero Engines (IAE), a global partnership of aerospace leaders including Pratt & Whitney, Japanese Aero Engine Corporation and MTU Aero Engines. The V2500 engine remains the quietest, most fuel-efficient engine for the Airbus A320ceo family, with the lowest emissions and greatest advantage in aircraft payload and range. The V2500 engine powers the first A321 passenger-to-cargo conversion, offers a significant payload-range advantage, and is the only engine on the A321ceo to meet Chapter 4 noise standards out of the box. The V2500 engine is also backed by 17 established facilities around the world that provide maintenance, repair and overhaul (MRO) services. This includes nine IAE party company facilities.
The GP7200 is derived from two of the most successful wide body engine programmes in aviation history the PW4000 and GE90 families. The Engine Alliance, was established in 1996 to develop, manufacture, sell and support a family of advanced technology engines for new high-capacity, long-range aircraft. The result is the GP7200, a twin spool axial flow turbofan that delivers 70,000 pounds of thrust for the Airbus A380. The GP7200 entered service in 2008 with the world's largest A380 fleet, Emirates. The first GP7200-powered A380 was delivered to Air France in 2009.
The PW4000 112-inch engine is the reliability, experience and Extended-range Twin-engine Operations leader for the 777 aircraft
The PW4000 94-inch fan engine is the first model in the PW4000 family of high-thrust engines. It covers a range of 52,000 to 62,000 pounds of thrust. It is approved for 180-minute Extended-range Twin-engine Operations (ETOPS). It incorporated advanced, service-proven technologies, such as single-crystal superalloy materials and its Full-Authority Digital Electronic Control (FADEC) enhancing fuel economy, reliability, excellent performance retention, long on-wing times and low maintenance costs. The PW4000's noise and emissions parameters are lower than levels required for all current and anticipated emissions and noise regulations. For a further reduction in emissions, Pratt & Whitney's TALON (Technology for Advanced Low NOx) combustor technology is now available for the PW4000. Derived from the 112-inch fan model, TALON has segmented, replaceable liner panels for easy maintainability and air blast fuel nozzles for excellent fuel atomisation and mixing resulting in clearer burning and low emissions. Since entering service in 1987, Pratt & Whitney has delivered more than 2,500 PW4000-94'' engines that have collectively logged more than 150 million flight hours on commercial aircraft around the world.
Developed specifically for the Airbus A330 twinjet and introduced in 1994, the PW4000 100-inch fan engine has thrust capability from 64,500 to 70,000 pounds at take-off. The engine was the first in aviation history to qualify for Extended-range Twin-engine Operations (ETOPS) prior to entering service. It is now approved for 180-minute ETOPS. Pratt & Whitney has taken its successful PW4000 100-inch engine for the Airbus A330 to new heights with the introduction of the PW4170 Advantage70 programme. The Advantage70 is offered as a new engine and as an upgrade kit for existing engines. Advantage70 technology delivers superior engine performance, including a two per cent thrust increase, more than one per cent reduction in fuel consumption, increased durability, and reduced maintenance costs.
The PW4000 112-inch engine, an ultra-high-thrust model covering the 74,000 to 90,000 pound-thrust class, is a reliable engine and Extended-range Twin-engine Operations (ETOPS) leader for the 777 aircraft. The engine's advanced, service-proven technologies including single-crystal super alloy materials, powdered metal disks, and Full-Authority Digital Electronic Control (FADEC), provide excellent operational performance and durability. These features contribute to the engine's excellent environmental performance, which meets with margin all current noise and emissions regulations. The PW4000 112-inch engine retains the outstanding accessibility and component modularity of other PW4000 family members to reduce maintenance time and cost. For transportability, the engine can be shipped in a 747F aircraft as a complete engine. Also, the fan case is easily separated from the engine's core for split shipment without disturbing the bearing compartments.
The PW2000 engine covers the mid-thrust range from 37,000 pounds to 43,000 pounds. The PW2000 powers all models of the twin-engine Boeing 757. It entered service in 1984 as the first commercial engine with FADEC (Full-Authority Digital Electronic Control) technology. Pratt & Whitney introduced an improved version of the PW2000, the Reduced Temperature Configuration (RTC) in 1994. This enhanced model offers improved reliability and durability for long on-wing times and reduced total maintenance cost, along with excellent environmental performance. The PW2000 is approved for 180-minute Extended-range Twin-engine Operations (ETOPS) and meets all current and proposed noise and missions regulations worldwide.
The PW6000 engine covers the 18,000- to 24,000-pound thrust class and is targeted for 100-passenger aircraft. The PW6000 is currently offered on the Airbus A318, which is part of the successful A320 aircraft family. The PW6000 builds on proven technology from other Pratt & Whitney advanced engine programmes to deliver the lowest cost of ownership for 100-passenger aircraft operators. Pratt & Whitney has incorporated technological advances in the PW6000 that enable a reduction in parts count for lower acquisition cost as well as a reduced maintenance cost. The PW6000 meets all current and anticipated noise and environmental regulations. PW6000 has been specifically designed for high-cycle operation in the demanding short-haul aircraft market.
The GP7200 is a twin spool axial flow turbofan that delivers 70,000 pounds of thrust for the Airbus A380
Pratt & Whitney introduced the JT8D to commercial aviation in 1964 with the inaugural flight of Boeing's 727-100 aircraft. Once deemed the workhorse of the industry, today, there are 2,400 engines still in use. The eight models that make up the JT8D family cover a thrust range from 14,000 to 17,000 pounds. The JT8D-200 series, which entered service in 1980, offers 18,500 to 21,700 pounds of thrust, and is the exclusive power for the popular MD-80 series aircraft. Pratt & Whitney has developed a new low-emissions combustion system, or E-Kit, that is FAR 25-certified to ensure the JT8D-200 engine stays current with environmental regulations. The E-Kit reduces JT8D-200 engine NOx emissions by 25 per cent and exceeds all ICAO standards for new production engines.
Pratt & Whitney's JT9D engine is the high-bypass-ratio engine to power wide-bodied aircraft. Since entering service on the Boeing 747 aircraft in 1970, the JT9D engine has proven itself to be the workhorse for early 747, 767, A300, A310 and DC-10 aircraft models. The JT9D engine family consists of three distinct series. The JT9D-7 engine covers the 46,300- to 50,000-poundthrust range, and the JT9D-7Q series has a 53,000 pound thrust rating. Later models, the -7R4 series, cover the 48,000- to 56,000-pound-thrust range. For JT9D-7R4 twinjet installations, the engines are approved for 180-minute ETOPS (Extendedrange Twin-engine Operations). Pratt & Whitney continues to invest in and support the JT9D engines. Reduced Cost of Ownership Kits for the JT9D engine are available to improve durability, increase thrust and reduce noise. With Pratt & Whitney's commitment to the JT9D programme these engines will continue to serve commercial aviation.
The PW100/PW150 engine family is the benchmark for low fuel consumption on routes of 350 miles or less. That means they consume 25 per cent to 40 per cent less fuel and produce up to 50 per cent fewer CO2 emissions than similar-sized regional jets. These engines are also biofuel compatible.
The PW100 is a three-shaft, two-spool engine with low pressure and high pressure compressors that are powered independently by cooled turbine stages. A third shaft combines the power turbine to the propeller through a reduction gearbox, optimised to establish the best combination of engine and propeller efficiencies. While the PW150 engine is a two-spool engine with fourstage centrifugal compressors, 3-stage axial, single centrifugal with all rotors integrally bladed. With reverse flow combustor, the PW150 models have advanced, effusion cooling, high efficiency and durability, and offer low emissions as well as low noise. With FADEC (Full Authority Digital Engine Control), these also provide dual channel redundancy, ease of operation, and reduced workload. The PW150 is a growth version of the PW100-series turboprop, with a thermodynamic rating of 4,800- 5,600kW (6,500-7,500shp). The variants of PW100 include PW115, PW118, PW119, PW120, PW121, PW123, PW124, PW125, PW126, PW127 and of course the PW150. Each of these further have their own variants as well.
In the turboprop segment that accounts for just about five per cent of the global commercial fleet P&WC is estimated to hold more than 80 per cent of the market and the most of which would be related to the PW100 engine on the ATR42 and 72. With no new entrants expected in the turboprop segment, the OEM's market dominance can be expected to further grow over the next decade and stand at around 92 per cent by 2029.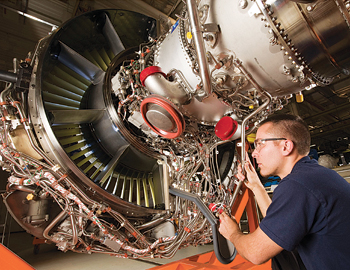 The V2500 engine boasts of being the quietest, most fuel-efficient engine for the Airbus A320ceo family
The eFAST and FAST (Full-flight data Acquisition, Storage and Transmission) solution ecosystem allow operators access to full-flight engine data, which is transmitted by cellular or Wi-Fi connection once the aircraft lands. This enhances engine and aircraft 'connectivity' through its ability to provide situational awareness about engine health, usage and trends. This facility is available across several aircraft applications in business and general aviation, and on regional types powered by the PW100 and PW150 series turboprops. eFAST capability is also built into GTF engines built for the Airbus A220 and has received a supplemental type certificate (STC) for the V2500-powered Airbus A321.
INDIA CANVAS
P&W is well represented in India, where the short-haul market is dominated by the ATR 72 and Bombardier Q400, respectively powered by PW127M and PW150A engines. The country's P&W fleet stands at around 1,400 engines and auxiliary power units, including regional turboprops for airlines such as Alliance Air, IndiGo, Jet Airways, SpiceJet and TruJet. From powering India's legendary DC-3 Parshuram aircraft post-independence, to the 1960s with Air India's first Boeing 707 powered by P&W's JT3D engine –Indian airlines today fly more than 180 A320neos powered by the GTF family of engines, and PW100/150 family for India's regional aviation growth under UDAN. India's ATR and Dash-8 turboprop aircraft, mainstays for regional aviation, run on Pratt & Whitney engines. Pratt & Whitney has been a key propulsion partner for the NAL-SARAS MKI with the PT6A turboprop engine. The latest acquisition of the C295 transport aircraft is also powered by the PW127G engines. A Customer Training Center (CTC) in Hyderabad provides specialised training on P&W's engines to customers from over 20 nationalities. A world-class India Capabilities Center (ICC) has been established focused on its global supply chain operations and India Engineering Center (IEC) in Bengaluru, which has commenced its operations in January 2023. Pratt & Whitney also has an R&D presence through the Center of Excellence (COE) at the Indian Institute of Science (IISc), Bengaluru.
FUTURE TRAJECTORY
Pratt & Whitney's answer to the Innovation for Sustainable Engines is an MTU Aero Engines partnered, EU-funded Sustainable Water-Injecting Turbofan Comprising Hybrid-Electric (Switch) programme. Airbus is a partner in this. A water-enhanced turbofan (WET) engine adds a condenser to collect water from the GTF exhaust gas and a heat exchanger to vaporize that water into steam. The steam is then injected into the combustor, improving fuel efficiency. The temperature profile eliminates most of the hot spots where NOx forms, and most particles are washed out instead of forming nuclei in the contrail process. The large heat exchanger, however, has an undesirable effect on transient regimes, making the engine less responsive. That is what the hybrid-electric architecture can counteract. WET technology is relevant for the improvement it brings in the cruise phase's climate impact, while hybrid-electric is for better local air quality at airports. Phase 1 of the programme, in 2023-25, is fully funded and is planned to include various assessments. A hybrid-electric GTF engine is set to be tested on the ground, and WET technology to be evaluated at the component and subsystem levels in a laboratory. In addition, aircraft integration is set to be studied which will likely impact on the architecture.
A higher bypass ratio with a larger fan diameter, more advanced turbine technologies, new materials and leading-edge manufacturing techniques are also being developed by Pratt & Whitney. In the longer term, opportunity lies with the electrification of flight, with Pratt & Whitney and Collins Aerospace collaborating on technologies. This collaborative effort will allow Pratt & Whitney to continue developing technologies around hybridelectric and hydrogen-powered propulsion systems that will likely play a role in future generations of aircraft design, making a massive impact on the aviation industry – much like the GTF.
Pratt & Whitney innovations in powerplant design continue to set the pace for progress in aviation. Their technologies have made aviation ever-more sustainable, changed the boundaries of time and shortened the distance between people and places.