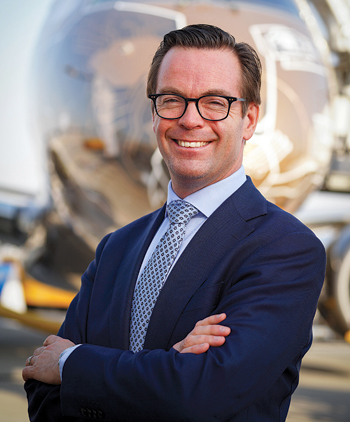 Arjan Meijer, President & CEO of Embraer Commercial Aviation
Jayant Baranwal (Baranwal): Can you take us through the journey of Embraer Commercial since its inception and its evolution?
Arjan Meijer (Meijer): Embraer is the market leader in commercial jets up to 150 seats, and it is also a significant player in Executive Aviation, Defence & Security, and Agricultural Aviation. Founded in 1969, Embraer's first aircraft was the Bandeirante, a turboprop plane designed for both civilian and military purposes, with the capacity to transport between 15 and 21 passengers. From the APAC perspective, the first Bandeirante, and by extension Embraer's first aircraft in the region arrived in 1978 and was operated by an Australian airline.
Looking from a commercial aviation perspective, following the Bandeirante, the ERJ family of jets entered into service in 1997 and was crucial in developing regional connectivity especially in North America and other parts of the world, including Europe and South America.
The first generation E-Jets programme was launched in 1999 and amplified our global operator footprint. Leveraging on the experience of the first-generation E-Jets through its 20 million hours of service accrued by 2013, Embraer launched the next generation E-Jet E2 family. The first E2 family member, the E190-E2, entered into revenue service in 2018. The E2 family is the quietest and most fuel-efficient single aisle aircraft. [I elaborate further on our global footprint in next question.]
Baranwal: How do you perceive the expansion and evolution of Embraer Commercial?
Meijer: In the last two decades, Embraer has designed, manufactured, certified, and entered into service, 21 different aircraft platforms – a track record of innovation that is unmatched and testament to Embraer's engineering excellence and commitment to developing aircraft that deliver best-in-class reliability, performance and operating costs. We work hand in hand with our customer support team to provide our customers the very best service and support.
Both the first generation E-Jets and the next generation E2 families have collectively enjoyed global success in the fleets of 150 airlines and leasing companies across more than 50 countries since the first aircraft entered revenue service in 2004. The 1,700th production aircraft was delivered at the end of September 2022.
As of the third quarter of 2022, the total number of E-Jet orders was in excess of 1,900 from more than 100 customers. The E-Jets' enduring versatility is validated by the 80 airlines currently operating the type, including low-cost, regional, and mainline carriers, and its presence on every continent. Operators include all the main airlines in the United States, KLM, Lufthansa, Air France, British Airways, Japan Airlines and many more; additionally, the type commands an 80 per cent share of the US regional market with over 600 E-Jets in service.
"Our market studies and discussions with airlines shows strong demand exists globally for an advanced, next generation, turboprop aircraft"
Focusing on India, Star Air, an all-Embraer jet operator, offers daily flights to multiple destinations across the country, most of which are part of the UDAN scheme. The airline currently operates a fleet of five ERJ145s and has recently committed to take two Embraer E175s to add greater flexibility and efficiency to their network.
With a flying time of up to six hours, the E-Jets E2 family of aircraft is designed for domestic and regional operations and is ideally suited to open and develop new routes. The E2's combination of optimised capacity and low seat and trip costs makes it a compelling platform to connect metro to non-metro and non-metro to non-metro cities in India, which will be the primary drivers of growth over the coming years.
Baranwal: Which markets, in which regions, have been the most instrumental and have been contributing most towards the Business objectives of Embraer Commercial?
Meijer: The E-Jets have played an important role in growing regional connectivity especially in the United States and Europe. That said, the E-Jets family has a global footprint that spans all regions in the world. We see Asia Pacific as a key market and, of the forecasted requirement for 10,950 aircraft in the sub-150 seat segment over the next 20 years, close to 26 per cent of the global demand will come from this region.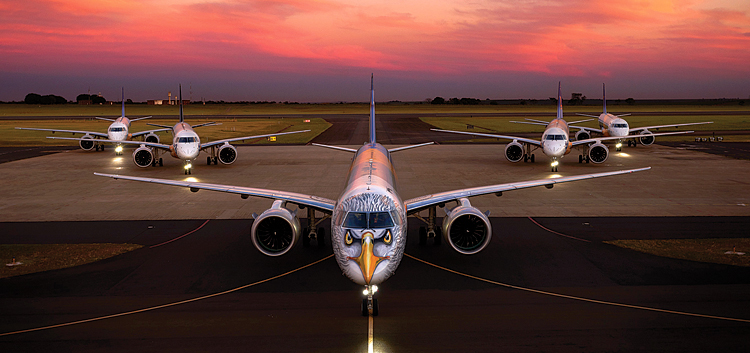 As of the third quarter of 2022, the total number of Embraer's E-Jet orders was in excess of 1,900 from more than 100 customers
Our recent activities this past month across Asia Pacific reflects the importance we place on the region. The E195-E2 painted in the eye-catching TechLion livery was in China, Japan, Vietnam and India as part of a series of demonstrations to both current airline customers as well as prospects. The E195-E2 was also on display at Wings India in 2020 and 2022.
Additionally, the E190-E2 was granted its type certification by the Civil Aviation Administration of China. This is great news for Embraer and our prospective customers in China and it paves the way for significant E190-E2 business opportunities there.
Baranwal: What do you think are the key pillars in the growth of Embraer Commercial?
Meijer: The key relevance of our aircraft, especially the E-Jets family, are their ability to build operational flexibility, match capacity with demand, add frequencies, and enhance connectivity, all the while delivering best in class fuel efficiency resulting in the lowest emissions and operating costs. These attributes specifically benefit those airlines and countries seeking sustainable air connectivity growth and commensurate economic contribution. This is even more important in a post-pandemic world.
Baranwal: We would like to know the key features of your Regional Jets' family in terms of:
a. Their costs' advantage to the airline/operators;
b. Their comfort experience for the passengers;
c. Their operation costs versus the competitions;
d. Their advantages versus the larger airliners;
e. Their role towards the sustainable future.
Meijer: The E-Jets are essential in enabling airlines to quickly adapt their networks to shifting market demand and to launch new destinations without the pressure of filling a 180-seater aircraft.
Efficiency is key for the E-Jets. Our latest E-Jets E2 family offer 25 per cent lower cost per trip than a large new generation narrow-body while maintaining similar cost per seat which means that airlines may operate with a lower cost base, mitigate economic risks and improve competitiveness. This is a significant advantage in an industry known for its thin margins and volatility.
For passengers, the E-Jets are globally acclaimed for offering segment-leading passenger comfort, made possible by its two-bytwo seating configuration with no middle seat thus ensuring all passengers have access to either the window or the aisle.
On the topic of sustainability, Embraer is committed to developing products, solutions, and technologies to contribute to the aviation industry's goal of achieving net zero emissions by 2050. Embraer aims to be carbon neutral by 2040 and achieve carbon neutral growth from 2022. It plans to implement 25 per cent sustainable aviation fuel (SAF) use in its operations by 2040 and 100 per cent renewable energy sources by 2030.
Notably, the E-Jets E2 family already contributes to lower levels of carbon emissions when compared to large narrow-bodies and can reduce carbon emissions by up to 50 per cent when compared to prior generation narrow-body types such as the B737-800 or A320ceo. The E195-E2 had its maiden test flight utilising 100 per cent SAF in June, 2022. The aircraft is already certified to use 50 per cent SAF and Embraer is on its way to certify the usage of 100 per cent SAF for commercial flights, which is key part of our strategy to further reduce emissions levels in the following years.
Baranwal: Has COVID-19 played any role in enabling certain lessons and certain betterments in your aircraft?
Meijer: The unpredictability of travel demand during the pandemic has cast a spotlight on the versatility of small narrow-body types such as the E-Jets as these aircraft allowed airlines to maintain, or strategically grow, their networks while keeping a close eye on operating costs and cash flow.
Small narrow-body aircraft provide airlines the flexibility to deploy capacity on strategically important routes where demand is thin. If or when the situation changes, the airline can then further scale up capacity by increasing flight frequency or by switching to a larger aircraft type in its fleet. A multi-fleet strategy, covering a diverse range of seat segments, provides the flexibility to adjust capacity to match fluctuations in market demand.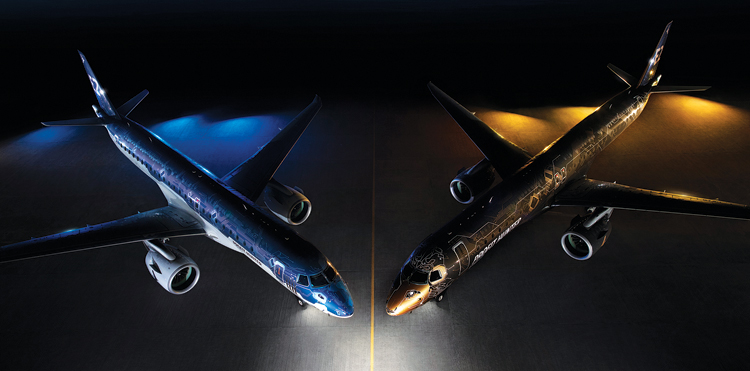 The 'TechLion' E195-E2 was recently on a demonstration tour across select countries in the Asia Pacific region
Even if the reduced demand is temporary and not structural, the airline industry is intrinsically cyclical and its volatility poses a risk; thus, flexibility is key to riding the ups and downs of business cycles.
Even before Covid, our flight data research revealed that 50 per cent of domestic flights in India departed with only 90 to 150 passengers onboard; yet the aircraft most prevalent in India have an average of 180 seats meaning these larger aircraft are routinely operating with many unoccupied seats. This continual imbalance between demand and capacity costs airlines money by eroding yields and, ultimately, profits.
The E195-E2, the largest member of our E2 family with a capacity up to 146 seats, offers a cost per seat that is comparable to the A320 or B737. This unique combination of compelling economics and optimised capacity means the E195-E2 is an ideal and proven aircraft to profitably grow networks.
Currently, we believe there is a market gap where airlines, in order to profitably expand their network, can benefit from optimal capacity coupled with excellent economics and Embraer has the best product to achieve this.
Baranwal: Which one is the largest selling jet out of your complete family of E2s/ERJs? And why?
Meijer: With 817 firm orders and 714 delivered aircraft, the E175 is our best-selling aircraft and amongst the most sold aircraft worldwide. In the United States, the E175 is the market leader in the up to 150-seat jet segment and the aircraft serves a key role in stimulating the regional aviation sector with outstanding economics and performance capabilities. The E175 will soon take to the skies in India. Star Air, an all-Embraer jet operator, has recently committed to take two E175s to bring greater flexibility and efficiency to their network.
The E-Jets E2 family is a brand new product that entered service in 2018. It is the world's quietest and most fuel-efficient single aisle aircraft. As of the end of the third quarter of this years, the E2 family has recorded 247 firm orders and 56 deliveries, this despite the challenges brought on by the COVID-19 pandemic. We look forward to more orders in the coming year.
Baranwal: How does Embraer harness the power of innovation?
Meijer: Embraer as a whole, across all our business units, works in innovation on three fronts: incremental, which seeks the evolution of already consolidated technologies; adjacent, bringing innovation and advancements to existing products; and transformational, creating technologies and markets non-existent as yet, with a potential for exponential growth.
The company believes that innovation is essential to both the competitiveness and the future growth of the business. As a reflection of our commitment to innovation, Embraer created a Board of Directors, reporting daily to the Chief Executive Officer, dedicated solely to the subject, which encompasses all of the company's operations and products. To organise and prioritise its innovation efforts, Embraer created "Innovation Verticals", priority subjects for technology, research, and development. These Verticals integrate and accelerate value generation in the business units, subsidiary companies, and EmbraerX.
Baranwal: Would you like to share some details of your upcoming Turboprops? How different will they be versus the Turboprops you also used to offer to global aviation market early-years?
Meijer: The turboprop market has seen no real progress in almost 25 years. Our market studies and discussions with airlines shows strong demand exists globally for an advanced, next generation, turboprop aircraft. We believe that a turboprop, with low emissions and a vastly improved passenger experience, offers an attractive business case. We continue to assess this opportunity; however, the technology has to be right, and the decision to launch the project will be dependent upon achieving the levels of performance and efficiency improvements that our customers demand.
Baranwal: Can you please elaborate "Profit Hunter" for us? Where does this terminology come from and how would you justify? We are also little keen to know the stories behind your innovative paintings – whether of a tiger or of an eagle or of a shark. Will appreciate some details on this front.
Meijer: The E-Jets E2 family is dubbed the "Profit Hunter" because of its high performance and low fuel burn. By delivering the lowest operating costs, it unlocks the highest profit potential for airlines, all the while offering more cabin comfort to passengers and unmatched environmental credentials – such as having the lowest certified noise levels of any single-aisle jet, full stop.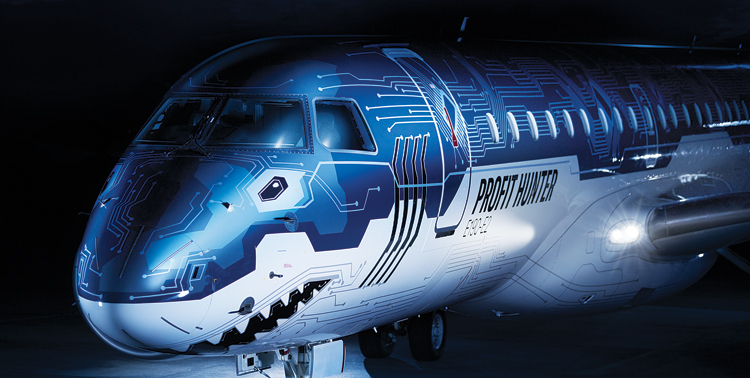 Embraer's demonstrator aircraft have been painted in a variety of eye-catching apex predator liveries which embody the profit-hunting characteristics of the aircraft
Our demonstrator aircraft have been painted in a variety of eye-catching apex predator liveries which embody the profithunting characteristics of the aircraft. Our "TechLion" E195-E2 was recently on a demonstration tour across select countries in the Asia Pacific region, and this same aircraft was displayed at both the 2022 and 2020 editions of Wings India.
Baranwal: Please do share some details of your efforts towards electric aviation.
Meijer: In November 2021, we announced the Energia family of concept aircraft to help the industry achieve its goal of netzero carbon emissions by 2050. In December last year we provided an update on this programme - the company has focused its development on two 19-30 seater designs for hybrid electric and hydrogen electric propulsion. Guided by the company's 50 year technical expertise, external inputs from airlines, and joint studies with engine OEMs, these two approaches to net-zero offer a technically realistic and economically feasible pathway to net-zero.
Energia Hybrid (E19-HE and E30-HE) – revealed as a nine seater in 2021. Embraer is exploring a 19 and a 30 seater variant:
parallel hybrid-electric propulsion
up to 90 per cent CO2 emissions reduction when using SAF
19 and 30 seat variants
rear-mounted engines
technology readiness – early 2030's
Energia H2 Fuel Cell (E19-H2FC and E30-H2FC) – revealed as a 19 seater in 2021. Embraer is exploring a 30 seater variant:
hydrogen electric propulsion
zero CO2 emissions
19 and 30 seat variants
rear-mounted electric engines
technology readiness – 2035
While still at the evaluation phase, the architectures and technologies are being assessed for technical and commercial viability. The Energia Advisory Group has also been launched to harness inputs and collaboration from partner airlines.
Meanwhile, Embraer has already made advances in reducing emissions from its aircraft. In June, we demonstrated that the E-Jets E2 family is capable of operating with 100 per cent SAF. Furthermore, in August 2021, Embraer completed the first flight of its Electric Demonstrator, a 100 per cent electric single-engine EMB-203 Ipanema.
A hydrogen fuel cell demonstrator is planned for 2025 and the eVTOL developed by Eve, our urban air mobility spin-off that is now publicly listed on the NYSE, is a fully electric, zero-emissions vertical take-off and landing vehicle which is being developed to enter service by 2026.