Presenting the Union budget for 2023-24, Union Finance Minister said that fifty additional airports, heliports, water aerodromes and advance landing grounds will be revived for improving regional air connectivity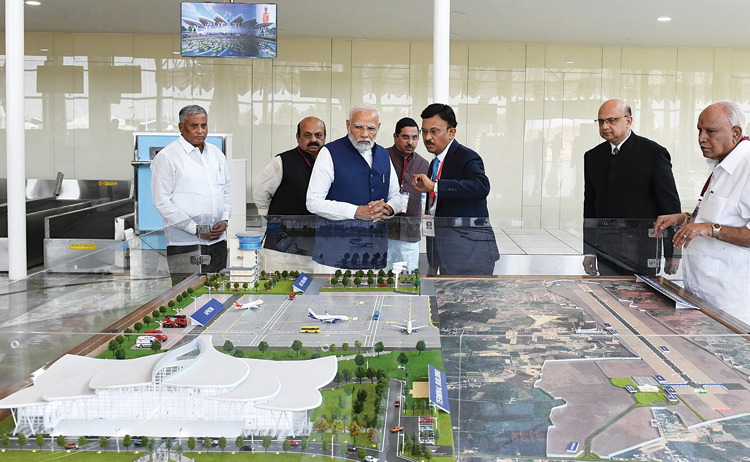 Prime Minister Modi at the inauguration of the Shivamogga Airport, in Karnataka on February 27, 2023
The Government's push to expand regional air connectivity seems to be bringing in encouraging results. Domestic air travel data indicates that on March 1, 2023 a total of 4,32,453 passengers travelled over 3,033 domestic flights, this is 8.5 per cent higher than the pre-Covid average of daily 3,98,579 passengers. Similar trend has been evident for the past four months. Indian aviation sector is at a cusp of unprecedented growth. This can also be gauged by the fact that during the month of January 2023, all Indian operational airports (taken together) handled 2,25,520 aircraft movements, carried 30.52 million passengers and 237.76 thousand tonnes of freight, all this is more than 40 per cent higher than same period last year.
The Regional Connectivity Scheme (RCS) UDAN (Ude Desh ka Aam Nagrik) was launched on October 21, 2016 by the Ministry of Civil Aviation (MoCA). In this regard continuous efforts of the Government have paid rich dividends. Media reports indicates that by February 2, 2023, more than 1,13,00,000 passengers have availed of this scheme over 2,16,000 UDAN flights.
RCS UDAN aims to enhance regional air connectivity from unserved and underserved airports in the country to make air travel affordable to the masses, essentially focusing on connectivity between the Tier-2 and Tier-3 cities of the country. Participating airlines based on their assessment of demand on particular routes, submit their bids under RCS UDAN. It is a market driven scheme, where bidding rounds are conducted from time to time for covering more destinations and routes. The scheme has a validity of ten years by then the Government plans to operationalise 1,000 UDAN routes and prior to that it plans to develop 100 airports by 2024. By first week of February 2023, a total of seven bidding rounds have taken place and 467 UDAN routes covering 73 airports have been operationalised across the country. These also include nine heliports and two water aerodromes.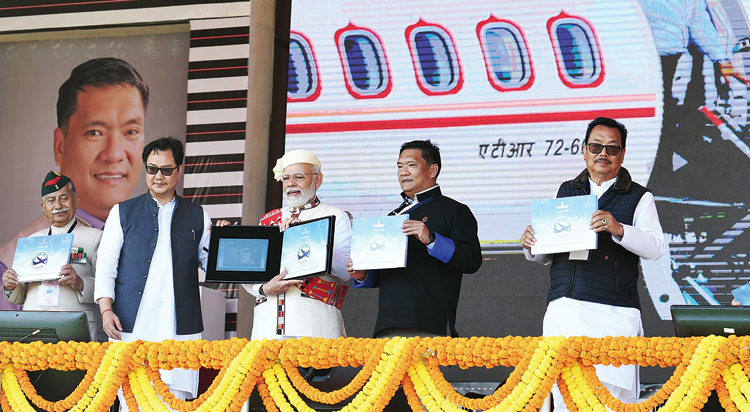 Prime Minister Modi inaugurates Arunachal Pradesh's first greenfield airport, Donyi Polo Airport, in Itanagar on November 19, 2022
Considering the performance of Indian Civil Aviation sector since 2014, despite the setback during the COVID-19 pandemic, the government has continued to repose faith in the potential of RCS UDAN scheme. This is very much evident from continued budgetary support by the government over the past few years.
For FY 2023-24, the MoCA has been allocated a total of 3,113.36 crore including 3,026.70 crore for revenue and 86.66 crore for capital expenditure. Of this, 1,244.07 crore has been earmarked for the RCS UDAN for revival of 25 airports, operationalisation of 100 RCS routes and VGF for north east connectivity.
The government's plan caters for Viability Gap Funding (VGF) requirements of the scheme through a levy on certain domestic flights. The airlines are being provided VGF under the scheme to keep the fares affordable and accessible for the common people. This way, funds generated from the sector themselves stimulate the growth and finance development of the sector. Continued VGF support is demonstration of the government's commitment to PM's vision of 'Ude Desh ka Aam Nagrik'. In last two year itself (FY 2021 and 2022), the government has reimbursed 104.19 crore to the Airport Authority of India (AAI) under the VGF.
RCS UDAN aims to enhance regional air connectivity from unserved and underserved airports in the country to make air travel affordable to the masses, essentially focusing on connectivity between the Tier-2 and Tier-3 cities
The focus of the Government on airport infrastructure development is worth appreciating. The Government has realised the importance of developing various domestic airports to new standards from operational viewpoint as well as to meet the aspirations of travelers. Improvement in airport infrastructure has the potential to bring in major transformation in Indian civil aviation sector. It is also likely to boost tourism and other related industries. International Civil Aviation Organization (ICAO) study shows that the air connectivity would have economic multipliers of 3.1 and employment multiplier of 6.1 times.
With an aim to upgrade infrastructure at airports to enhance their capacity to accept more traffic efficiently, the AAI has so far leased eight airports, viz Delhi, Mumbai, Ahmedabad, Guwahati, Jaipur, Lucknow, Mangalore and Thiruvananthapuram through Public Private Partnership (PPP) for operation, management and development on long term lease basis.
Delhi and Mumbai were leased on Revenue Share Model basis, wherein the private player operate, manage and develop the airports for a period of 30 years, further extendable by another 30 years. So far, AAI has received annual fees of more than 30,000 crore as revenue share from the private partners of these two airports.
The other six airports have been leased on Per Passenger Fee (PPF) basis for a period of 50 years. So far, AAI has received more than 710 crore as PPF.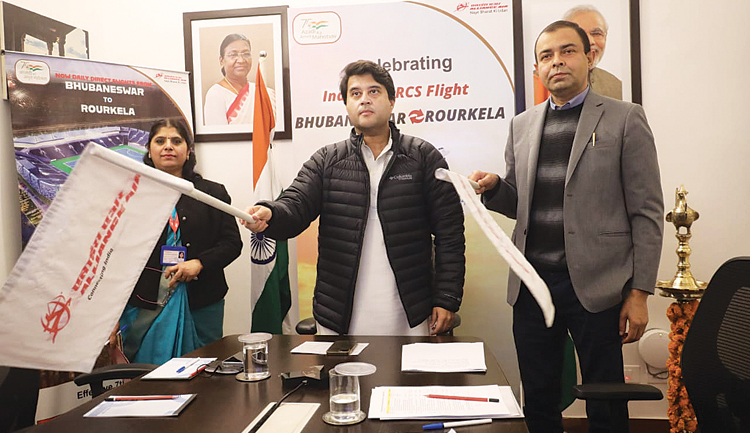 Minister of Civil Aviation Jyotiraditya Scindia inaugurates daily flight between Bhubaneswar and Rourkela
The latest Budget 2023 provides further impetus to modernisation of airports. MoCA has identified another 25 airports for development by private players. This time based on the suggestion of the National Monetisation Plan (NMP) under the Gati Shakti Scheme, the MoCA plans to club bidding of smaller airports with each of the bigger airports and leasing them out as a package. For example, the Varanasi Airport could be clubbed with Kushinagar Airport, similarly, other such combinations are being worked out. The clubbing methodology is expected to attract more private players for the bidding process and also ensure commensurate development of non-profitable airports along with the profitable airports and the bidding will be based on earlier PPF model.
RCS UDAN is a flagship scheme of MoCA. Since its launch, it has significantly increased the regional air connectivity in the country. The scheme has benefitted a diverse set of stakeholders. Passengers have got the benefits of air connectivity and unserved regions have received the direct and indirect benefits of air connectivity for their economic development. At this juncture it is felt that despite various initiatives and concessions being offered by the government, the scheme is yet to realise its full potential. Though 467 routes have been cleared, their utilisation is not really efficient and some may be operating limited number of daily/weekly flights.
There is no doubt that new growth areas in aviation will come from regional spaces and ensuring lastmile connectivity is a key focal area. In this regard the role of state Governments can play a vital role in catalysing the regional air connectivity. The routes are being rationalised and opened based on a joint requirement project being worked out with respective state governments. The success of business model of RCS UDAN depends largely on traffic demand generated by economic activities in the area around as well as tourism opportunities. Its success is largely hinged on cooperation among various stakeholders including MoCA, AAI, state governments, local bodies and airline operators. For example last mile link road connectivity to the airport terminals or civil enclaves once provided by State Governments would substantially enhance the regional connectivity.
The Government is sanguine of the fact that RCS UDAN scheme can stimulate growth of regional air connectivity leading to enhanced rate of economic progress in various regions of the country. Success of RCS UDAN is crucial for India's economic growth, especially when it is aspiring to achieve $5 trillion GDP in near term. Ideas are as good as its implementation. It is a market driven scheme, tourism industry offers phenomenal opportunities for more employment and faster economic growth. Hence it is incumbent upon the Government to make the routes far more lucrative and sustainable in the long run for the airline operators. There is a need to closely coordinate between MoCA and Ministry of Tourism and Culture. In matters of tourist destinations and cultural or religious sites, the State Governments are one of the most vital stake holders, they need to be closely involved.
The RCS UDAN scheme has great potential that needs to be smartly harnessed. In this regard it is important at this juncture to carefully assess the progress of the scheme and undertake a calibrated fine tuning, if required.