Regional Connectivity Scheme (RCS) UDAN has had a positive impact on the economy by providing connectivity across the length and breadth of the country as well as ensuring balanced regional growth resulting in economic growth and employment to local population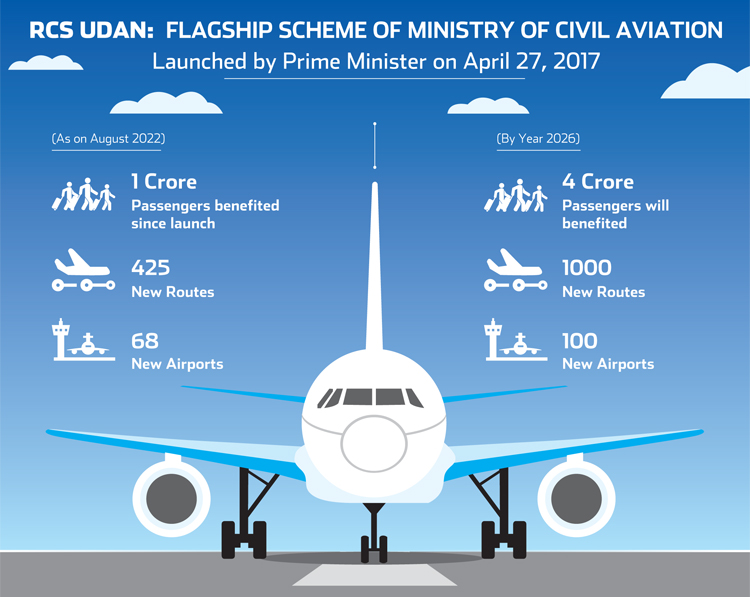 RCS UDAN is a flagship scheme of Ministry of Civil Aviation (MoCA). It is termed as Regional Connectivity Scheme UDAN (Ude Deshka Aam Nagrik). It has completed five years since the launch of it first flight by Prime Minister Modi on April 27, 2017. The scheme was initiated on October 2, 2016 with a noble objective to fulfil the aspirations of the common citizen by following the vision of 'Ude Deshka Aam Nagrik'. It aimed to provide enhanced aviation infrastructure and air connectivity, especially in tier II and tier III cities.
Since its launch, RCS UDAN has significantly increased the regional air-connectivity in the country. The number of operational airports have gone up to 141 from 74 at the start. More than one crore passengers have availed the benefits of this scheme as of August 2022.
The scheme has seen growth in underserved/unserved destinations. As on date, 68 underserved/unserved destinations (including 58 Airports, eight Heliports and two Water Aerodromes) have been connected under RCS UDAN scheme. RCS UDAN has provided air connectivity to more than 29 States/UTs across the country, with 425 new routes initiated under the scheme.
UDAN Scheme has benefitted a diverse set of stakeholders. Passengers have got the benefits of air connectivity and unserved regions have received the direct and indirect benefits of air connectivity for their economic development. Participating airlines have received concessions for operating regional routes and benefited commercially with a much needed platform to the regional carriers to scale up their operations. RCS-UDAN was formulated based on the review of National Civil Aviation Policy (NCAP)-2016 and is planned to remain in force for a period of ten years.
It has a self-financing mechanism. Under the RCS UDAN Scheme, RCF was created, which caters for Viability Gap Funding (VGF) requirements of the scheme through a levy on certain domestic flights. The airlines are being provided VGF under the UDAN scheme to keep the fares affordable and accessible for the common people. This way, funds generated from the sector themselves stimulate the growth and development of the sector.
"So far under this scheme, we have 425 routes aiming to go up to 1,000 routes, 68 new airports aiming to touch 100 airports. In next four years we are expecting 40 crore travelers through Civil Aviation in India"
— Jyotiraditya M. Scindia, Minister of Civil Aviation
Minister of Civil Aviation Jyotiraditya M. Scindia has said, "The Success of RCS UDAN is a demonstration of the government's commitment to PM's vision of 'Ude Desh ka Aam Nagrik'. It has played a great role in the transformation of Indian aviation industry. So far under this scheme, we have 425 routes aiming to go up to 1,000 routes, 68 new airports aiming to touch 100 airports. In next four years we are expecting 40 crore travelers through Civil Aviation in India."
Scindia said on August 24, 2022, "That day is not far when along with rail transport and road transport, Civil Aviation will become the bulwark of the air conditioned transportation in India. We have 1.3 billion people, pre-pandemic, we had 144 million flyers in India. Only the first AC and second AC part of railways is our nearest competitor, but the CAGR for civil aviation is 10 per cent as compared to five per cent for railways." He added that new growth areas in aviation will come from regional spaces and that ensuring last-mile connectivity is a key focal area.
RCS UDAN has created a template based on the need and has led to the formulation of various subset schemes that have over a period of time served useful purpose:
Lifeline UDAN initiative commenced in March 2020 during COVID-19 period and it helped to operate 588 flights transporting almost 1,000 tonne of voluminous cargo and essential medical services to various parts of the country. It saved life in lots of cases. Also small aircraft and helicopters were deployed to distribute pandemic relief material, including the much needed vaccines to far flung areas of the country.
Krishi UDAN is a good example of governments collaborative approach towards policy making. The scheme lays out the vision of improving value realisation through better integration and optimisation of agri-harvesting and air transportation, thereby contributing to agri-value chain sustainability and resilience under different and dynamic conditions. The scheme serves the purpose of facilitating and incentivising movement of agri-produce by air transportation. Total 53 airports have been selected for the first phase, with seven focus routes to cater for air mobility to fast perishable farm products as depicted:

| Routes | Products |
| --- | --- |
| Amritsar – Dubai | Babycorn |
| Darbhanga – Rest of India | Lichis |
| Sikkim – Rest of India | Organic produce |
| Chennai, Vizag, Kolkata – Far East | Seafood |
| Agartala – Delhi & Dubai | Pineapple |
| Dibrugarh – Delhi & Dubai | Mandarin & Oranges |
| Guwahati – Hong Kong | Pulses, fruits & vegetables |

International UDAN routes catered for routes from north eastern region (NER) to explore international connectivity from / to Guwahati and Imphal. Additionally, now NER has 15 operational airports against the six airports in 2014.
Considering the growth potential of economy with regional air connectivity, state governments are taking initiatives and coordinating with MoCA and regional airlines to generate options for various locations in their respective states. Some airlines are also fielding various plans to expand their presence with increased connectivity. Star Air and SpiceJet have taken lead in this field. At the same time various aircraft manufacturer have been making pitch for their aircraft to pick up the regional connectivity gauntlet. Overall it's a win-win situation for all the stakeholders, provided all the agencies coordinate with each other to recognise the viable routes and thereafter implement it.