Availability of internet connectivity while flying in a business aviation aircraft, opens up the aircraft cabin to an increasingly high level of activity related to the business domain of the company.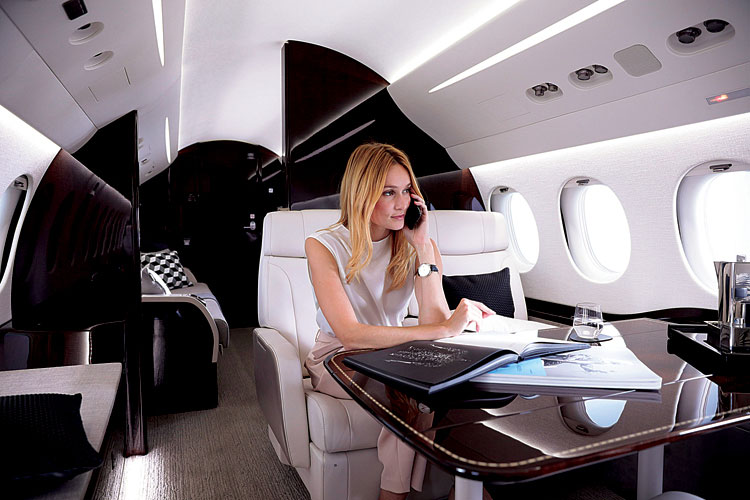 Ownership of a business aviation aircraft or the privilege to travel by it, had traditionally been regarded as an exclusive luxury meant for the super rich and the wealthy business tycoons or the high and mighty in society. However, over the years, perceptions in this regard have undergone profound change and today, a business aviation aircraft, be it in the fixed wing category or is a platform in the rotary wing regime, has been accepted as an essential and even an indispensable tool that contributes significantly to the successful and efficient management of a business venture. Business aviation aircraft help in establishing and nurturing relationship with customers as also vendors in all parts of the world to which interests of business houses extend.
OFFICE IN THE SKY – THE NEED FOR CONNECTIVITY
As a business tool, most owners of business houses or ventures as well as their executives, would prefer ideal conditions for their business aviation aircraft to not only be the most efficient way to travel, but more importantly, serve as a true "Office in the Sky". In the years gone by when internet connectivity was not available, the hours spent while flying on board a business aviation aircraft by owners or executives of business houses during their journeys related to professional commitments, were somewhat unproductive. However, with the help of technological innovations in the regime of wireless communication now available, turning a journey that was then totally unproductive into valuable office time, has now become a reality. This is clearly evident in the increasing number of business aviation aircraft that are equipped with extremely efficient and reliable internet access.
For owners or executives of business houses, the availability of internet connectivity while flying in a business aviation aircraft, opens up the aircraft cabin to an increasingly high level of activity related to the business domain of the company. In fact, when in flight, the cabin of the business aviation aircraft becomes just like any other office in the corporate network. It increases the flexibility of available work environments as well as the privacy and space in the cabin of a business aviation aircraft, gives more and varied options on how those flying on board the business jet can make gainful use of their time while in the air. The facility for business executives flying on board a business aviation aircraft in turn, enhances the value of the aircraft, as it is no longer an isolated and an unconnected environment while in the sky. The options to work in collaboration with personnel of the company on the ground, conduct conference calls or merely respond to queries as well as receive responses to important communication by cell phone or email, are all the basics features that are associated with any office.
CATEGORIES OF IN-FLIGHT CONNECTIVITY SYSTEMS
Currently, the categories of in-flight connectivity in use worldwide in brief, are as under:
Iridium service.
Gogo Biz Broadband.
Inmarsat Service.
Iridium service. This is a voice-only solution that uses the Iridium satellite network that consist of satellites placed in low earth orbit. This service offers full global voice coverage but without broadband data packages and can be used from start up of the aircraft to switch off after landing. However, systems such as the Aircell Axxess allow options to introduce broadband service by adding the Aircell ATG 4000.
Gogo Biz Broadband. The Gogo Biz Air-To-Ground (ATG) system is the most common broadband Wi-Fi system used by operators in North America. It uses Aircell's Gogo Biz cellularbased network that has more than 160 towers in North America which have been equipped to have their signals sent toward the sky rather than the ground. ATG systems come in the standalone ATG 5000 and the ATG 4000.
Inmarsat Service. For international operators, one of the best options available is an Inmarsat solution. Inmarsat is a network of satellites that provide phone and data services almost anywhere in the world. The new kid on the block coming online this year, is Inmarsat's Global Xpress Ka-band service.
TYPES OF CONNECTIVITY
The demand for in-flight connectivity thus now cuts across all operating levels, whether it is an aircraft owned by the company, is leased for a specific period by the company or is a chartered aircraft hired for a specific journey. The number of private jets equipped with Wi-Fi has significantly increased. Most new business aviation aircraft come with facility of Wi-Fi as a standard fitment and the older aircraft fleets in this category are being retrofitted to meet demands from or expectations of customers for on board connectivity. The rate of growth in the fleets of Wi-Fi enabled aircraft is particularly high in the US. In Europe, currently, the rate of growth in this segment is a little lower than that in the US, but is expected to catch up in not too distant a future.
THE DEMAND FOR IN-FLIGHT CONNECTIVITY THUS NOW CUTS ACROSS ALL OPERATING LEVELS, WHETHER IT IS AN AIRCRAFT OWNED, LEASED OR A CHARTERED AIRCRAFT HIRED FOR A SPECIFIC JOURNEY.
Internet connectivity on board a business aviation aircraft is provided either through satellites or ground based transmitters. Compared to ground based transmitters, the cost of satellite based internet connectivity is significantly higher. Today, there are different levels of satellite service offered via the L-band and Ku and Ka bandwidths. The bands refer to the radio frequencies used to deliver data to and from the satellite. L band uses the lowest frequency. Inmarsat offers its 432 kbps SwiftBroadband on the L-band service, as well as a lighter version 200 kbps SB200 service for business aircraft. The chart topper today is Ku-band, which is offered through a worldwide patchwork of multiple service providers, including television and other media. Business aircraft passengers now have an expectation of on-board internet as it proliferates in carriers in the US, Middle East and Asia in particular.
Connectivity systems are pretty straightforward to install as they do not add much weight to the aircraft and can be installed nearly anywhere in the airplane. There is no need to sacrifice items such as cabin entertainment to install the systems. Traditionally, the high cost of equipment, installation and monthly service had limited connectivity technologies to larger aircraft. However, there have been a number of changes in the recent past that will allow operators of mid-cabin and smaller cabin jets and turboprops many of the same advantages that larger operators enjoy for significantly lower cost.
CONCLUSION
The availability of fast, efficient and affordable in-flight connectivity services both enhances the time efficiency of travel and helps make those flying on board a business aviation aircraft with internet connectivity feel far more secure. Connectivity in-flight will be an ever-growing need for business aviation aircraft all over the world as the aircraft owners of the future, in all likelihood, would have realised the endless benefits of keeping their passengers connected in the air. This will pave the way for being connected in-flight to become something of an unwritten requirement. Owners and operators of business aviation aircraft are now witnessing the advances in technology that will allow them to have the same types of functionality that large airlines have for a fraction of the cost of equipment and installation. With more and more aircraft types having better as well as less expensive Wi-Fi options, aircraft operators have the increasing ability to take advantage and start increasing productivity for their businesses and key personnel. Companies dealing with the business of providing internet connectivity on aircraft, have understood that Wi-Fi connectivity is an ever-growing need for aircraft, not only in the airline and charter businesses, but for all business aviation aircraft around the world.
Business aviation exists because it provides travel options unavailable from scheduled airlines – options which include shorter en route times, less wastage of time, faster turnaround time and an unparalleled ability to work productively throughout a trip. Having a connectivity solution on board a business aviation aircraft definitely provides several benefits to owners of business houses as well as their executives who are privileged to travel by the aircraft. The time is not far off when virtually all aircraft will boast of its own internet and phone connectivity, totally eliminating out-of-reach time for all company personnel who travel on board.