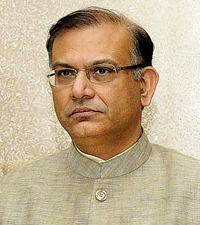 Jayant Sinha
Jayant Sinha: We have to have this connectivity as ecosystem participants and have these discussions to work together to address three major priorities or challenges or main points.
The first one is to make UDAN successful which the honourable Prime Minister is keen about and it was in the BJP manifesto for the elections. Under the direct guidance of the honourable Prime Minister we have been working on this because the notion is that right now we have only 75 airports which are operational. We need 150 to 200 airports to be operational so that every Indian is within a couple of hours of convenient air travel and it is at an affordable price and that everyone can be integrated into the national mainstream, to do their business, fly to visit relatives, and students travelling around the country. And those of you who have spent time in the North East will realise how acute that particular problem of connectivity is, regional connectivity is for the North East. It is an important aspect of national integration, very important aspect of building the next India which of course is what the Prime Minister wants to do.
Just want to welcome the honourable Minister from Ireland who has joined us.
Your excellency, we are having a discussion with a number of stakeholders, CEOs. We have Ashwini Lohani, the CMD of Air India; B.P. Sharma of Pawan Hans, the largest helicopter operator; the CEO of Zoom Air, the new startup, besides many CEO. I was just asked to give a few remarks to start off the discussions.
I want to highlight what the major challenges and priorities are and get everybody's views on that. Regional Connectivity Scheme (RCS) is very high on priority for the Prime Minister and we have to make sure that enough people are participating in that scheme. Any thoughts you may want to share would be very valuable to us.
The second area that I highlighted in my speech is that we should make better, more comfortable and more pleasant air travel experience. That obviously is a challenge when the percentage of passenger growth is over 20 per cent. I have a number of followers on social media. I can tell you that I am constantly hounded by hundreds and thousands of followers. There are so many issues, there are those literally lose their bags, those that do not get refund on time, those that find things which should not be in their meal, long security lines...you can bet I will know about it within minutes as public servants, like the minister and myself have to address them and our job is to serve them and make their lives much better. We are on the job 24 x 7. I am with the industry to work on these aspects. This is the second theme. We go to work with you to solve these irritants, to ensure better air travel experience.
The third point is about airport capacity expansion. If we look at airports such as Mumbai, Pune, Goa, Delhi to an extent, Bengaluru, rapidly that are getting congested and slots are not available. We have to find ways and methods to use the scarce slots better. Maybe use widebodies between Delhi and Mumbai. I don't know what the answers are. The problem will get worse before it gets better. Mumbai is a great example of that as presently we have 48 aircraft movements in an hour, maybe it would go up to 50, that is about the best we can do. The new airport that is going to be built is several years away. So what do we do with Mumbai, or airport like Goa or Bengaluru where we are already hitting capacities. How dow we manage such situations, I am curious to know and those are top of my mind issues.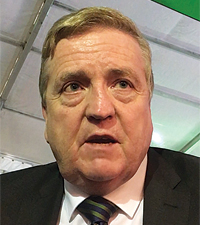 Pat Breen
Pat Breen: Thank you Minister. The European aviation industry has gone through a huge transformation in the last couple of years, some of the European airlines started to merge during the downturn of economy. You had mergers of Air France and, KLM; British Airways, Iberia; Lufthansa...and other such big carriers. Then we had to encourage growth of EasyJet and our own Ryan Air.
As mentioned by you, the aviation sector is growing rapidly. From our point of view Ireland has been a pioneer in the field of aviation for about 70 to 80 years and that explains why we are so successful in aviation sector and we have Ryan Air, one of the largest low-cost operators with 345 aircraft. Airlines from Asia can use Ireland as a transit point for their travellers to the US.
We have a lot of common ground, our economies are growing fast. Given India's geography, you have people wanting from travel from various states, there is huge potential for regional movement. The aircraft are becoming environment friendly.
Europe has faced many challenges. You have many challenges from airlines in the Middle East, from airlines such as Etihad, Qatar Airways and Emirates who don't have the same regulations that European airlines have. There are many challenges which can be sorted out and India and Ireland should come together to share knowledge and resolve some issues.