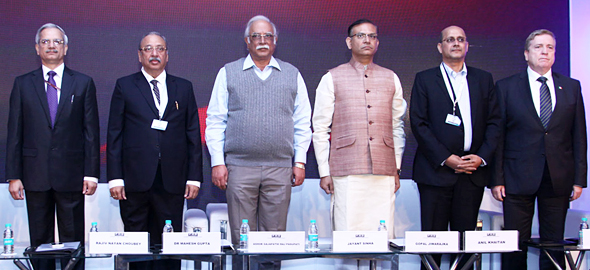 (L-R) R.N. Choubey, Secretary, MoCA; Dr Mahesh Gupta, President, PHD Chamber of Commerce; P. Ashok Gajapathi Raju, Minister, MoCA; Jayant Sinha, Minister of State, MoCA; Gopal Jiwarajka, Senior Vice President, PHD Chamber of Commerce; Pat Breen T.D., Minister for Employment and Small Business, Ireland
The first-ever Aero Expo, organised by the PHD Chamber of Commerce and Industry, was held in Delhi over two days which saw a slew of intense discussions on the future of aviation, particularly regional aviation. Setting the tone for the two-day conference was the Union Minister of Civil Aviation, P. Ashok Gajapathi Raju. Also present at the inaugural were the Minister of State for Civil Aviation, Jayant Sinha, and the Minister from Ireland for Employment and Small Business, Pat Breen.
The Civil Aviation Minister reassured the Indian civil aviation industry, emphasising that the government of the day is exploring all possibilities for capacity expansion of leading airports in the country as well doing its best to make sure that the regional air connectivity is accomplished as per its UDAN (Ude Desh ka Aam Naagrik) initiative. The domestic aviation sector is on the 'upswing' and is at an inflection point. "We are working to connect unconnected and serve unserved."
The Minister also stressed that though the domestic civil aviation industry has been growing at a rate of more than 20 per cent in the last few years, higher passenger growth in civil aviation sector is still a challenge for the government which could be won with addition of capacities in India's leading airports. "We are taking all possible steps in making India the third largest aviation market," he added. Also complimenting the organisers of Aero Expo 2016, he said: "This is a commendable initiative and should happen every year."
The Minister of State Jayant Sinha asked civil aviation industry to grow in such a manner so that its passenger traffic, currently estimated at about 150 million for domestic and overseas sector multiplies manifold and catches up with the air traffic growth of China which presently is calculated at 500 million per annum. The ministry, he mentioned, had adopted a three-pronged strategy under its UDAN initiative – expansion of airport capacities; ensuring regional connectivity and equipping the passenger with better level of satisfaction and experience under its Air Sewa initiative.
Dozen schedule commercial operations soon
The Secretary of Civil Aviation Rajiv Nayan Choubey reiterated the government's commitment for higher growth of civil aviation sector with all possible government's initiatives in a spirit of partnership, adding that by December 2016 a dozen of schedule commercial operations could begin to connect small towns in the country under its regional connectivity drive. The priorities were regional air connectivity, ensuring air travel is comfortable and convenient, and expanding airport capacities. Domestic aviation sector is expected to see more than 20 per cent growth in the next three years which also poses challenges. "We have to be ahead of the growth curve," he added. According to him, the 23 per cent growth seen in the domestic aviation sector, which is also highest in the world, is "not a flash in the pan".
The Irish Minister, Pat Breen, emphasised that India and Ireland should have stronger partnership to expand India's civil aviation sector as Ireland is one of the global leaders in this sector, particularly in aviation leasing. Appreciating the event, Breen said that it was a hit show and Ireland looks forward to it every year.
The Chairman of the Civil Aviation Committee, PHD Chamber, K. Narayana Rao, proposed that the civil aviation sector should be brought under priority lending scheme of the government, especially for acquiring smaller aircraft for enhanced regional air connectivity. The Co-Chairman of the Civil Aviation Committee and CEO of Club One Air, Bhupesh Joshi, along with Secretary General and Director of the Chamber Saurabh Sanyal were also present on the occasion in which a knowledge report by Auctus Advisors was released and an MoU was signed between FSTC Simulators and ATR, turboprop manufacturers. The vote of thanks for the inaugural session was by Bhupesh Joshi.
The general aviation and business aviation segment is keenly watching how the Regional Connectivity Scheme (RCS) will evolve in due course as its future is interconnected. The heartening aspect was that there were a number of business aviation and general aviation players with the Business Aircraft Operators Association (BAOA) as one of the co-associates of the conference. Arrow Aircraft's Rohit Kapur and former President of BAOA was very vocal about regional connectivity and the potential for business and general aviation operators. The event was supported by GMR, Gyrox, Execujet Avaition Group, Pawan Hans, Airports Authority of India, Air India, Zoom Air, Airbus Helicopters, ATR, Embraer Commercial Aviation, Airawat, Club One Air, Arrow Aircraft, FSTC Simulators, Continental Carriers and a few others.
"WE ARE TAKING ALL POSSIBLE STEPS IN MAKING INDIA THE THIRD LARGEST AVIATION MARKET," P. ASHOK GAJAPATHI RAJU, UNION MINISTER OF CIVIL AVIATION.
There were a number of exhibitors who drew attention and they included Arrow Aircraft, Gyrox Aviation, FSTC and Club One Air. Arrow Aircraft who had recently launched the Viking Twin Otter Series 400 in India, was showcasing the aircraft which is suitable for remote connectivity, seaplane operations and special missions. This is going to be a game changer as far as coastal surveillance, remote connectivity and other aviation related activities are concerned. Arrow Aircraft is the only authorised sales representative for Gulfstream in India and also for Jet Aviation, MRO which is based in different countries. Arrow Aircraft is into air charters, aircraft management, aircraft acquisitions and appraisals. Club One Air is one of India's oldest and largest air charter company with extensive aviation experience offering world class services and owns a fleet of jets that cater to corporate India and individuals with exclusive taste. Bhupesh Joshi, CEO of the company was one of the chief architect behind the organising of the Aero Expo show.
Airbus Helicopters talks about potential
The President of Airbus Helicopters (India) Xavier Hay said India with 270 odd helicopters was a market with low penetration, less than the number of helicopters either in Switzerland or Netherlands. The potential for growth in the next decade was huge, considering how the number of pilgrims to Kedarnath was on the rise. Tourism and other services would open up opportunities for helicopters which had substantial capital investment. Airbus, he said, would continue to grow its long-standing partnership with Pawan Hans which has a huge helicopter fleet.
VGF concerns
The Managing Director of BAOA, Captain R.K. Bali said the Viability Gap Funding (VGF) is a contentious issue and sought differential VGF based on the seating capacity of the aircraft, factoring in the 10 to 20 seaters. The VGF of 4,270 for one hour flight was not realistic for a small aircraft. As regards permitting self ground-handling, the non-scheduled operators can be 'testing ground' in the scheme. However, he underlined that the intent of the ministry was appreciated, it was shortfalls in implementation which could derail any initiative.
Leasing options
The panel discussion on leasing chaired by Bhupesh Joshi of Club One Air dwelled at length on how to navigate the complicated waters of leasing, muddied by Kingfisher Airlines. Joshi mentioned the meaningful discussions industry professionals had with the delegation from Ireland which has many aircraft leasing companies. Getting an aircraft on lease, particularly in general aviation, is a major issue.
Uday Naidu said one concern in the sector, particularly in aircraft acquisition and maintenance, is the issue of GST (goods and services tax) which may be detrimental to the aviation sector where aircraft and aircraft parts are mostly imported.
Nanda Kumar said aviation leasing was basically a technofinancial-legal contract and it is skewed in favour of the lessor. The lessee has to fight his way out in the deal and unless one is well-versed with the leasing business, the chances of a person losing heavily was high. Lessees, he suggested, should go for six years to 12 years leasing as it would not only give better rates, but also help in knowing what direction the company is heading.
Skill development opportunities
In the session on skill development, Naidu said that one lakh skilled technicians were required in the next five years, considering the massive induction of aircraft that is likely to happen in India. Presently, the quality of training of maintenance engineers and other staff was not good and students who graduated from the many institutions needed further training on the job.
P.S. Nair said that the sector which employs one million directly and 3 million indirectly, would require a huge number of highly skilled persons in the near future. The skill gap would further widen by 2035, if measures were not initiated now.
It was felt that training currently being imparted for prospective civil aviation human resource and personnel are substandard and needed significant improvements for their sustained employment to effectively serve the passenger and cargo services of the civil aviation sector. Since investments in such training institutes are meagre, the equipment and other facilities in them are not up to the mark to provide training and skills that are required for coming times in aviation. It was also recommended for the government to open a series of training and skills institutions for growth of the domestic civil aviation and its effective operations on lines of the Indian Institutes of Technology and Indian Institutes of Management.
Vikas Khanna of FSTC said his company was a one-stop-shop for training of cabin crew and other airline and airport staff. The company had imparted training to 8,500 flight crew in less than one year, reflecting the trust that airlines in India have on FSTC. He mentioned that FSTC had tied up with ATR with regard to training of personnel.
Colonel Rampal Suhag, Chairman and Managing Director of Gyrox Aviation, presented the Gyroplane which when approved by the DGCA has the possibility of becoming a mode of transportation for the rich class. The Gyroplane is a twin-seater aircraft which can take-off with just 100-metre runaway and runs on high octane and costs less than 2 crore. Gyrox Aviation displayed the new aircraft which caught the attention of the public.
The two-day event concluded with felicitating industry leaders in various categories such as Lifetime Achievement Award in Aviation—G.M. Rao of GMR Group; Aviator in Public Service—Rajiv Pratap Rudy, Minister of State (IC), Ministry of Skill Development and Entrepreneurship; Turnaround Turk in Aviation (Public Sector)—Ashwani Lohani, CMD, Air India; Largest Aviation Operator- Offshore & North East—Pawan H ans; Exemplary Greenfield Initiatives in Aviation—Airports Authority of India; and Significant State Contribution towards Aviation – Gujarat.
20 AIRLINES ALREADY IN FOR BIDDING PROCESS IN RCS: JOINT SECRETARY, MINISTRY OF CIVIL AVIATION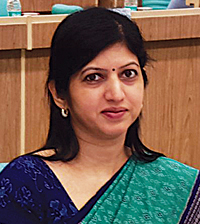 Usha Padhee
The Joint Secretary of the Ministry of Civil Aviation, Usha Padhee, in her address said that 20 airlines had registered for the bidding process under the Regional Connectivity Scheme (RCS) for various concessions including Viability Gap Funding (VGF). She was hopeful that many more airlines would participate in the scheme which termed it as an 'enabler'.
Stating that the scheme may not fit into the business plan of each and everyone, she said, it gave a broad framework as per which it may work for some, may not work for others. However, the Ministry, from the Minister of Civil Aviation downwards, was working to ensure that the National Civil Aviation Policy of which the RCS was a central theme, would thrive. It will take into account the issue of affordability for passengers, while it will address the issue of viability for operators. The policy will directly benefit the sector and in the broader sense it will address the issue of economy and growth, as smaller towns will be linked to big cities.
The Ministry has created the framework at the national level and it was now for the states to get their act together.
She conceded that there are many challenges and regulatory was one of them. The scheme, she reiterated, was to attract operators, make it viable for them, to be win-win. In discussions with stakeholders the recurring theme, she said, was about regulatory hurdles and the operators have been asking for simplification of rules. "They are saying, don't give us VGF, make our life easy. These discussions with stakeholders is quite revealing."
The VGF is for three years, but the sunset scheme is for 10 years. Such a model is not just specific to India, but many countries too have different models, it could be in the form of VGF or some other assistance. It is essential to connect regional areas and for that some support from the government is required.
The Ministry understands what the stakeholders are facing and has started showing a sense of urgency to address their issues. "This is the time to rise to the occasion. We won't say we have done a great thing or we are going to do a great thing. But we believe this is the time which can bring about transformation in the sector, everything is falling in place."
—By R. Chandrakanth
AAI MOOTS REMOTE AIR TRAFFIC SYSTEMS
With the Government of India's ambitious plans to connect remote and regional areas by air, the onus is on the Airports Authority of India (AAI) to develop the airports in these locations and a key element in airport development is the air traffic control (ATC) tower. To effectively manage these remote area airports and to keep costs down, the AAI is contemplating remote air traffic systems (RATS), said S. Swaminathan, General Manager, AAI.
Swaminathan told SP's AirBuz on the sidelines of the Aero Expo Conference, that setting up an air traffic control is a costly proposition and with the plans of the government to revive many of the 476 airports of which 135 are under AAI control, would mean massive investments which may not be necessary. There were models of remotely controlled systems in other parts of the world which could be easily replicated in India.He said between the option of 'uncontrolled' airports and 'remotely controlled towers', the latter was the right option for safe, efficient and orderly flow or aircraft. The remote air traffic system has been successfully deployed in Sweden at a fraction of cost that would be needed to put up a control tower. "Does it make sense to have a tower where the revenues are not going to be there?" he asked and suggested instead setting up of remote towers. An ATC in Ahmedabad could serve Surat, Vadodara and four to five airports and AAI was studying such possibilities. "There is no compromise on safety."
—By R. Chandrakanth
GYROPLANE AWA ITS DGCA NOD
The tiny Gyroplane is awaiting the nod of the Directorate General of Civil Aviation (DGCA) to fly in India. Since the Gyroplane is totally a new aircraft weighing 281 kgs, needing about 100 metres strip to take-off, runs on high octane, etc, the DGCA is grappling with this 'new thing' before them. The Gyroplane does not fall into any of the categories the DGCA has on its list, hence it is studying regulations from countries such as United Kingdom and Germany where the Gyroplane is in use. The Gyroplane from Celier Aviation has been brought to India by Gyrox Aviation and was on display at Aero Expo Conference.
The Chairman and Managing Director of Gyrox Aviation, Colonel Rampal Suhag (Retd), told SP's AirBuz that the company was expecting DGCA approvals soon. "Once the DGCA writes the regulations and we get the approval, we expect the demand for the aircraft to be in thousands due to its functionality and pricing which is between 1.5 crore and 2 crore." Gyrox Aviation is planning to set up a manufacturing plant in India, but till then it will be imported and assembled here.
The company, he said, had got LoIs (letter of intents) from the paramilitary forces (Border Security Force; Indo-Tibetan Border Police, etc) and would soon be conducting live demonstration of the Gyroplane on how it could be effectively used in border patrol. Once the approvals come, the company is targeting only government institutions as the aircraft could be deployed for surveillance by law and order agencies; border patrol; coastline patrol (as it can also land on water); aerial surveys; aerial pesticide spraying, etc. "But I see a day when it could be used by individuals too, who can live away from the city and move to their workplaces in the aircraft, and all they need is a landing strip of less than 100 metres. The aircraft costs as much a high-end sports utility vehicle."
Gyroplane can fly up to 5 hours with normal unleaded petrol; it can glide if the engine is cut-off; and Xenon 4 XL variant can carry up to three persons; and fly up to 18,000 ft, among other features. Colonel Suhag said that the company would provide pilot training, requiring anywhere between 40 and 60 hours on the Gyroplane.
—By R. Chandrakanth
18 STATES GIVE CONSENT TO RCS
The recently announced Regional Connectivity Scheme (RCS) has already found support from 18 states and other states are to follow soon, according to G.K. Chaukiyal, Executive Director, Airports Authority of India.
Speaking to SP's AirBuz, Chaukiyal said 11 states had already signed the memorandum of understanding (MoU) and they were Maharashtra; Jharkhand, Gujarat, Chhattisgarh, Andhra Pradesh, Puducherry, Manipur, West Bengal, Madhya Pradesh and Uttarakhand. Seven other states had given their consent. AAI was making presentation to all the states which have to come on board to make the RCS a success.
The states have to provide various concessions to both airport and airline operators under the RCS to make air travel affordable. The states offer could include reduction of VAT to 1 per cent or less on aviation turbine fuel (ATF) at RCS airports for a period of 10 years; provision of minimum land free of cost and free from all encumbrances for development of RCS airports; provision of security and fire services free of cost; provision of electricity, water and other utility services at concessional rates; provision of a certain share towards Viability Gap Funding for RCS routes within the state, etc.
He said that the AAI was going to develop small airports at a fast pace. Of the 476 airports and airstrips in India, 135 were being operated by the AAI, providing air traffic control and other facilities. The passenger growth at Indian airports was impressive at over 22 cent in 2015-16, compared to 14 per cent previous year. This year the growth will surpass 22 per cent. Nearly 80 per cent of the traffic was being handled by 10 airports, the balance of the airports were accounting for 20 per cent. Efforts were on to develop regional airports and once these are in place the contribution of other airports would go up from the present growth rate.
—By R. Chandrakanth
AIRBUS & PARTNERS TO INVEST 5,000 CRORE IN INDIA
The global aerospace major Airbus and its partners will be investing 5,000 crore and creating about 10,000 jobs in India in the next five to eight years, according to Ashish Saraf, Vice President (Industry Development, Strategic Partnerships & Offsets), Airbus Group India.
He told SP's AirBuz that Airbus and its strategic partners would be investing in the key areas of military transport and naval helicopters as the programmes in India are huge. As regards civil aviation, India is critical for Airbus growth and the company had sourced components and produced material here worth $500 million. This would be scaled up considerably and the cumulative sourcing from India is likely to touch $2 billion by 2020. Airbus has a supplier base of 45 in India and this number would go up in the coming years.
Speaking at the conference, he said that the Airbus strategy is to develop its partners in India and this partnership so far had created 6,000 skilled aerospace jobs in the country. Sourcing of components would continue as India had the wherewithal to supply and that further areas had been identified, including machining alloys. "There is not an aircraft from the Airbus group which does not have some part or the other from India." The components made in India are critical on the aircraft and they include flight and safety such as the safety evacuation slides.
He said efforts were on to establish a final assembly line in India for the AS565 MBe Panther helicopters and this facility would also serve the global market. These plans required human resources and mass skilling was required for sustainable growth of the industry for which Airbus has already initiated steps along with the National Skill Development Corporation (NSDC) and the Aerospace and Aviation Sector Skill Council (AASSC).
—By R. Chandrakanth