India holds an edge over other global MRO hubs as it has the availability of low-cost certified technicians
Air India Engineering Services Limited (AIESL), is a wholly owned subsidiary of Air India Limited to perform MRO services
Dawn of the Year 2023 is like a glowing hue of crimson for the Indian Airline industry. With the full takeover of Air India, the Country's Flag Carrier by the Tata Group on January 28, 2022, the Indian Airline Industry's history has changed. The "new" Air India inducted two Boeing 777-200 aircraft in that year alone to operate routes to the USA. This number will increase in 2023.
Air India is close to placing landmark orders for as many as 500 aircraft worth tens of billions of dollars from both Airbus and Boeing as it carves out an ambitious renaissance under the Tata Group conglomerate. Speculations in the industry are that the large order will be split between the two OEMs with approximately 220 aircraft for Boeing and around 280 for Airbus. These would include the Boing 737 MAX, Boeing 787, Airbus A320 family and Airbus A350. In fact, the A350 came on a demonstration tour to India early last year.
Additionally, on September 22, 2022 Air India signed a definitive sale and lease back agreement with Willis Lease Finance Corporation for 34 CFM56-5B engines installed on its Airbus A320 family fleet. Under the sale side of the transaction, Willis Lease will purchase from Air India 34 engines powering 13 Airbus A321 aircraft and four Airbus A320 aircraft. Through its programme ConstantThrust, Willis Lease will provide replacement and standby spare engines, allowing Air India to avoid potentially costly and unpredictable shop visits on engines powering a transitioning aircraft fleet. Willis Lease will also have an in-country team to coordinate and manage the entire programme and all logistics and transportation involved. This is the first of its kind in the history of Indian airline history.
The MRO business is capital-intensive and requires significant investment in - infrastructure, materials, training of manpower and technology
Air India, India's leading airline and a Star Alliance member, on December 5, 2022 announced the lease of six Boeing B777-300ER widebody aircraft to further augment its existing fleet. These aircraft are expected to be inducted in the first half of 2023. The decision to lease six aircraft is in addition to the thirty leased earlier in the year including twenty-one Airbus A320, four Airbus A321 and five Boeing B777-200LR widebody aircraft. The airline's aggressive expansion plan has already witnessed 19 long-grounded aircraft returning to the skies with nine more to follow even as the airline has stepped up lease of narrow and wide-body aircraft.
On December 8, 2022, Air India, announced plans to refurbish its entire legacy wide-body fleet, comprising 27 Boeing 787-8 and 13 Boeing 777 aircraft, committing over $400 million for the project. Air India has engaged leading London-based product design companies, JPA Design and Trendworks, to assist with the cabin interior design elements of this refurbishment programme.
On January 8, 2023, the aircraft fleet size in India stood at 712 in the airline segment and 19 aircraft in the cargo segment, i.e., a total of 731 aircraft. These numbers change practically on a daily basis. Let us look at the aircraft types in operation. Airbus has a total of 483 aircraft including three freighters, and Boeing has a total of 146 aircraft, including 13 freighters. The rest of the 83 aircraft in the Indian airlines fleet are from various OEMs, the highest being 62 from ATR.
It is interesting to note here that the Tata Group has four airlines now and the total number of aircraft under its belt is 233 whereas the largest Indian carrier IndiGo has a fleet of 305 aircraft.
With such big fleets of Indian carriers, where does India stand on the MRO front? Air India Engineering Service Ltd (AIESL) is the largest MRO owned by the Government of India. It has six main bases, Delhi, Mumbai, Nagpur, Kolkata, Hyderabad and Trivandrum. AIESL in its bases has several capabilities from cabin refurbishment to aircraft weighing to component repairs to airframe repair to engine repair and overhaul. Apart from these bases, it undertakes line maintenance at various stations at home and overseas such as Ras-Al-Khaimah, Sharjah, Dubai and Kathmandu, all with wheel change capabilities.
IndiGo, India's largest airline, opened its second MRO facility at Kempagowda International Airport, Bengaluru on November 17, 2022. The airline signed a 20-year agreement with BIAL to build a hangar of 13,000 sqm on a plot of land of five acres. The facility will be able to accommodate two narrow-body aircraft and support infrastructure including a Quick Engine Change (QEC) shop, warehouse and engineering offices. The MRO will be the airline's second venture after the one at Delhi airport, which is a smaller one.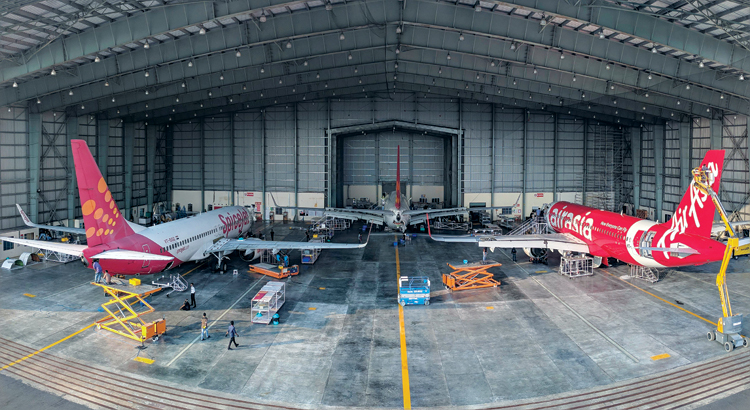 Air Works MRO Facility: An MRO ecosystem needs to be established near large airports in India
Air Works, India's largest third-party MRO, on October 18, 2022, was sold off to Adani Aerospace and Defence, part of the Adani Group for INR 400 crore. AWI is certified to maintain more than 50 types of aircraft, making it also the most diversified MRO in the country with a pan-India presence in 27 locations with close to 1,500 employees. It also provides commercial aircraft asset management services, avionics, cabin and interiors solutions, 3D printing and aircraft refinishing services apart from MRO-related offerings. Its customers include both civil (fixedwing & rotary-wing) and military customers apart from global OEMs, commercial airlines, business aviation companies, and leading global lessors.
MRO infrastructure is expanding in India due to incentives provided by the government, and alliances formed by companies with foreign MROs
GMR AeroTechnik is also a third-party MRO, based in Hyderabad, with full capabilities in all departments of MRO from major maintenance to full body painting, composite repair to component repair, etc. It has narrow-body capabilities, specialising Airbus, ATR and Bombardier. Apart from Hyderabad where it carries out major maintenance, it also carries out line maintenance in Delhi, Goa and Kathmandu.
Both Air Works India and GMR perform MRO for various international airlines and possess the respective countries' Regulatory certifications, apart from FAA and EASA.
AAR-Indamer Technics Private Limited is a joint venture between AAR, a major MRO of the USA, with Indamer Technics (the oldest MRO in India) to set up a Maintenance, Repair and Overhaul (MRO) facility at Nagpur.
This new joint venture plan to initially perform major checks of Airbus A320 family aircraft under DGCA, EASA and FAA approvals. All required support workshops will be part of the MRO.
The MRO business is capital-intensive and requires significant investment in - infrastructure, materials, training of manpower and technology. An airline's expenditure on MRO accounts for nearly 15 per cent of total revenues - which is the second highest expense after fuel cost. The industry is highly regulated and holds critical importance for Indian civil aviation. Currently, the majority of the MRO services are outsourced to countries like - Singapore, Malaysia, the UAE, etc, which demonstrates a huge demand and low supply model domestically. MRO infrastructure is expanding in India due to incentives provided by the government, and alliances formed by companies with foreign MROs, as noted in the previous section. Indian MROs have also started obtaining global certifications for their services. MRO is a labourintensive industry, that depends on the availability of a skilled workforce at a lower cost to improve profitability. India holds an edge over MRO hubs like the USA, Europe, Singapore, and others as it has the availability of low-cost certified technicians.
It has started last year and it will see more mergers and acquisitions of Indian MRO companies and new entrants will emerge in this buoyant sector of aviation in India. This is the trend that India will undergo for the next couple of years as the fleet size of airlines would grow.
CIVIL AVIATION MINISTER JYOTIRADITYA SCINDIA ON MRO IN INDIA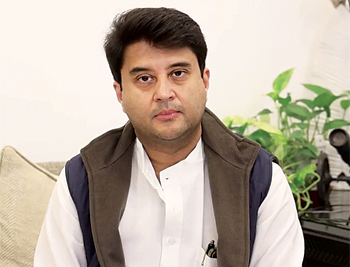 At the reently held Aero MRO India 2022, the Civil Aviation Minister Jyotiraditya Scindia, in his inaugural address said, "The MRO industry in India is an industry integral to the civil aviation industry in India. As civil aviation takes on new wings with unprecedented growth, a huge amount of potential in both domestic and international markets, the MRO sector becomes an even more important cog in the wheel of the civil aviation sector's development."
"Sensing this and understanding this, not only the fiscal incentives been modified by revising GST levels from 18 per cent to five per cent, permitting a 100 per cent FDI to the sector and also the new MRO Policy that I have unveiled last year (2021), ensuring that the land and other infrastructure at the least available cost to ensure the proliferation of this sector. India has a fleet capacity of almost 700 planes, we are looking at growing this sector to almost 125 per year, the demand of almost 1,500 planes by the next decade. India then becomes a flourishing market for the MRO sector not only from the domestic point of view but from the regional point of view."
"There are many majors setting up shops here in India. There are many domestic players who have tremendous potential for growth, and I would urge our MRO Industry, think big, think global, act global, and along with that policy, the Government is with you to ensure the growth and develop the sector", the minister added. With the Government's tremendous support to the Indian MRO Industry, in the coming five years, the MRO industry will be able to grow to a $4 billion market and also reverse the trend of dependency on foreign MRO for our work.