The increasing digitalisation of MRO to improve efficiency and reduce aircraft downtime is the key factor expected to fuel the growth of the digital MRO market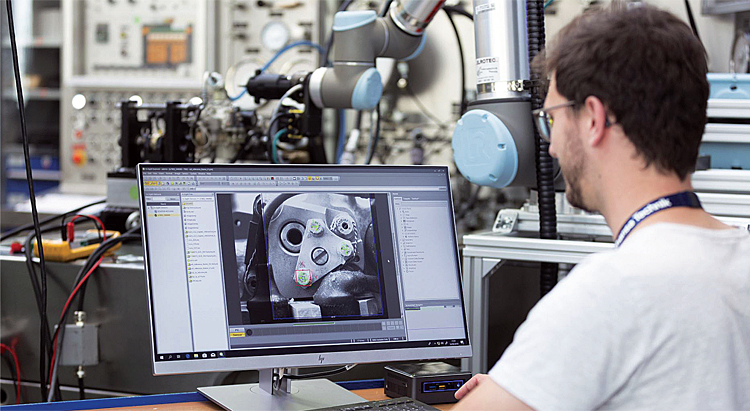 HyDiag- Automated flight control actuator diagnostics procedure
MRO is an ecosystem of interconnected supply chain and repair stations to perform heavy maintenance, line maintenance, aircraft repairs & modifications, interiors, paint, component repairs, part-out, teardown, and recycling. MRO is the backbone of the aviation industry's systematic operation be it in general, commercial, ordefence sectors.
MRO Industry Forecast & Trends, an IATA Maintenance Cost Conference in Geneva details exhaustive pattern in the civil aviation trends. It has opined that OEM facilities temporarily closed during the pandemic have created shortage of parts and the scarcity of labour & raw materials has slowed the post-pandemic recovery. Increased trade wars and tariffs driven by growing antiglobalism, nationalism, in addition to other geopolitical issues have resulted in aviation and aerospace company pursuing new strategies to minimise supply chain risk. This will result in Globalisation 2.0 which is More Dual Sourcing & Near-Shoring.
Also, commercial airlines worldwide were successful in offsetting pandemic losses leveraging the "preighter" aircraft. The sales of new freighter aircraft are making a strong come back and demand for Passenger to Freighter (P2F) conversions are increasing. Engine and airframe MROs are benefitting from additional MRO demand from the very old, maintenance intensive aircraft due to their delayed retirement.
While the consequences of the pandemic were intense for the industry, they also offer a time for consolidation and innovation. Technologies such as digital twins, real-time monitoring of aircraft condition, and predictive maintenance, could be a handle for service providers to cope with the reduced MRO budget of airlines. Digitalisation plays an important role in improving service efficiency. However, such innovation would require changes not only in the industry culture but also from the safety regulators. According to a global newswire report the digital MRO market is projected to grow to $4.7 billion by 2030. The increasing digitalisation of MRO to improve efficiency and reduce aircraft downtime is the key factor expected to fuel the growth of the digital MRO market. However, limited budgets restrain the adoption of digital MRO which is a major hurdle in the development of this market.
SMART EQUIPMENT TECHNOLOGY
Prior to the introduction and widespread use of sensors and smart equipment, maintenance followed a predictable routine. Now, as sensors and Internet of Things (IoT) technology becomes more accessible and inexpensive, manufacturers are better able to track equipment performance and maintenance needs, vastly reducing or eliminating the cost inefficiencies of outdated routines. Digitisation and smart technology produce vast amounts of data. This data is used to analyse supply chain performance, enabling manufacturers to provide more information to suppliers and develop true partnerships. This results in all across benefits from pricing to turnaround time.
ARTIFICIAL INTELLIGENCE
Airlines are increasingly connecting Artificial Intelligence to their MRO Strategies. Airlines based in the US, Europe and Asia have been quietly adopting AI tools in the form of intelligent agents for data modelling and simulation, cognitive computing and predictive data analytics. A challenge exists for airline maintenance teams dealing with the large amount of data being produced by newer generation aircraft. The necessity exists for an intelligent application capable of generating a specific work order task for maintenance technicians, rather than large volumes of data that have to be aggregated and analysed to produce an actionable result. Right now, Delta Air Lines is working on adopting artificial intelligence and machine learning into its aircraft maintenance strategy and has a five-year plan for officially adopting artificial intelligence into its predictive maintenance strategy. The use of artificial intelligence will be primarily to replace todays human tasks of ingesting, aggregating and analysing raw data transmitted by aircraft.
Airbus has emerged as an industry leader in introducing the use of artificial intelligence into airline maintenance operations. Airbus has established Skywise as its official predictive maintenance and advanced data analytics platform. It serves as a singular access point to data analytics that combine multiple sources into one secure cloud-based platform, including work orders, spares consumption, components data, aircraft/fleet configuration, onboard sensor data and flight schedules. The Airbus AI Gym, is pursuing to identify new and unexpected changes in the behaviour of monitored systems, as well as analyse suspicious behaviour for potential faults and failures more efficiently.
DIGITAL TWINS
These are digital replicas of aircraft or aircraft components. Data sensors are embedded in well-thoughtout locations to create this digital replica. These sensors work together to develop a real-time picture of aircraft performance. Aircraft companies use them to test new designs and predict how they will perform in the real world. Some of the biggest names in aviation already use this in MRO technology. Digital twins make it possible for aviation mechanics to monitor physical components while the aircraft is in the air. They can then plan maintenance resolving any potential issues that arise.
DRONE USAGE
Drones have become increasingly common in the world of MRO. Technicians use them for various tasks during inspections and repairs. These machines are convenient for hard-to-reach spaces and areas that pose a high risk for human workers. Drones even transport parts and tools to technicians. The main difficulty of using drones stems from regulatory differences around the world. America currently has some of the strictest rules, making it difficult to enjoy the full scope of benefits drones bring to the inspection and MRO process.
CLOUD-BASED MRO SOLUTIONS
Aviation MRO requires a significant investment in physical assets. Consequently, cloud computing removes the need for one set of physical assets: servers and IT space. The cloud is a great way to manage maintenance schedules and keep track of aircraft components and makes it easier to share data across global MRO teams.
Customer Service Apps are now available to serve customers by resolving their queries on the fly. These apps make information like price checking, availability of parts or repair services, placing orders, or obtaining the pending delivery status available on the go, and now, the agents need not sit in front of the computer all the time to get the same. Supply-chain Apps are making the life of supply chain specialists much more accessible and relaxing. These applications enable the representatives to check the store and search materials for critical repairs. Supply-chain applications update the stocking bins as and when stocks are received. These applications also help conduct inventory cycle counts from time to time, ensuring an accurate and reliable inventory level. Labour collection and Work in Progress (WIP) accounting applications are boon for independent MROs since it is used for maintaining accurate WIP accounting. Mechanics can now record the time they work on their tasks, and the firms can use it to optimise and find accurate costing, increasing their efficiency and profit.
BLOCKCHAIN
We've all heard of blockchain in a cryptocurrency-related context. However, this technology finds more usecases, including "record-keeping." MRO teams generate a lot of data which needs to be kept secure and tamperproof. Blockchain technology assists in this process by allowing the data stored to be viewed only by those with a key. What makes this technology ideal is that it is cost-effective and requires minimal maintenance. MRO teams can keep track of mechanical parts, leases, inventory, digital twinning, supply chain, repairs, etc, through blockchain. Companies are yet to fully release such technology for application in the aviation industry. This will gain traction in MRO as more use cases and regulatory trust is accepted by the environment.
AUGMENTED REALITY (AR)
In today's world, augmented reality is experienced through glasses or eyewear, which can provide additional data to the viewer about what they're seeing. Its use is gaining popularity in the aviation industry, where MRO professionals are being trained with AR in aircraft maintenance. Augmented reality is used to visualise virtual 3D models of aeroplanes that MRO teams will be repairing, thus eliminating the need for expensive physical props. Additionally, they can all view the same model, which help facilitate teamwork. Augmented reality is being used in aviation training camps in Europe, and the technology may soon arrive in India as well.
ADDITIVE MANUFACTURING
Additive manufacturing is already gaining popularity in the MRO sector. It uses data computer-aided-design (CAD) software or 3D object scanners to direct hardware to deposit material, layer upon layer, in precise geometric shapes. Additive manufacturing enables the industry to print substantial, durable, and lightweight replacement parts that are quick and affordable and reduce the cost for maintenance providers. This is a disruptive technology which has the potential to change the way we look at MRO.
MRO & OEMS COOPERATION AND COMPETITION
The way in which MROs and OEMs have cooperated & competed has evolved over time. OEMs largely left the MRO market to aftermarket independent and airline-affiliated MROs. During the last two decades, airframe, aircraft system and component OEMs have made strategic efforts to compete with the independent and airline-affiliated MRO suppliers. Given the immense advantage OEMs have with intellectual property, design data and manuals, many of the larger MROs have chosen to partner with OEMs rather than competing. The trust generated through a strategic partnership with an OEM also leads to additional opportunities, thereby reflecting the two-way nature of OEM-MRO partnerships.
On the airframe OEM side, companies have taken different approaches to the aftermarket, whether as a pure integrator or by taking a more active role in MRO work.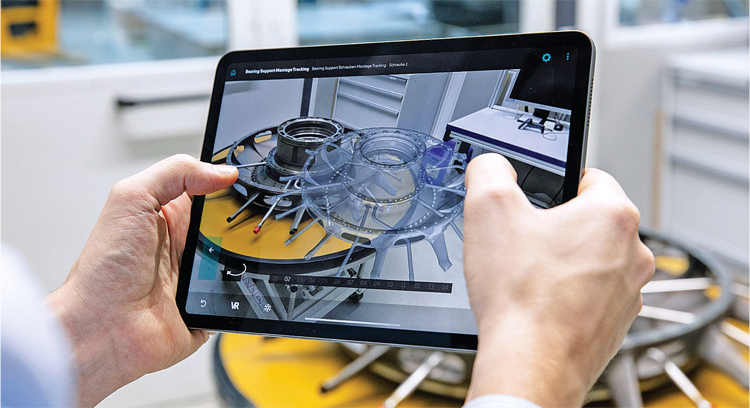 Augmented Reality
The exact approach taken by an OEM to the aftermarket will force MRO companies to respond in different ways. Where an OEM seeks to act as an integrator, MRO providers margins will be impacted which may be offset to some degree by the associated scale economies. OEMs which engage directly with airlines will typically find it easier to tailor their offerings to meet the specific needs of the airline. COVID-19 impact has forced some airlines to refocus solely on passenger operations and reassessing their appetite for services such as MRO.
Some independent MROs have chosen to go down the intellectual property route, leveraging Parts Manufacturer Approval (PMA) and Designated Engineering Representative (DER) repairs as an alternative cost savings solution. Others have chosen a more traditional route and prefer to collaborate, leveraging used serviceable material (USM) usage with OEM approved parts repairs providing economical alternatives. The OEM-MRO industry is notorious for 'coopetition' – a combination of cooperation and competition. In the engine MRO space, there is more collaboration between MROs and OEMs. The component MRO space will continue to see significant consolidation and M&A activity.
LAST THOUGHTS
Most airlines, OEMs, and MROs offered generous early retirement packages during the Covid pandemic. The unintended consequence was the single largest loss of institutional knowledge aviation industry has ever experienced and is a root cause for many airline operational issues and MRO TAT delays. In order to retain existing employees and attract new recruits, salaries and benefits will predictably rise. Driven by labour shortages and the supply chain challenges MRO cost inflation is on the anvil. The industry will wake up to leveraging training using virtual & augmented reality.
MRO technology-driven productivity with e-Task cards & 5G mobile tablets, implementation of sensors and robotic inspections, E-signatures & digital records, Electronic aircraft log books/tech logs, RFID & tooling/inventory integration will be the new normal in enhancing Digital MRO. The resultant dynamic manpower planning & scheduling with Real-time production control &critical path management will usher in efficiencies and improved TAT benefiting MRO cost optimisation.