Skilled talent, sufficient workforce, high-levels of professional services and technical support have all enabled the Middle East region to continue advancing the business aviation sector over the past year
Qatar Executive is a leader in the region with Ultra-modern fleet: Qatar Executive Global 5000 in Doha
Delivery of its Fourth Gulfstream G650ER Executive Jet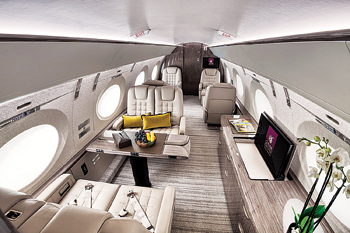 Qatar Executive expands its fleet with the delivery of two State-of-the-Art Gulfstream Jets
Driven by advances in infrastructure, technology, technical support and talent, as well as the return of mega events, the rise of business aviation is a trend we are witnessing not only in the Middle East region but in many key markets internationally.
In the first half of 2022, business aviation or private flying activity was up by 22 per cent over the same period last year. There were 2.7 million flights globally, with business jet activity in particular up 27 per cent year-on-year and 21 per cent above pre-pandemic 2019 levels. This rise in demand has been a result of pent-up demand for travel since the pandemic, with high net-worth individuals opting to fly on private jets rather than first class on commercial airlines. Baggage and flight delays as well as cancellations have been seen across leading to those who can afford it to opt for private flying.
According to Airbus Corporate Jets, the US, which is the world's biggest business aviation market, saw increases of 11.7 per cent and 14.4 per cent in departures in May and June this year, when compared to the corresponding months in 2019. In June, Van Nuys Airport in Los Angeles saw the number of large business aircraft departures rise by 35.6 per cent compared to the same period in 2019. The growth in charter operations has propelled fleet modernisation by charter operators to enhance their fleet efficiencies. Such fleet modernisation programmes are anticipated to accelerate the growth of the business jet market.
MIDDLE EAST BUSINES AVIATION
The Middle East market has been at the forefront of this rapid global increase in business aviation. The global private jet market is projected to reach $39.84 billion in 2025 from an estimated $25.87 billion in 2021, with the GCC region representing a major part of that growth.
Within the Middle East, the UAE witnessed the highest demand in private jet charter services by revenue in 2021, followed by Saudi Arabia. Qatar, Oman and Bahrain who are all seeing increasing growth in this sector.
The private jet market in UAE is predicted to see the number of aircraft doubling by 2025 to reach 250 aircraft from about 150 private aircraft currently
The private jet market in UAE is predicted to see the number of aircraft doubling by 2025 to reach 250 aircraft from about 150 private aircraft currently. The UAE is strongly positioned to capitalise on increased foreign investment and high net worth individuals, driven by a strong influx of international wealth and support from the Dubai government to make the Emirate the private jet capital of the region. A key part of the GCC's success in driving rapid growth in private aviation is a result of its advanced regulatory environment and leading infrastructure. Skilled talent, sufficient workforce, high-levels of professional services and technical support have all enabled the region to continue advancing the business aviation sector over the past year.
The upcoming FIFA Football World Cup 2022 will see a tremendous rise in domestic and international tourists traveling to the venues where the games will be played in Qatar. This has led to inquiries for private jets in Doha reaching their highest ever levels. The World Cup is expected to add $18 billion to Qatar's economy, leading to significant growth in a range of sectors including travel, tourism, hospitality, and infrastructure. The World Cup is expected to attract more than 1.2 million fans and many of them will be staying in the UAE and flying into Doha for the matches. As a result, Dubai-based private jet operators expect to fly an additional 2,500 flights to and from Doha during the World Cup.
EXECUTIVE AVIATION OF MIDDLE EAST AIRLINES
Mega events like Dubai Expo 2020 and the Qatar Football World Cup in 2022 have led to increased demand for business aviation, a trend which is expected to continue for months to come. It is an exciting time for business aviation as multiple factors are leading to a surge in demand.
EMIRATES EXECUTIVE
Whether you're travelling with colleagues or with family, Emirates Executive will take their exceptional service to the highest level to fly you around the world. Fly up to 19 guests in the utmost comfort of their customised A319 aircraft with the flexibility of private jet travel. Reach destinations within an eight-hour non-stop flight from your chosen departure airport.
Relax and Unwind: Retreat into your own world in one of ten Private Suites. Slide the privacy doors closed and relax on fully flat-bed seats, surrounded by the comforts of a visitor's seat, ambient lighting, mini-bar and a personal 32-inch screen for your in-flight entertainment. Enjoy personal service to your Private Suite or stretch out to sleep with feather pillows and duvet and arrive at your destination feeling rested and refreshed. Rejuvenate mid-flight in the luxury Shower Spa and separate powder room. Finished in classic walnut and marble and stocked with fine linens. Soft bath robes and a range of Sodashi luxury spa products are the perfect comforts to help you arrive refreshed and ready to take on the day.
Emirates Executive has the highest standard of worldclass service in addition to utmost comfort of customised arrangements, on a private flight
Customised Lounge: Customise your living space to suit your precise needs during flight, whether you're travelling for business or with your family on a leisure trip. An expansive lounge area can be arranged as your own private restaurant, your personal board room for conferences and meetings, or simply to relax in. The lounge sofas also convert into full-sized beds sleeping five guests, in addition to the ten Private Suites.
Personal Service: With Emirates Executive, you have the highest standard of world-class service on your private flight. Multilingual Executive cabin crew are available at your convenience, whether you'd like a drink, to dine or to arrange your living space so you can simply relax and enjoy your exclusive flight.
GCC's success in driving rapid growth in private aviation is a result of its advanced regulatory environment and leading infrastructure
Entertainment: Relax and enjoy up to 1,600 channels of on-demand entertainment on the award-winning system, ICE. From old time classics to the latest blockbusters, watch movies and TV programmes from around the world in over 25 languages, alongside a wide range of music and games. A personal 32-inch screen is in every Private Suite, or watch with friends and family in the comfort of the lounge. Keep up with live news and top international sporting events, or plug in your iPod to listen to your personal music. Wi-Fi, mobile services and state-of-the-art video conferencing lets you stay connected with people on the ground.
QATAR EXECUTIVE
Qatar Executive is the private jet charter division of Qatar Airways Group. Headquartered at Doha International Airport, luxury jet services are available for worldwide charter on board the operator's wholly-owned business jet fleet. Qatar Executive is the launch customer for Gulfstream's G700, the world's first commercial service operator of the Gulfstream G500 and largest commercial operator of the G650ER worldwide. Qatar Executive's service portfolio also includes aircraft management, maintenance and Fixed Based Operator services.
Enhancing the comfort and well-being of our passengers throughout their journey is paramount. Thus, Qatar Executive is set to introduce a new Air Ionisation System on its state-of-the-art G650ER aircraft. The active system is capable of eliminating potentially harmful pathogens and allergens, including bacteria, viruses, and mould spores. The eco-friendly technology has a minimum impact on the environment and adds an additional layer of hygiene onboard by eradicating volatile organic compounds (VOCs), visible smoke and undesirable odours. Qatar Executive has already retrofitted two of its G650ER jets with the pioneering Air Ionisation System, and will continue installing the new device across the fleet. Qatar Executive continues to adopt and introduce meticulous on-board safety measures which offer an unparalleled private jet experience each time.
Earlier this year, Qatar Executive's flagship G650ER jet operated to and from Geneva, Switzerland using a high blend of Sustainable Aviation Fuel (SAF), reflecting Qatar Airways Groups' commitment to working on its environmental sustainability goals. In November 2021, Qatar Executive took delivery of its eighth G650ER jet, which operated to Doha using drop-in Sustainable Aviation Fuel (SAF), marking another significant milestone for Qatar Airways Group and reinforcing its leadership in flying one of the most modern aircraft fleets in the sky.
The Football World Cup in Qatar is expected to add significant growth in a range of sectors including travel, tourism, hospitality, and infrastructure
In August 2021, Qatar Executive showcased the world's first Gulfstream G700 in Doha, Qatar. Equipped with the all-new Rolls-Royce Pearl 700 engines and an advanced high-speed wing design, the G700 is able to fly at record-breaking speed and range with outstanding fuel efficiency, promoting sustainable business aviation. The G700 will be the latest addition to Qatar Executive's state-of-the-art fleet of long-range and ultra-long-range aircraft. The executive charter service provider has ordered 10 of the world's largest business jets.
Qatar Executive's fleet includes 12 Gulfstream G650ERs - with three additional jets planned for delivery in 2022 - three Bombardier Global 5000s, one Bombardier Global XRS, one Airbus A319 ACJ and another Airbus A319 Air Ambulance aircraft, making the current fleet 18 strong.
SAUDIA PRIVATE AVIATION
Saudia provides various types of private aircrafts to transport businessmen and company passengers under the umbrella of Saudia Private Aviation (SPA). It makes sure that their Private Aviation Unit achieves the heights standards in safety, security, and privacy. SPA provides private aviation services and offers the possibility of travel in a record breaking time 24/7. This includes all the necessary trip preparations, in addition to fulfilling special requests through continuous follow-up from the minute the aircraft takes-off, until it arrives safely to its scheduled destination.
Emirates Executive has Multilingual cabin crew available for passengers to simply relax and enjoy their exclusive flight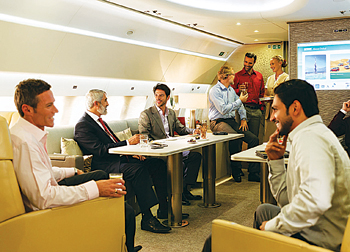 Emirates Executive offers a personal board room for conferences and meetings
Saudia Private Aviation (SPA) is in line with the Kingdom's vision 2030 to continue to lead the provision of integrated services and that the Kingdom of Saudi Arabia be a global hub in the business aviation industry. Saudia Private Aviation seeks to contribute to the realisation of the Kingdom's vision 2030 that the Kingdom of Saudi Arabia becomes an investment power and a hub linking the three continents by providing distinctive products and services designed to meet the desires and needs of our partners and local and international guests who wish to travel to and from the Kingdom. To achieve this with full commitment, SPA is applying local and international safety and quality standards, promoting a culture of service excellence, adhering to the values of sound business practices, and caring for personal career development.
Aircraft Management: Saudia Private Aviation is amongst the top companies targeted by private plane owners, as the casual leasing helps private plane owners in balancing and compensating a large part of the operational costs of the plane. As operators and third party aircraft management service providers, we are fully aware that aircraft owners have specific goals and requirements. Aircraft owners care about operational costs and are looking for ways to help them control these costs while raising the level of aircraft productivity and maintaining its airworthiness and safety for flight. Saudia Private Aviation has a specialised team that always strives to achieve these specific goals for private plane owners.
Aircraft Charter: Over 30 years' experience in private aircraft charter operating under a General Authority of Civil Aviation (GACA) Part 135 Air Operator's Certificate (AOC)
Ground Services: Saudia Private Aviation provides Ground Handling Services across all KSA airports through four major dedicated SPA FBOs.
MEBA 2022
Coming December 2022, the MEBAA show will gather industry leaders from across the globe to lay out the roadmap for business aviation in the future. The event will showcase new innovation and technology that is driving significant growth in business aviation, private jet, and the charter flight markets.
With its new and unique features, the event will reassess the dynamics of the industry, offer a new perspective and will be host to a range of opportunities aimed at bringing the region's business and private aviation community together again. The show will also discuss the latest developments in aircraft technologies for electric flights, electric vertical take-off and landing (eVTOL) aircraft, as well as the future of unmanned aircraft.
This year's MEBAA Show will also see the launch of a new conference. Biz Av Talks will offer the opportunity to learn from industry experts, hear the latest trends in business aviation and take part in interactive discussions with more than 30 global panellists and speakers. Covering key themes such as future aviation, sustainability, emerging markets, regulations and much more, it will reassess the dynamics of the industry, as well as offer a new perspective on business aviation and how technology can enhance the customer experience journey.