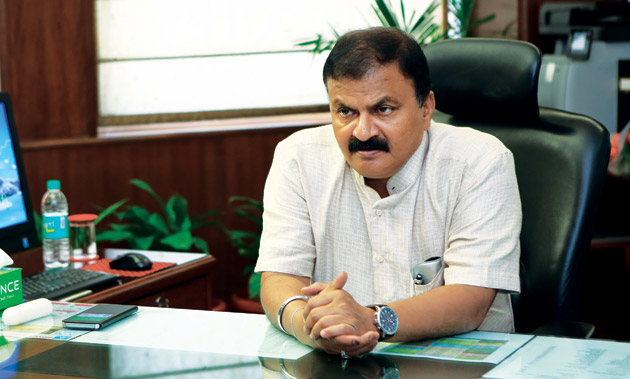 Air traffic in India jumped 26.6 per cent year-on-year in January, which was also the 15th consecutive month to record 20 per cent-plus annual growth. The International Air Transport Association (IATA) expects India to displace UK as the third-largest aviation market by 2026.
This calls for huge investments in airport infrastructure, massive technology infusion and overhauling of policies to create an eco-system for aviation growth. Tasked with such gigantic goals, the Airports Authority of India or AAI is on mission-mode to create, upgrade, maintain and manage civil aviation infrastructure in India. In an exclusive interview with Neetu Dhulia of SP's Airbuz, Dr Guruprasad Mohapatra, Chairman of AAI gives details of the authority's action plan for creation of infrastructure by investing Rs. 17,800 crore over the next five years.
Neetu Dhulia (SP's): With the government's aggressive plans of remote and regional connectivity, how has the role or focus of the Airports Authority of India (AAI) changed in the recent years?
Dr Guruprasad Mohapatra (Mohapatra): The Ministry of Civil Aviation (MoCA) has launched the Regional Connectivity Scheme (RCS) – UDAN – in October 2016 to promote regional air connectivity in the country. The focus of the government is to revive unserved and underserved airports in the country and to provide air connectivity to remotely located areas in the country. For implementation of RCS, AAI has been appointed as the Implementing agency. The role of AAI is to invite proposals from the various airline operators through a transparent e-bidding system and take necessary action for selection of the airline operators as per procedures detailed in the RCS document. AAI is also responsible for collection of RCS levy and disbursement of the Viability Gap Funding (VGF) to selected airline operators.
In addition to the above, the Cabinet Committee on Economic Affairs has approved the proposal for revival of 50 unserved/underserved airports/airstrips of the state governments, Airports Authority of India and Civil Enclaves at an estimated cost of Rs. 4,500 crore, in three financial years starting from 2017-18. However, revival of airstrips/airports will be 'demand driven', depending upon firm commitment from airline operators as well as from the state governments for providing various concessions as airports will be developed without insisting on financial viability. AAI will be the implementing agency for development of these airports for which it will enter into a memorandum of understanding with the concerned state governments.
SP's: Could you give details of number of AAI airports which are operational and how many more would become operational in 2017-18?
Mohapatra: The Airports Authority of India owns/manages 126 airports in the country, including 26 civil enclaves at defence airports. Out of these, 96 airports are operational and schedule flights services are operating from 72 airports. The list of operational airports is given in Annexure-I.
Another 24 operational airports where scheduled operations can be started without any major renovation are shown in Annexure-II.
Besides this following AAI airports are likely to be made operational by 2017-18:
Kishanagarh in Rajasthan
Tezu in Arunachal Pradesh
Pakyong in Sikkim.
SP's: What will be the approach for AAI to make them operational, to take the PPP route or to run the airports yourself or mixed approach, and the reasons for the same?
Mohapatra: AAI is planning to revive non-operational airports under RCS with the financial support of MoCA/GoI and PPP model is not taken up as the same is commercially not viable.
SP's: It is presumed that these airports will be low-cost airports. Could you indicate how much it would cost to build such airports?
Mohapatra: The cost of such no-frill airports will range from Rs. 23 crore to Rs. 44 crore. We have designed some low-cost models for such airports, excluding the cost of land and leveling.
SP's: Some of the AAI airports such as Chennai are nearing saturation, what are the plans for such airports?
Mohapatra: Advance planning and execution are carried out for expansion and augment the existing capacity. Wherever required, land is sought from the respective state government in advance.
For augmentation of capacity at Chennai airport, the following proposals are planned on fast pace.
Old terminal buildings T-2 and T-3 are proposed to be reconstructed with ultramodern Integrated Terminal Building to enhance the total passenger handling capacity from 23 mppa to 30 mppa and beyond.
AAI has appointed AECOM as project management consultant (PMC) in February 2017 with following project schedule:
Submission of DPR-06.09.17
Approval of PIB-6.09.17
Preparation of Detailed T/S-20.09.2017Award of work-31.01.18
Straightening of 'B' parallel taxi track with 2 nos. Rapid exit taxiways (RETs) is also being taken up to enhance operational efficiency.
Construction of Ceremonial Lounge presently housed in Old Terminal Building to facilitate straightening of B parallel taxitrack. Further, the Ministry is in touch with the state government to explore the option of developing another airport near Chennai.
SP's: What are the plans of privatising airports? Privatisation of airports in the past have helped AAI generate exceptional revenues?
Mohapatra: The matter regarding public-private partnership initiatives at airports, were deliberated at length when four airports at Chennai, Kolkata, Ahmedabad and Jaipur were considered for operation, maintenance and development through PPP.
The experience of PPP of Delhi and Mumbai and consequent increase in revenue share to AAI which was used by AAI in development of the AAI airports were also discussed. The pros and cons of the PPP were discussed, including the views expressed against privatisation of these four airports by the Parliamentary Standing Committee on Transport. Further, the non-aero revenue earned by these four airports were also discussed and the capital investment in upgradation of four airports were also considered.
Considering the above factors, it was decided that AAI will ensure high standards of service by entering into O&M contracts, either with or without the responsibility of maximisation of nonaeronautical revenue in the terminal building (excluding land on city side or air side) at Ahmedabad and Jaipur airports. The city side and air side will continue to be managed directly by AAI at these airports. As regards the airports at Chennai and Kolkata are concerned the decision for them may be taken after gaining experience from the present proposal.
"THE AIRPORTS AUTHORITY OF INDIA OWNS/MANAGES 126 AIRPORTS IN THE COUNTRY, INCLUDING 26 CIVIL ENCLAVES AT DEFENCE AIRPORTS"
In view of the above decision, AAI initiated Global Bidding Process for O&M of select areas of Ahmedabad and Jaipur airports to receive bids from renowned airport operators for O&M arrangement and issued the request for proposal for operation and maintenance of 'select areas' of Sardar Vallabhbai Patel International Airport at Ahmedabad, Gujarat and Jaipur International Airport. Accordingly, the process of awarding O&M contract for select area of Ahmedabad and Jaipur airports through open competitive bidding process is under process.
SP's: Could you update on the centrally controlled air traffic flow management C-ATFM)? What are the benefits of the system for airline?
Mohapatra: The C-ATFM system is primarily meant to address the balancing of capacity against the demand to achieve optimum utilisation of the major resources, viz., airport, airspace and aircraft at every Indian airport where there is a capacity constraint. The C-ATFM system integrates flight data from various sources across the country. The system is also provided with updates on airport capacity, weather and availability of airport systems, etc. The system processes the air traffic demand and airport capacity information and provides indications to the ATFM flow manager on any future air traffic congestions. The ATFM flow manager collaborates with all stakeholders like airlines and airport operators and implements ATFM regulations to ensure regulated flow of traffic at such constrained airport. The aircraft which are bound for the constrained airports, are allotted a time for departing from a departure airport and are held on ground till the allotted time. This delay on ground reduces the delay in air and hence greatly reduces the fuel consumption of airlines.
"EFFORTS ARE BEING MADE TO ACHIEVE TA RGET OF 27 PER CENT NON-TRAFFIC REVENUE AS DIRECTED BY NITI AAYOG"
The C-ATFM system consists of a Central Command and Control Centre (CCC) which will be the nodal centre for ATFM implementation in India. AAI is conducting stakeholders meetings with all airlines, airport operators and the Directorate General of Civil Aviation (DGCA) to arrive at consensus for common business rules and operating procedures. The first phase of ATFM operations are planned from May 2017. C-ATFM will provide huge benefits to the airlines in form of:
Reduced fuel burn
Reduced cost of operations
More predictability – Delay will be known in advance
Transparent process of sharing the information
Airlines will also be a partner in decision making.
SP's: What are the new non-aero revenue streams that airports should look at to shore up revenues and bring down costs for airline operators?
Mohapatra: i. Non-aeronautical revenue streams to increase AAI revenue
Master concessionaire with revenue sharing model for food and beverages and retail outlets at 12 airports, including Amritsar, Goa, Guwahati, Lucknow, Srinagar, Trichi, Bhubaneswar, Raipur, Indore and Calicut have already been designed on approximately 15,042 square metres area, which will generate marching extra revenue from these categories. RFP for these facilities have already been invited.
New formulations on advertisement licence have been designed with business friendly terms and conditions. New tender with this improved modalities has been initiated, which may result in improved ambiance at airports and enhanced revenue.
Licences for new facilities, namely duty paid liquor outlet, vending machine, duty free super market, duty free fashion accessories and extra baggage handling licences have been initiated with larger space and with revenue share model.
Value assessment for remaining airports is under process and will generate additional revenue from airports having less than 0.5 million passenger per annum.
Efforts are being made to achieve target of 27 per cent nontraffic revenue for the year 2016-17, as directed by NITI Aayog, against the existing 16-17 per cent.
ii. To bring down cost for airlines
Financial performance of airlines depends on numerous parameters, which is beyond the domain of airport operator. The majority of the operative cost is controlled and managed by airlines. Airport related financial impact on airlines is governed by the Airports Economic Regulatory Authority (AERA) regulations and instructions/guidelines of MoCA.
AAI's endeavour is to increase/optimise the non-aeronautical revenue generation, thereby minimising the financial load to the airlines/passengers. Other factors to bring down the cost for airlines pertains to the concerned airlines, which is an independent entity.
SP's: What role AAI play in helping general aviation and business aviation operators and also cargo, segments which normally get neglected?
Mohapatra: General and business aviation: The Indian aviation sector is an open, liberal and investment-friendly sector. "Entry of low-cost carriers, higher household incomes, strong economic growth, increased foreign direct investment (FDI) inflows, surging tourist inflow, increased cargo movement, sustained business growth and supporting government policies are the major drivers for the growth of the aviation sector in India."
The MoCA frames national policies and programmes for the development and regulation of civil aviation in the country; devising and implementing schemes for orderly growth and expansion of civil air transport; and overseeing the provision of airport facilities, air traffic services and carriage of passengers and goods by air.
The responsibility of developing, financing, operating and maintaining all government airports in the country rests with the AAI, which was established in 1994 under the Airports Authority Act. AAI has also entered into operations management and development agreements with Delhi and Mumbai and also with green field airports, viz Bengaluru, Hyderabad and Cochin international airports.
The introduction of low-cost airlines, coupled with rising disposable incomes in the country, has resulted in substantial growth in domestic passenger traffic. Some of the policies and promotions being offered by Indian Government to the civil aviation sector are:
Domestic airlines are allowed to fly overseas and forge partnerships with foreign carriers, while foreign carriers, in turn, have been interlining with domestic airlines to access secondary destination(s).
AAI, within the framework of MoCA and its recently introduced National Civil Aviation Policy 2016 (NCAP), extends inclusive helping arms to all kind of general aviation (GA) including all civilian flying, business travel, agricultural aviation, flight training, aerial firefighting, medical transport, aerial mapping, pipeline patrol, aerial law enforcement, sightseeing, search and rescue, personal travel, recreational flying, business use of airplanes and helicopters, etc.
Similarly, to the business aviation, where the air transport option tailored to the specific needs of company executives for efficient, productive and secure business travel to accommodate schedules and reach destinations not compatible with the limitations set by commercial airline itineraries.
Air Cargo Segment: With more and more high-density traffic airports going into the hands of private players, AAI is now focusing on the cargo segment to boost its revenues and venturing into the new area of domestic cargo operations with an objective to create the basic infrastructure at its airports which have potential for air cargo growth. As part of this, AAI plans to optimally utilise its old redundant/un-utilised domestic passenger terminals by converting them into cargo facilities after carrying out the necessary modifications.
There has been tremendous growth of air cargo at metro/nonmetro airports with considerable scope for improvement in the basic infrastructure to tap the potential, adding that "domestic cargo grew by 8.8 per cent and international by 10.5 per cent last year".
AAI has identified 24 domestic airports across five regions, including three civil enclaves, to develop such integrated facilities. AAI is required to explore new avenues for revenue generation to maintain its position as a Mini-Ratna category-1 entity and it is also looking to intensify efforts to attain Navratna status.
AAI is expecting to wean away from rail and road transport after the air cargo operations take off in full swing. These facilities have already commenced at 18 AAI airports till date. There are plans to replicate the same model at other airports as well, besides the 24 which have been identified based on cargo potential.
In addition to above, AAI has been undertaking the international cargo handling operations at Chennai, Kolkata, Lucknow, Coimbatore, Trichy, Amritsar, Guwahati, Indore and Mangalore airports, and departmentally at Trivandrum, Varanasi, Bagdogra, Bhubaneswar, Calicut, Visakhapatnam, Jaipur, Ahmedabad, and Goa airports through O&M model and planning to commission similar operations at Aurangabad, Madurai and Pune airports.
In order to give special focus to cargo, AAI has recently formed a 100 per cent owned subsidiary of AAI namely AAI Cargo Logistics and Allied Services Company Limited (AAICLAS). The subsidiary company came into existence in August 2016 and will, henceforth, undertake all cargo and ground handling related activities at AAI managed airports. The company will also focus on air cargo handling and allied services, warehousing and contract logistics and air cargo road feeder and air freight stations. The formation of AAICLAS has given an impetus to the air cargo development activities at AAI airports with a fresh outlook and focused attention.
AAI has always been in the forefront and pioneer in creating state-of-the air cargo infrastructure and cargo facilities for promotion of air cargo inter-alia always in the service of the nation to facilitate regional development of AAI airports on pan-India basis.
SP's: Please tell us some of the major initiatives you have initiated as Chairman-cum- Managing Director and what is your vision for AAI?
Mohapatra: Keeping in view the resurgence of air traffic in the country and to meet the growing demand, the focus will be towards augmentation of capacity in air space and the airports both at air side and city side. The road map and the action plan for development of airport and ANS infrastructure to augment capacity are in place. AAI have made an action plan for creation of infrastructure by investing Rs. 17,800 crore for the next five years.
The projects will take off in phased manner as per the plans. It is our endeavor to see India at the pinnacle of aviation industry both in terms of size of the industry and with respect to quality of air services and the customer satisfaction. We have initiated several improvement programmes at the airport to significantly enhance passenger experience at par with global standards. My endeavour is to make AAI the world leader in the field of airport operation and Air Navigation Services (ANS) and one of the major player in the aviation world within Asia-Pacific region. The aim is towards creating an integrated ecosystem with support of Government of India to make flying affordable for the masses with traffic touching 50 crore domestic passengers, 20 crore international passengers and 10 million tonnes cargo per annum by 2027.
AAI is adopting measures to provide environment friendly sustainable airports and operations at the airports through green initiatives in ANS like C-ATFM, implementation of RNAV-ATS routes in en route phase, Implementation of approach procedures with GNSS such as Baro-V, GAGAN-based LPV procedures that facilitates lesser fuel burn thereby helping lesser carbon emissions. Use of solar green energy is being encouraged. Several solar power plants have been operationalised and are in pipeline to provide green energy. AAI further plans to improve the financial viability of the airports at Tier-II and Tier-III cities for which we plan to improve the non-aeronautical revenue through commercial activities in the terminal and city side.
Further AAI will provide logistical and technical support to the state governments for bringing up greenfield airports and will revive/operationalise AAI/state government airports under RCS.