The time has come for airport infrastructure in the city side, at the terminal building and on the air side to be upgraded to meet the challenges of the future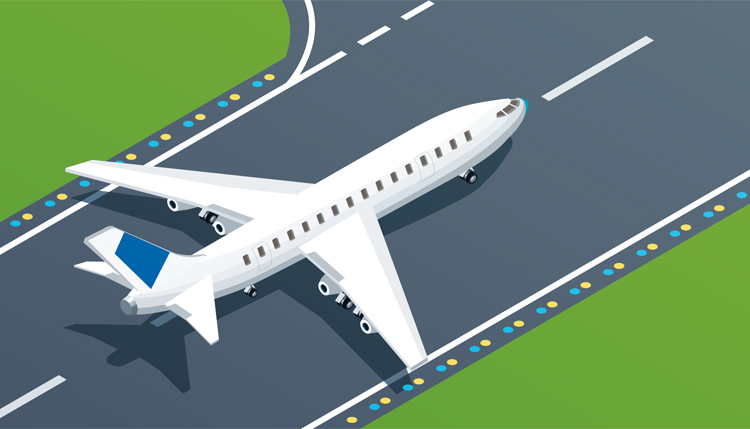 Enhancing the runway lengths for enabling heavier, more powerful aircraft to operate augments the passenger and cargo lift capability
Estimates by the International Air Transport Association indicate that India will see a 330 per cent air traffic growth with about 50 crore people travelling annually by the year 2039. Predictably, the aviation companies have already started aircraft acquisitions to cater to this growing demand. This humongous growth in passenger traffic should be preceded by a corresponding increment in aviation-related infrastructure, Currently, there is a tremendous mismatch between these two facets.
The surge in aircraft acquisitions and the ground infrastructure needed to cater to the increasing number of air travelers, have not been matched up by the aviation-related infrastructure. This results in flight delays, cargo backlog, increasing congestion and sundry cess being imposed on the passengers who then face increasing travel costs. In order to find solutions to this problem, it is pertinent to break it down to smaller issues categorised in terms of airside challenges, terminal building restrictions and the city side infrastructure.
AVIATION INFRASTRUCTURE CHALLENGES
The airside refers to the area beyond the airport building where the aircraft are parked and the airspace. The airports face acute shortage of runways, taxiways, apron space and aerobridges required to shuttle passengers between aircraft and the terminal building.
In order to ensure safety in air and on the runway, the Air Traffic Controller (ATC) has to maintain adequate distance between aircraft. This distance depends upon the location accuracy of each aircraft on a millisecond basis both in the air and on the ground, its approach speed, navigational aids and the maneuverability of the different types of aircraft being guided at that instant. As the effectiveness of all these factors increase, the safety distance between aircraft can be reduced. This will enable more runway operations to take place in the chosen time-window for better passenger satisfaction. Low accuracy navigation and aircraft tracking systems necessitate the ATC to increase the distance between aircraft to ensure safety. This reduces the number of landings and takeoffs during peak hours.
Inadequate runway length rules out usage by large aircraft that carry more passengers. This necessitates increasing the sorties needed to transport the burgeoning passenger traffic. Cargo handling infrastructure, skilled manpower and its electronicsbased spatial management, especially at night, is inadequate. All these factors reduce the number of flights that an airport can handle within a given timeline. These bottlenecks have to be improved to accommodate the growing number of aircraft.
The airport buildings too have their own problems of legacy designs which create choke point during entry, check in, luggage stowage and security regulations apart from the long distance to the aerobridge.
Encroachment on the city side roads, grossly inadequate feeder infrastructure from railway or bus stations up to the terminal and the limited number of hotels near the airport where passengers arriving from far-off destinations can stay, force the passengers to crowd at the airport. Transportation of baggage from the public transport drop off point up to the airport is difficult especially for disabled people, senior citizens and children. Consequently, passengers have to reach the airport hours in advance to avoid missing flights resulting in crowding at the airports. These issues of journeys to the airport apply equally to the staff too. Removal of infrastructure bottlenecks will make the journey of approximately 13.7 lakh daily fliers predicted in the year 2039, pleasant.
AIRSIDE INFRASTRUCTURE
Usually, passengers want to travel early so that they can finish their work and return home for the night. However, this is difficult because of aircraft availability and the number of landings and takeoffs possible from the runway, the time slot being limited. The runway is the most important entity in air travel. For high traffic airports, there is a need to have parallel runways where possible. An additional runway will double the number of aircraft operating at the terminal. Enhancing the runway lengths for enabling heavier, more powerful aircraft to operate too augments the passenger and cargo lift capability. Alternatively, minor airports that are at least 150 km away from major airports can be set up so that some passenger traffic can be diverted through fiscal incentives. Installing instrument landing system can improve runway utilisation with safety and risk mitigation.
Also, direct, long-haul flights using high endurance aircraft between popular destinations, will avoid congestion. An example is the Birmingham to Amritsar flight. This highly successful concept should have been started long ago. Apart from freeing Delhi of migrant travelers, North bound travelers would not waste time, money and space on first congregating at Delhi and then moving out elsewhere.
IN ORDER TO ENSURE SAFETY IN AIR AND ON THE RUNWAY, THE AIR TRAFFIC CONTROLLER (ATC) HAS TO MAINTAIN ADEQUATE DISTANCE BETWEEN AIRCRAFT
A thorough data analysis of all international flights needs to be done. All itineraries having at least 55 per cent North Indian passengers should originate from a green or brown field airport in Punjab whilst being offered aviation-related fiscal benefits. This way, the aviation-associated carbon footprints over Delhi reduces due to less loiter time for inbound aircraft, reduction of travel cost by removal of congestion and fuel cess, lead to even growth opportunities beyond Delhi and halt migration. This concept can be further improved by meshing in heliports and airports as an outreach programme to the final destinations of the passengers. This will lead to better utilisation of aviation assets by aviation companies.
The air traffic controllers too need to be re-skilled for using modern navigational aids to locate aircraft accurately. This will enable the air traffic controller to plan a smooth and safe landing and takeoff of aircraft closer to each other, but with safety. This will reduce the mandatory safety-related time and space gap between aircraft for landing and takeoff. Consequently, within the available infrastructure and time, more aircraft will be able to land and serve the passengers enabling the increasing mass of air passengers to travel comfortably and for the airlines to earn profits.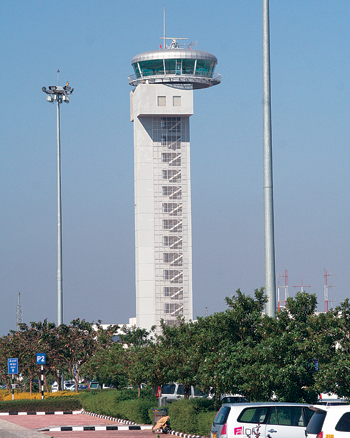 Usually, thousands of crore are spent to build airport infrastructure. Hence, maximum automation should be integrated from the planning stage itself with built-in redundancies to minimise costs.
Connected with this is the ground handling capability of the equipment deployed on the tarmac and the need for skilled workforce. Apron space in legacy airfields is limited. As the size of the aircraft is increasing, the numbers deployable at one particular time on the apron reduces. Internet of Things-based luggage and cargo locators will need to be deployed to quickly locate, load, unload and then dispose the same. This will ensure that the airplane stands at the apron for the minimum possible time. This way, apron space can be optimally utilised as the efficient, skilled, automated luggage logistics teams offer better customer service and reduce terminal charges for airlines.
Airport terminals should be built in an oval fashion with the runway inside so that passengers can check in and exit the airport from different directions to avoid city side delays. Motorised walkways from the check in point to the air bridge will enable passengers to board faster and prevent people from getting lost which results in flight delays. This will reduce the overcrowding in the airports and passenger fatigue too. As passengers de-board and board, the aircraft will refuel, undergo mandatory checks and maintenance apart from handling baggage.
The ancillary services needed to sustain aviation have to be located in the airport premises itself to enjoy economy of scale. This will ensure staff and equipment availability while reducing costs. Incremental resources can be mustered on as required basis eliminating the need to pay for a standing body of underemployed technicians who are available on a retainer basis.
A standard airport layout, workflows and functioning procedure will enable both staff and passengers to clear the terminal faster. This will improve aircraft turnaround time, benefiting the organisation and passengers in terms of money and fatigue.
CARGO HANDLING
Cargo handling is a crucial, but often neglected aspect. Handling delays incur costs for the airlines and luggage mismanagement loses passengers. All these problems can be removed by automation using Internet of Things-based locating devices like item finders to map cargo at both terminals. This way, baggage can be quickly identified and stowed appropriately to ensure logistics efficiency and passenger comfort at destinations.
India needs to adopt international logistics practices so that the latest global technological developments can be implemented for skill and infrastructure improvement. Once the skills and infrastructure are standardised, the latter can be exported too to foreign airlines given the price arbitrage of Indian skilled labour.
CITY SIDE IMPROVEMENT
The local administration has to ensure a smooth journey from the railway station to the airport for passengers and aviation staff. It has to ensure adequate hotels near the airport so that passengers from far off places can come in advance and rest there rather than crowding at the airports.
The administration has to promulgate labour-friendly laws so that labour elasticity is assured to airlines without legal hassles at optimal costs. Civic amenities like water, electricity, bird management services, sewage and garbage disposal have to be effectively ensured by the civil administration so that flying continues unhindered. Usually, airports are located far from the city. Hence, the local administration has to ensure crime-free zones around and on the roads leading to the airport so that employees and passengers can travel without fear.
INDIA NEEDS TO ADOPT INTERNATIONAL LOGISTICS PRACTICES SO THAT THE LATEST GLOBAL TECHNOLOGICAL DEVELOPMENTS CAN BE IMPLEMENTED FOR SKILL AND INFRASTRUCTURE IMPROVEMENT
Scheduled and customised taxi or bus service have to be provided by the civil administration to make commuting to the remote airfields convenient and economical for the passengers and staff alike. If such facilities exist, then only will passengers prefer the remote airports over the crowded airports of the metros.
GROUND INFRASTRUCTURE
International Civil Aviation Organisation and the Aerospace and Aviation Sector Skill Council have articulated the standards and training curriculum for aviation employees. The Airports Authority of India, the airlines and the ancillary service providers have to imbibe these standards to handle foreseeable surge in aircraft numbers. It is imperative that all the stake holders should hire the best trained employees and ensure their refresher training to usher in efficiency. This will enable the airlines to ensure more landings and takeoffs of their available aircraft, within the chosen time slot, thus maximise profits. As far as possible, machine learning, artificial intelligence and automation of processes by locally deploying Internet of Things based hardware be adopted to minimise the staff and passenger interface. This is because automation works objectively whilst, human behavior can sometimes become unpredictable and biased which can irate the customers. Automated systems will provide a quick response, not annoy customers and more importantly generate big data that is needed for artificial intelligence. Off course redundancy in the form of standby human assistance to over ride the machines will always be available in case of crisis.
Programmes such as mobile check in and operations research will economise the administrative effort at the airport and also free terminal space. Issues of passengers queuing up at immigration, security and boarding at the aerobridge apart from luggage handling, will be optimised so that the aircraft stays on the ground for the minimum possible time. Such programmes will free up airside and terminal space to enable more fight operations during the peak hours.
The criticality of aviation traffic management can be fathomed from the fact that Hyderabad airport which was designed to handle 12 million passengers in 2017, had served 18 million passengers.
Baggage scanning through artificial intelligence and big data is the next important milestone which needs implementation to ensure faster handling of passengers. It will bring in operational efficiency at the terminals.
REGIONAL HUBS
Customised itineraries using helicopter services connecting aviation hubs will enable timely movement of passengers. This will lead to reduction of terminal crowding, enable increase in aircraft availability at peak timings, make the hub-and-spoke model of the UDAN scheme a success apart from handling the surging aircraft inventory in the future.
SECURITY
International grade security environment needs to be provided using the national intelligence grid and international crime data trends to identify where the next white collar crime is likely to take place in the aviation sector. The focus will be on crime prevention which is only possible by the use of GIS, big data, AI and machine learning to identify potential culprits. Thus, a lean but effective automated security organisation would reduce boarding delays as potential criminals would be detectable and threats countered before they emerge.
The airport security should be passenger-centric and have commercial consciousness because any dispute apart from delaying the fights, will also dissuade that customer from flying with that airline ever again. This is not what the airlines want. They want repeat customers to reduce cost-per-seat sale. Hence, preventive policing is better than active and aggressive policing. Thus, attitude of the police staff has to be reoriented and refresher training provided so that they are abreast with the latest crime trends and preempt criminals using technology.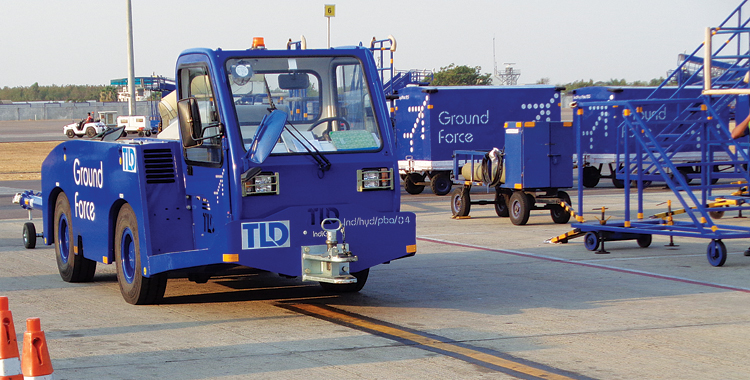 Cargo handling problems can be removed by automation using Internet of Things-based locating devices like item finders to map cargo at both terminals
Considerable finance and a long gestation period are required for aircraft acquisition and infrastructure creation before these assets become economically viable. Hence, the government must provide long term soft loans through nominated banks. The economics of this funding will depend on the trust factor and the technical-cum-financial soundness of the person seeking loan. The creditors take massive loans and pay interest from day one. So insurance will be required to avoid bankruptcy due to project failure. The lender's nominee on the board of directors will actively monitor till their money remains invested.
Usually, thousands of crore are spent to build airport infrastructure. Hence, maximum automation should be integrated from the planning stage itself with built-in redundancies to minimise costs. This is because automation is a one-time capital investment. Of course, maintenance cost is there, but in the long run, human resources prove more expensive due to a regular revenue expenditure on a monthly basis.
Humans are susceptible to emotional instability and performance deliverable deviations based on their age, skill and emotional aspects that machines are free of. Hence, as far as possible, automation, artificial intelligence, big data and other scientific procedures should be adopted to ensure a low cost, nil deviation, regular and predictable expenditure and revenue mix. This will lead to manpower optimisation, avoid duplication of jobs, provide standard services and reduce requirements of manpower. They will also enable provision of customisable services to the customers.
When financing upgrade of aviation infrastructure, it should be clear whether the capital is a grant or a loan. The breakeven point of both these will be different. Consequently, any subsequent renegotiation of the finances can have serious ramifications. Hence, serious, stable lenders such as governments, World Bank, International Finance Corporation, ASEAN or BRICS Bank should be contacted for funds. Private players should be brought in to fund independent units to provide margin money and gap funding.
CONCLUSION
The time has come for airport infrastructure on the city side, at the terminal building and on the air side to be upgraded to meet the challenges of the future due to increase in aircraft numbers. Terminal-originated delays will have a cascading effect on all aviation operations. Flight disruptions will be further transmitted to other aviation sectors whether they are operating on a hub-and-spoke model or on point-to-point terminal-based flights because everything is interconnected including railway trains, bus service, taxi service and heliports. Hence, all aviation stakeholders have to operate diligently to support the growing number of aircraft in the years to come.