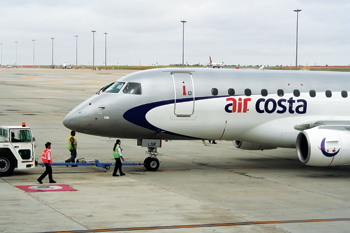 Thanks to liberal aviation policies, the airline industry seems enthusiastic on playing its bit of connecting India in a never before scenario. Regional airline players are in an expansion mood, while there are others waiting in the wings to join the fray. India's largest regional airline Air Costa will be the first to go off the block in its pan-India bid. Air Costa, the Vijayawada-based regional airline, has reasons to celebrate. It completed three years of operations, albeit with hiccups, and the icing on the cake was when the Directorate General of Civil Aviation (DGCA) issued the airline licence to operate to any destination in India. The pan-India approval comes at a time when government policies are becoming conducive for airline operators to connect to underserved and unserved destinations. A slew of incentives are on offer for regional airlines and it remains to be seen how Air Costa will capitalise on the liberal policies.
Air Costa is presently the largest regional airline, operating with a regional licence for three consecutive years, connecting eight destinations including Vijayawada, Bengaluru, Chennai, Hyderabad, Jaipur, Ahmedabad, Tirupati and Visakhapatnam. After obtaining the national licence it will gradually start connecting destinations in the North and North East. The pan-India licence opens avenues to add more destinations including trunk sectors such as Delhi, Mumbai and other sectors with growing air travel population such as Lucknow, Bhubaneswar, Chandigarh, Indore, etc.
Milestone for Air Costa
Vivek Choudhary, CEO of Air Costa, said: "Receiving a pan-India permit is another milestone for all of us at Air Costa. This validates the hard work and efforts put in by each one of our 800 strong team members over the past years. I also personally would like to extend my gratitude to the Directorate General of Civil Aviation, our partners Embraer and the GE Capital Aviation Services (GECAS), and our esteemed trade partners who have supported us.
"With this permit we can now replicate our philosophy of connecting the smaller towns and cities to the metros across India. We have plans to connect Delhi and Mumbai to smaller towns and cities across India. Our immediate focus now moves to adding aircraft and expanding our operations."
Impending stake sale?
Air Costa is planning to induct in 2017 another six aircraft for which it is in discussions with lessor GECAS of Singapore and this deal is expected to materialise soon. Besides, it is also said to be in discussions with foreign carriers, including those from the Gulf for sale of stake. Qatar Airways is making top rounds, though the same has been denied by Kavi Chaurasia, Vice President, Marketing and Corporate Communications. Air Costa is planning to offload 26 per cent stake as per unconfirmed media reports. If this happens, it will be a major leg up for the regional player's ambitious expansion programme, armed with a pan-India licence. The government under Prime Minister Narendra Modi's leadership has increased the cap on foreign direct investment (FDI) in Indian carriers from the previous 49 per cent to 100 per cent.
All this seems to be falling in place for Air Costa which in 2014 at the Singapore Airshow ordered 50 E-Jets E2 with an additional 50 purchase rights. The acquisition is a mix of 25 E190-E2s and 25 E195-E2s and has an estimated value of $2.94 billion based on 2014 list prices. The purchase rights are for an additional 25 E190-E2s and 25 E195-E2s, bringing the total potential order to up to 100 aircraft and can reach $5.88 billion if all are exercised. The E190-E2 will be configured with 98 seats in dual class layout, with six seats in first class, and the E195-E2 with 118 seats, with 12 seats in first class. Deliveries will start in 2018 for the E190-E2, while the E195-E2 is slated for entry into service in 2019. Any tie-up with a foreign player with deep pockets will help fledgling airliners such as Air Costa which has huge pending aircraft orders.
Air Costa will be able to connect Tier-II and Tier-III cities across the country with any Tier-I city now. By 2018, the airline plans to have a minimum fleet of 12 aircraft and fly to 18 stations. A major network change is expected in light of the change in fleet. Bhubaneswar, Pune, Guwahati, Indore, Patna and Bhopal are expected to be added to the network when the fleet size touches eight.
As the Regional Connectivity Scheme gets underway early next year, start-up airlines will be positioned to take advantage. Indeed, the beginning of the next wave of aviation is round the corner and all credit should go to the proactive policies of the government.