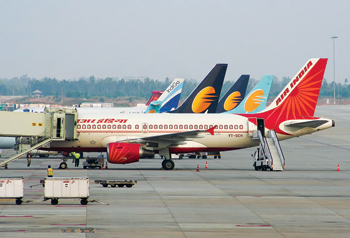 Pusapati Ashok Gajapathi Raju will go down in the annals of Indian aviation as one of the best ministers of civil aviation India has ever had. He is the man of the moment. Maybe, he is at the right place at the right time. When India is on the cusp of major economic transformation, he is spearheading that transformation in civil aviation. He is one minister, who in just about two years time in the ministry, has initiated radical and significant changes which will have a lasting impact on the sector in particular and the Indian economy in totality.
The highpoints of the 'work in progress' are the National Civil Aviation Policy (NCPA) and the Regional Connectivity Scheme (RCS) which are landmark policies. As such the civil aviation scenario in India was looking up and the NDA Government is giving it the necessary push, creating an ecosystem for aviation to soar. The RCS, the Minister has said, is cornerstone of our civil aviation policy. "It shall promote affordable flying and balanced regional growth."
IATA praises India's reforms
Congratulating India on its efforts, the Director General and CEO of International Air Transport Association (IATA) Alexandre de Juniac said the Civil Aviation Policy contains some encouraging elements, such as developments on open-skies, code-sharing and foreign direct investment (FDI). In fact, allowing FDI of 100 per cent in an Indian airline places India among the most progressive states in this respect. But, de Juniac also noted concerns including the mandating of hybrid till for the regulation of airport charges, and the plans for a levy to cross-subsidise regional flights. "I look forward to engaging in a comprehensive dialogue with the government on what needs to change once the policy has had time to 'mature'."
Market size of $16 billion
Indeed, civil aviation policies seem to be on the right track. Civil aviation is on a high trajectory growth path and it will soon be among the top five aviation markets of the world. India is the ninth largest civil aviation market in the world, with a market size of around $16 billion. IATA has said in its 20-year Air Passenger Forecast that India will displace the United Kingdom for the third position in 2026 in the number of air passengers. China will become the world's largest aviation market, followed by the US in 2029. Globally, IATA expects 7.2 billion passengers to travel by air in 2035, almost doubling the 3.8 billion air travellers in 2016, a prediction based on a 3.7 per cent annual compounded average growth rate (CAGR).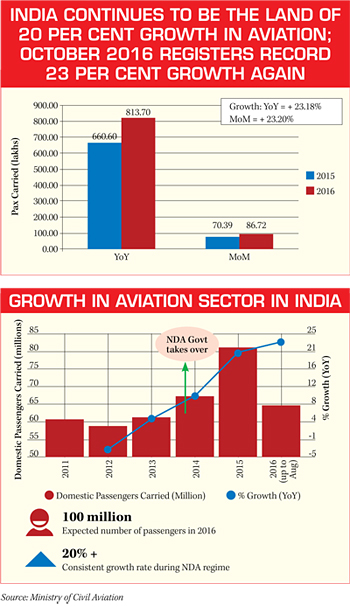 The five fastest-growing markets in terms of additional passengers per year over the forecast period will be China (817 million new passengers for a total of 1.3 billion); United States (484 million new passengers for a total of 1.1 billion); India (322 million new passengers for a total of 442 million); Indonesia (135 million new passengers for a total of 242 million); and Vietnam (112 million new passengers for a total of 150 million).
During January-August 2016, domestic air passenger traffic rose 23.14 per cent to 64.47 million from 52.36 million during the same period in 2015. Passenger traffic during FY 2015-16 increased at a rate of 21.3 per cent to 85.57 million from 70.54 million in the FY 2014-15.
In July 2016, total aircraft movements at all Indian airports stood at 1,68,400, which was 14.3 per cent higher than July 2015. International aircraft movements increased by 8.2 per cent to 32,830 in July 2016 from 30,330 in July 2015. Domestic aircraft movements increased by 15.8 per cent to 1,35,570 in July 2016 from 1,17,050 in July 2015. Indian domestic air traffic is expected to cross 100 million passengers by FY 2017, compared to 81 million passengers in 2015, as per Centre for Asia Pacific Aviation (CAPA).
"People want to fly. Demand for air travel over the next two decades is set to double. Enabling people and nations to trade, explore, and share the benefits of innovation and economic prosperity makes our world a better place," de Juniac said.
Yes, people want to fly for various reasons. And a resurgent India has more reasons for multi-modal transportation and the government happens to be the facilitator. The civil aviation sector in India is witnessing encouraging growth, driven by growth of airlines (low-cost carriers, regional airlines); airport infrastructure development; increased spending power of the average Indian; FDI in airlines; information technology and the like.
IATA has called for a renewed look at the results of Indian public-private partnership in airport privatisation, a reduction in taxation and for India to join international efforts on sustainability for air transport. These will be key enablers of a vitally important industry to India to be an even bigger catalyst for social and economic development.
Stimulating growth
"Air transport contributes enormous value to India, stimulating growth and development with increasingly accessible air connectivity. India's air transport industry has been through tough times. While many Indian airlines are now posting profits, the sector is still in loss territory with many challenges. These include a massive debt burden, onerous regulations, expensive airport infrastructure and high taxes. Addressing these will bring huge social and economic benefits to India," said de Juniac.
INDIA'S AIR TRANSPORT SECTOR ALREADY SUPPORTS 8 MILLION JOBS AND CONTRIBUTES $72 BILLION IN GDP. THE CHALLENGE IS TO REALISE THE GROWTH POTENTIAL OF ACCOMMODATING 322 MILLION NEW PASSENGERS IN JUST TWO DECADES.
India's air transport sector already supports 8 million jobs and contributes $72 billion in GDP. The challenge is to realise the growth potential of accommodating 322 million new passengers in just two decades. "Without significant change, the economic and social development potential gains that come with a healthy and growing air transport sector are put at risk," said de Juniac.
Airport Privatisation
The IATA Director General said the awarding of airport concessions has contributed to the development of India's airport infrastructure. While the passenger experience has improved, the impact for airlines has been far less positive.
"IATA does not support the privatisation of airports. Nor are we officially opposed to it. But looking at the experience of airport privatisation – in India and elsewhere – I am hard pressed to find an example where the results, overall, have been positive. A private sector mindset can add value to airport projects with efficiency, cost-effectiveness, entrepreneurial spirit, and so on. But we need a stronger regulatory framework that exists today to ensure that there is a balance struck between commercial and national interests."
Airlines operating in India have faced huge costs increases. This is in part due to 46 per cent concession fee that the private airport operators have to pay to the government. At the same time, the Airports Economic Regulatory Authority of India (AERA) has been unable to preserve its independence sufficiently and has not been able to implement its own tariff orders, such as the one to reduce Delhi's charges by 96 per cent.
"There is no turning back the public-private partnership in Indian airports. But what can be done is to strengthen the regulatory structure for the airports already privatised in order to defend the public interest," said de Juniac.
Taxation issues
IATA said that airlines face an onerous tax burden in India, including the imposition of service tax to services rendered outside of India, including those for overflight charges, global distribution systems and international tickets. This is in contravention of international principles established by governments through the International Civil Aviation Organisation (ICAO). IATA has been working closely with the goods and services tax (GST) secretariat in India to address some of the issues that are of concern to airlines. "The GST regime needs to adhere to international standards and principles. We have called for a zero-rating for international flights when the GST comes into effect next April. This seems unlikely. To limit its damage to the sector's competitiveness, we would at least hope for an abatement in the rate," said de Juniac.
Aware of challenges
The Civil Aviation Minister is aware of the challenges and is taking steps to address the issues of the industry. He is constantly egging the industry through his tweets to take the momentum further. "Growth rates in civil aviation encouraging; intend to keep the momentum going" the Minister has tweeted. "Another month of record growth for Indian aviation—August records 24 per cent—highest worldwide." And In September he said "Another month of record growth for Indian aviation. Maintains its top rank with 23.4 per cent growth in September 2016".
Encouraging he has been. When this year Air India posted profits after a long time (since 2007), he said: 'Well done, Air India. You are a lovely airline. Now build on your strengths." Air India reported Rs. 105 crore operating profit for 2015-16 compared to Rs. 2,636 crore losses in fiscal 2014-15.
What does all this call for. Leadership and thankfully at the helm we have people with vision and who are determined to drive that change. Prime Minister Narendra Modi has tweeted on the importance of aviation. He has tweeted: "A new aviation policy has been released under this Government. It looks at growth of the aviation sector." "Connectivity is becoming very important in this century. Air connectivity is vital from the point of view of tourism sector growth." "Better air connectivity means more tourists and this means better economic growth."