Boeing commercial airplanes are on a steady course and the US based company has laid out its strategies in the world market in general and India in particular. In an interview with Editor-in-Chief Jayant Baranwal, the Senior Vice President of Boeing (Asia-Pacific & South Asia), Dinesh Keskar talks exclusively to SP's AirBuz on how the company is going to expand its market share.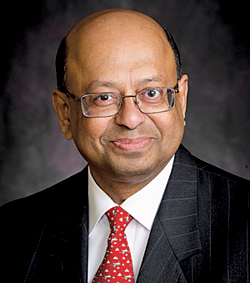 Jayant Baranwal (Baranwal): How do you see the airlines industry in India moving at this point of time, particularly under the new government regime? Is it stagnant or growing or reversing...and why?
Dinesh Keskar (Keskar): The new regime has been in place since May of 2014, so it's been over a year-and-a-half. In my opinion it is clearly growing because you can see the steady stream of deliveries happening at many airlines. The bigger evidence of that is the highest growth rate that India is experiencing in both domestic travel and international travel to a certain extent. Domestically we are growing at the rate of 20 per cent which is phenomenal compared to anything now. The total number of passengers flying in India is still around 75-80 million domestically and whereas in China it is very smaller number but the rate of growth and the propensity of people to travel in their discretionary money available to travel, all of that clearly pointing towards growth. So I think, yes while I don't see the new aviation policy in place I think what we have in terms of huge airports that have modernised over the last two years some in this regime, some before such as Mumbai, Delhi, Bengaluru and Hyderabad and of course started with Kochi as PPP (public-private partnership), I think the capacity has been created and the growth continues, people have the money to travel and the economic GDP growth in India will continue to grow.
"I am a firm proponent of adequate capacity not overcapacity. Yes, airlines can have four or five per cent additional capacity and some seats can be sold at low fares to attract first time travellers than having overcapacity which is going to be a problem. The solution for India is really the right capacity or slight overcapacity not overcapacity."
I know the goal is to get to over 9 per cent but we are certainly doing well right now and we are touching around 7 per cent and all this points clearly lead me to believe that in spite of some of our infrastructure constraints we are growing the fastest in the world. Even if you saw the rate of growth in December it was even higher at 25 per cent so all looks well towards the growth. It is mostly because of fuel price which is the fundamental reason why it is growing. The exchange rate is going in the reverse direction but what matters in India is the price which is based in dollars, multiplied by the exchange rate and that number is still going down and hence things will continue to get better.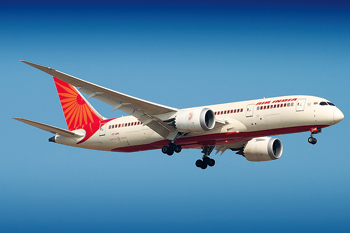 HANDHOLDING AIR INDIA: "We will continue to work with Air India to make sure that the 787 reliability gets higher and higher"
Baranwal: You will fully agree that India's full potential is completely untapped?
Keskar: Oh, I won't say it is completely untapped but it is untapped. It relates to Tier-II and Tier-III cities and airports as well. Our potential largely depends on going from metros to the secondary cities and even at some point in time the tertiary cities which you call Tier-II and -III. I think what is going to be required for this continuous explosive growth to sustain is to get flights between Tier-II, Tier-III and within Tier-II and Tier-III now. Within Tier-II it is fairly quickly possible, within Tier-III is going to take at least another five to seven years. For example, flights between Nagpur and Lucknow, I consider both of these airports as Tier-II airports, there is enough operations around them and traffic of five million plus and yet there are no direct flights in such cities. There are many such Tier-II cities where the airports already exists and we feel that once the airlines starts offering flights the market will develop. The market won't develop overnight but certainly there is potential for the next growth to come from these Tier-II cities. Right now most of the metros are linked to the Tier-II cities but now we need to start getting flights within the Tier-II cities. That is where the untapped potential is going to come from. Passenger is coming on to the airplane but I think a lot of that migration has happened which is what has led to the all time high growth of 20 per cent in the Indian domestic market. I think there is still potential but.
I must tell you that I have been watching carefully the improvement under the leadership of Railway Minister Suresh Prabhu on getting better trains, better on-time, better facilities for the train travellers and all that is going to play a balance. Let me tell you that there is enough to go around for both the aviation market and continued prosperity of the railway passengers. What is going to make the difference is going to be, what kind of money I have available and what is my profile. What I mean by that is if a family of four is going on a vacation and it can afford to go by paying additional money on the airplane and saving several hours or they would rather prefer to save the money and take 15 hours of train journey, these two options are not with us. There is going to be both kinds of people and that's where the growth will continue and I think to separate your second question on the untapped potential, it is there and it is going to happen with some transition of railway passengers but more of flights between Tier-II and -III cities and at some point of time from Tier-II to -III cities in the future. Remember for Tier-III, a lot of infrastructure and improvement is needed and that is why it is going to take five to seven years as many do not even have good airports right now.
"If you look at delivery share in India right now, it does not take much to figure it out, we are pretty comfortable of 50:50 share on the standard-body or narrow-body market and very dominant market share in wide-body"
Baranwal: Dinesh, can you give some ideas how to sustain and grow the transformation of railway passengers to become air travellers?
Keskar: That is going to only happen, Jayant, if they sell a few seats on each flight at a low price. All airlines are offering good fares but offer it to few seats on each flight or on flights which they know are not going to be filled up by the time the day of travel comes up. It is those seats when a traveller sees a good fare, for flights advertised for as low as Rs. 2,500. I am not saying on a Mumbai-Delhi flight but there are flights in that range those are the ones that are going to be attractive for a railway passenger to shift from railways to the airlines for two reasons—novelty and speed. These are the reasons that the shift will continue. It is not going to continue if the Mumbai Delhi fares stay at a minimum of Rs. 6,000 or Rs. 7,000 all the time and the other fares stay in line. For example if you have a 10-hour journey from Nagpur to Mumbai which I have done a few times and on that if you charge a fare of more than Rs. 4,000, chances are that no railway passenger is going to shift to pay about Rs. 4,000. The affluent people are paying about Rs. 2,200 for first class AC and I think they have a tendency to shift if they do advance booking and fly for about Rs. 3,000. They are able to fly for about one-and-a-half-hour instead of about 12 hours by train. Some people will always like going by train and some people will always value time. All these pragmatics will come into play but nonetheless no matter what each segment will be represented and that you won't have an issue of growth in the traffic.
Baranwal: What do you think is the solution to serve smaller cities? Tier-II and -III destinations in terms of capacity build up, in terms of the size of the aircraft and so on?
Keskar: In particular the Airports Authority of India (AAI) has done a reasonably good job in terms of Tier-II cities getting airports ready and a significant number of airports that have been improved and there are more to be improved in the Tier-II level. In the Tier-III level you need to improve not only the airport itself, the runways, the facilities, the navigation, the ATC towers. All of that is going to come into play and when that is happening, you clearly need all the help you need to get not only from the government, AAI and but potentially from privatisation—the public-private partnership will continue and that is what is going to happen. So a lot of money will be needed for that. It will all not come from AAI, but will come from other sectors, other people. The state governments have a role to play in this kind of a situation because they will be benefiting from that. For example, in Maharashtra besides three of four airports, there are other airports that are not doing that well.
Baranwal: What kind of mix of capability build-up is advisable for India which is an evolving market as you know—maximum number of seats versus optimum number of seats and overcapacity versus right capacity?
Keskar: Exactly, Jayant, I have been very vocal on this point. The overcapacity is what has led to significant troubles for India in 2008-10 when the fuel prices went out of the roof. We are in a fortunate position right now because operating costs have come down significantly mainly because of the fuel component. It used to be 40 to 45 per cent of the total costs and now has come down to 20 per cent. If you have overcapacity and then you will get into a fierce fare war. I don't consider what is happening today as a significant fare war. It is there and the airline is trying to establish the market, and they are doing a few things but it is not a fare war to be concerned. But if you have overcapacity and a passenger is being faced by five other airlines clearly the fares are going to go down and they may go down below the cost that is when we need to watch carefully. I am a firm proponent of adequate capacity not overcapacity. Yes, airlines can have four or five per cent additional capacity and some seats can be sold at low fares to attract first time travellers than having overcapacity which is going to be a problem. The solution for India is really the right capacity or slight overcapacity not overcapacity.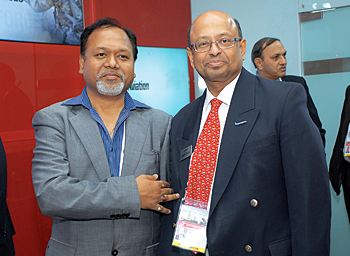 BONHOMIE: SP Guide Publications CMD and Editor-in-Chief Jayant Baranwal with Dinesh Keskar
Baranwal: What kind of future do you foresee in the context of airline operations with the fuel prices which are currently quite down now but definitely may go up?
Keskar: Of course they will go up, not in the foreseeable future. What I mean is that in the next six to 12 months, nobody is expecting fuel prices to go higher than 50 or so. In that environment I think people can try growth, people can try new markets by connecting Tier-II cities. That is what is possible in terms of experimentation in a low operating cost environment. You cannot play these scenarios when the fuel prices are high, cannot take risk to fly an aircraft like a 737 which can take up to 180 pax. In today's market where you build a route is you start with a 100-seater and then you build a route and you eventually become a 737 route and that is what somebody like SpiceJet can do with the Q400 and then build that route and hand it over to a 737. We don't have very many small airplanes in India and because of that having a low fuel price will allow us to develop some markets in a low fuel price environment which would not have been possible otherwise.
Baranwal: So you agree that some role can be played by aircraft which is not more than 100-seater capacity?
Keskar: Absolutely. We have always said that about the aircraft below 100-seater. By the way we don't make planes below 737/100 and to match Airbus A319. Below that is a wide open market. There is a lot of crowding in the below 100-seater, the Chinese are entering that market, the Japanese with MRJ, the Russians with SSJ, of course Bombardier is in that market and so is Embraer. And all these people, we feel their presence is needed as you cannot start with 150 or 180 passenger airplane. You just won't get that kind of traffic on the first day. These airplanes are complimentary to us. You may have seen in our forecast that we don't predict that there is room for many planes in this segment as they have range limitations. When they are flying distances of one, one-and-a-half hours, we do have roads and trains. We have to take into account going to airport one hour earlier, going through security, waiting for the airplane and then take off and at the other end, getting down, waiting for baggage and the travel back, and the amount of time that you are taking is going to be substantial. That is when train or road will come into play. It is why we believe that not many of these will have a market in India.
Baranwal: Any comment you would like to make on the price war which continues to take place in India. Does it really make business sense, Dinesh, after all?
Keskar: Clearly nobody can make money on a sustained basis below cost. But what I am also observing that when I go online to check prices I literally never find flights available at that price, number one and what that means that they may be selling five seats out of 180. I don't know the exact number as I don't know the airline revenue management, but they are selling handful of that to attract people. Revenue management is not what we see in US or Europe or Asia, these guys are trying to attract people to come on their web and if the passenger sees Rs. 2,000 fare and ends up as a Rs. 2,700, the passenger says he is Okay with the additional Rs. 700 spend. That is how things are working but you are a savvy aviation person. You have finished 50 years in the industry and you know the business well. You can go on the website today and compare with the advertisement, you will be lucky to buy one ticket on those prices advertised. They are available but it gets filled up within five minutes of that fare coming in. It will be all gone, very quickly.
Baranwal: What kind of positioning Boeing is willing to have in India in view of the market dynamics evolving so fast?
Keskar: Look, we have been quite pleased with our wide-body placement in India. If you remember Air India was predominantly 747 then subsequently they became 777 and 787 today, that is their whole suite. Look at Jet, they do have some A330s on lease and they have predominantly 777 and 787. These are the only two airlines today who are flying internationally long haul. We feel our positioning in the wide-body market in India is absolutely wonderful and our market share is very high. When you come to the 737 and A320 type of market, in terms of delivered airplanes we have a reasonably good market share. I know that there has been a lot of talk about IndiGo buying 250 now and 180 and those are airplanes they are buying are for the next 10 or 15 years. Jet has not placed any order for the next 10 or 15 years, Air India has not placed an order, neither has SpiceJet though they are in talks for that. Jet has recently ordered 75 Max recently at Dubai Airshow. Spicejet has orders placed two years ago at India Aviation. So we are predominant in the narrow-body market. We are also putting more airplanes this year into Air India Express. If you look at the numbers announced worldwide and not just India where in our delivery share was much higher than Airbus though Airbus sold more planes in 2015. The point I continuously make to people like yourself who are sophisticated journalists, who understand this, is that at the end of the day orders are orders and deliveries are deliveries. Deliveries are the one you can take note and bank it.
"We will continue to work with Air India to make sure that their reliability gets higher and higher but we don't expect that they will run or any airline in the world will run 100 per cent of the flights on time in the next 15 years"
I mean if you go on to the Airbus website, which I did yesterday when I was travelling from US to here, I noticed that the Kingfisher order is still on their books for the narrow-body. And when they speak of their market share, they add it. I am not picking on Kingfisher, but I am giving an example. You and I know the probability of delivering those airplanes and we know that the airline is not going to take that order. If you look at our balance of deliveries you clearly see that these are deliveries. The bottom line is there is one thing on order and of course I am not saying anything negative on orders, people like Singapore, Qantas, Cathay, ANA and all when they order, always without exception they take deliveries of those airplanes. But in India we have seen Kingfisher order A330s, A340s and you know how many of those really came to India, and all the journalists wrote about it and at Paris Airshow one year, there was blitz of all these. If you look at delivery share in India right now, it does not take much to figure it out, we are pretty-comfortable of 50:50 share on the standard-body or narrow-body market and very dominant market share in wide body. I think we have pretty good positioning of the Max coming to the market soon. The 787 reliability has stabilised in India today. About 1,350 to 1,400 flights a month with the 787 now and reliability is close to 99 per cent which is approaching world average. So we feel very good in our positioning and market dynamics. Of course, our scope is growing and we are looking at over 1,740 airplanes worth $240 billion with wide-body and Max coming on line and in the future we are looking at new middle of the market airplane and all of that will position us very well in the Indian market.
Baranwal: Dinesh, how would you view the progress of IndiGo in India?
Keskar: I cannot comment on that as I am not aware of what they do, but I am absolutely impressed with the way they run the operations, I am impressed with the growth they are experiencing and I believe they have reached now 100 airplanes, right and it is phenomenal. I don't know their facts well, but they have done a great job for the Indian aviation and for India and they run a very good business.
Baranwal: How do you position the 787 in the next 10-15 years? And also we hear of reports here and there of minor problems on 787?
Keskar: Jayant, you are a sophisticated guy. Even the best of airplanes have 99.6 to 99.8 reliability what that means is that four out of every 1,000 flights you are going to hear something. And literally we have thousands of flights every day. Air India is doing 1,400 flights a month. When you do 1,400 flights a month and have a dispatch reliability with around 99 per cent, simple maths will tell you are going to have about 10 to 15 flights where you going to have a snag. It is a high number and we are continuing to work on that and our goal is to get at 99.2 and eventually at 99.4, so when you have these three or four flights, most airlines in the world, including United and if it is delayed nobody writes about it even if there is a delay of eight hours. It's not a story in the US as there are so many flights every day. In India, I am sure even IndiGo does not run 100 per cent dispatch reliability, neither does Jet, but whenever something happens to Air India it gets written. I don't think so it is out of the ordinary and it will continue to happen. We will continue to work with Air India to make sure that their reliability gets higher and higher but we don't expect that they will run or any airline in the world will run 100 per cent of the flights on time in the next 15 years.
Baranwal: How many 787 do you expect in the next 15 years flying in India?
Keskar: As you know, 21 are flying today, six are scheduled for deliveries in the next two years and Jet has 10 more, clearly 37 at least in the next five years and as they get ready to order the next batch, we will have to look at it. But if you have seen our forecast of 1,740 new aircraft, about 300 in that category, in the next 20 years are going to be in the wide-body which we dominate. There is not a single A350 order in India, there isn't a single A330neo order in India, clearly we will have the lion's share of the wide-body market going forward. We don't speculate what airlines will order. I am giving you the facts for your information that 37 units of 787 and a total of 30 units of 777 have been delivered in India the last few and will be delivered in the next five years. Today, Jet flies, as you know, 10 numbers of 777. Air India will soon get the three brand new airplanes which they have deferred till 2018. The deliveries of wide-body aircraft from Boeing continues to happen. I won't give you numbers for the next 10 or 15 years, but I am giving you the 37 and 30, that is 67 wide-bodies of Boeing will be delivered in India because they are contractually there. I don't see a whole lot of activity on the Airbus side in the wide-body market.