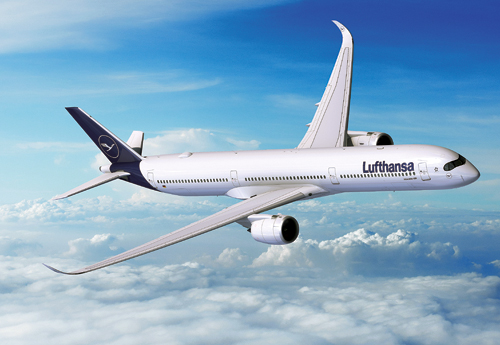 Lufthansa Group has signed an agreement with Airbus to expand its fleet by 10 Airbus A350-1000s and five Airbus A350-900s. With this firm order for the latest generation widebody aircraft, the airline will continue its decarbonisation trajectory. Compared to the previous generation of aircraft, the A350 consumes significantly less fuel, with a corresponding reduction in emissions.
In addition to the agreement on the purchase of the new aircraft, Airbus and Lufthansa have also signed a Memorandum of Understanding (MoU) to further strengthen their cooperation in the field of sustainability and future technologies. This includes the intensified use of sustainable aviation fuels, the further optimisation of operations through a more efficient flight management and exploration into the use of hydrogen.
The A350 is the world's most modern and efficient widebody aircraft and the long range leader in the 300-410 seater category. The A350's clean sheet design includes state-of-the-art technologies and aerodynamics delivering unmatched standards of efficiency and comfort. Its new generation engines and use of lightweight materials make it the most fuel efficient large widebody aircraft. The A350's Airspace cabin is the quietest of any twin-aisle and offers passengers and crews the most modern in-flight products for the most comfortable flying experience. At the end of January 2023, the A350 Family had won 925 firm orders from 54 customers worldwide, making it one of the most successful wide-body aircraft.