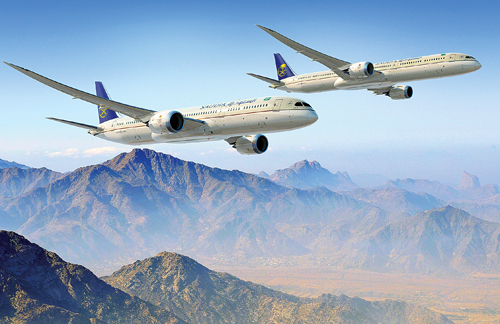 Boeing and Saudi Arabian Airlines (SAUDIA) announced the national flagcarrier will grow its long-haul fleet with the selection of up to 49 787 Dreamliners. SAUDIA is set to purchase 39 787s, with a further 10 options, utilising the outstanding efficiency, range and flexibility of the Dreamliner to sustainably grow its global operation. The agreement will include both 787-9 and 787-10 models.
This agreement is part of Saudi Arabia's wider strategic plan to transform the country into a global aviation hub. In total, Saudi Arabian carriers announced today their intent to purchase up to 121 787 Dreamliners in what will be the fifth largest commercial order by value in Boeing's history. This will support the country's goal of serving 330 million passengers and attracting 100 million visitors annually by 2030.
SAUDIA currently operates more than 50 Boeing airplanes on its long-haul network, including the 777-300ER (Extended Range) and 787-9 and 787-10 Dreamliner. The additional 787s complement SAUDIA's existing fleet, enabling it to effectively harness the value of the 777 and 787 families.