The aviation industry has started taking steps towards reaching net-zero carbon emissions, however, the pressing need is to further support SAF R&D and adopt globally recognised sustainability standards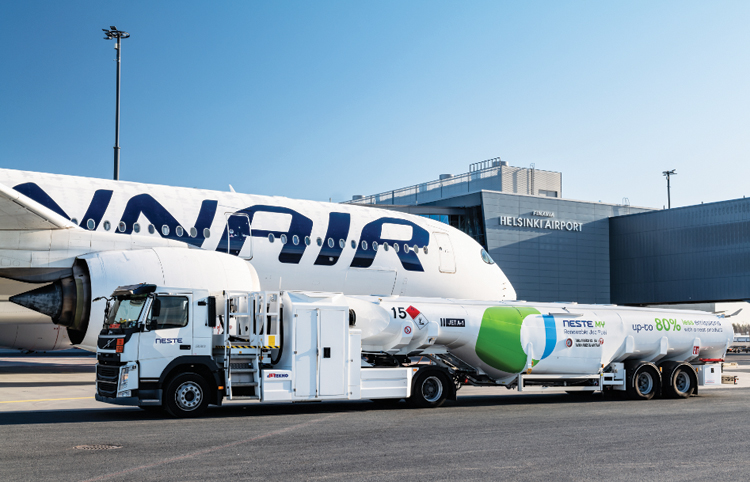 According to current IATA projections, a production capacity of 450 billion litres per year of SAF will be needed in 2050
Aviation is responsible for around 2.5 per cent of global CO2 emissions, with most aircraft powered by jet gasoline. While the number may seem small, the impact can be severe and to do its part, the aviation industry has started taking steps towards reaching net-zero carbon emissions. In line with that, 2022 has been an important year for sustainable aviation marked by the adoption of the Long Term Aspirational Goal (LTAG) for Net-Zero by 2050 at the 41st International Civil Aviation Organization (ICAO) Assembly, as a result of which all countries now share the same goal of decarbonising aviation and an interest in Sustainable Aviation Fuel's (SAF) success. Led by the World Economic Forum (WEF), the Clean Skies for Tomorrow coalition also started its journey from ambition to action. The Clean Skies for Tomorrow Coalition is a global initiative to facilitate the transition to net-zero flying by 2050 - by accelerating the deployment of SAF. The coalition of more than 100 companies is aiming to power global aviation with 10 per cent SAF by 2030.
ICAO had led two weeks of negotiations involving 184 nations to agree on CO2 emissions reduction measures. These include ramping up innovative aircraft technologies, "streamlining" flight operations and the increased production and use of SAF. "States' adoption of this new long-term goal for decarbonised air transport, following the similar commitments from industry groups, will contribute importantly to the green innovation and implementation momentum which must be accelerated over the coming decades to ultimately achieve emissions-free powered flight," said the President of the ICAO Council, Salvatore Sciacchitano.
STATE OF SAF IN 2022
| 4,50,000 Flights | 300+ million Litres Per Annum | 38 Countries with SAF Policies |
| --- | --- | --- |
| 2016: 500 flights | 2016: 8 million litres | 2016: 2 countries |
| 2025: 1 million flights | 2025: ~5 billion litres | 2025: global agreement? |
| 7 Technical Pathways | 70% Average CO2 Reduction | $17 billion in Forward Purchase |
| 2016: 4 pathways | 2016: ~60% reduction | 2016: $2.5 billion |
| 2025: 11 pathways | 2025: ~80% reduction | 2025: >$30 billion |
Source: IATA
SAF PRODUCTION TO-DATE
| Year | 2019 | 2020 | 2021 | 2022E |
| --- | --- | --- | --- | --- |
| Estimated SAF Output (million Litres) | 25 | 62.5 | 100 | 300-450 |
Source: IATA
As of December's first week, over 4,50,000 commercial flights operated using SAF, noted the International Air Transport Association (IATA). Additionally, around 40 offtake agreements have been announced. SAF has been recognised as a significant enabler to reach net zero CO2 emissions. IATA highlighted that according to current projections, SAF will be responsible for 65 per cent of the mitigation required for this, necessitating a production capacity of 450 billion litres per year in 2050. IATA estimates a 200 per cent increase in SAF production in 2022 on 2021 production of 100 million litres.
"There was at least triple the amount of SAF in the market in 2022 than in 2021. And airlines used every drop, even at very high prices! If more was available, it would have been purchased. That makes it clear that it is a supply issue and that market forces alone are insufficient to solve it. Governments, who now share the same 2050 net zero goal, need to put in place comprehensive production incentives for SAF. It is what they did to successfully transition economies to renewable sources of electricity. And it is what aviation needs to decarbonise," said Willie Walsh, IATA's Director General.
INCENTIVE-BASED POLICIES
IATA points out that until we have commercialised options for alternative power sources such as hydrogen, all of aviation's SAF supply will be derived from biofuel refineries. These refineries produce renewable biodiesel, biogas, as well as SAF and their refining capacity is set to grow by over 400 per cent by 2025 compared to 2022. The challenge for aviation is to secure its supply of SAF from this capacity. And to do that successfully, governments need to ensure that SAF production incentives are put in place similar to what is already in place for biogas and biodiesel. The ClimateWorks Foundation also states "usage of green hydrogen (that is hydrogen produced using additional renewable energy) must be incentivised to achieve the deep decarbonisation required from the aviation sector".
"As we move from commitment to action, it is essential for the industry to be backed by governments with a decarbonisation goal. ICAO's LTAG of net zero by mid-century is a great step forward in that direction. The World Economic Forum stands ready to support ICAO, governments and the private sector globally as they work on next steps," said Laia Barbarà, the Industry Decarbonisation Lead for Aviation at the WEF.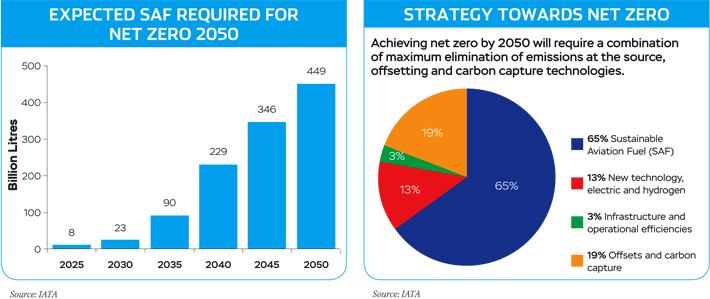 WEF also highlights SAF as the only option for long haul flights to decarbonise and long haul flights are responsible for 70 per cent of global aviation emissions, hence we urgently need to scale up production and drive down costs. The European Commission predicts that by the middle of the 21st century, demand for flying could increase aviation's greenhouse gas emissions by upwards of 300 per cent over 2005 levels if no drastic measures are taken to reduce them.
SAFs can reduce emissions by 80 per cent according to IATA, however, high production costs and limited supply has slowed its adoption
SAFs can reduce emissions by 80 per cent according to IATA, however, high production costs and limited supply has slowed its adoption. It is estimated that SAF comprises less than 0.1 per cent of all jet fuel currently used. IATA estimates that SAF could make up around 65 per cent of the emissions reduction needed by aviation to reach net-zero by 2050. But it says "this will require a massive increase in production in order to meet demand. The largest acceleration is expected in the 2030s as policy support becomes global, SAF becomes competitive with fossil kerosene and credible offsets become scarcer." SAF can also be made from several sources ranging from agricultural waste to carbon captured from the air. It is fully compatible with existing aircraft and fueling infrastructure.
INDIA
WEF highlights that the dangers associated with extreme climate events have been assessed time and again at global forums leaving no doubt that it's time for governments and businesses to act. The burden for action on the largest greenhouse gas (GHG) producers is not lost on India, which is why at the United Nations Climate Change Conference in Glasgow (COP26), it promised to get 50 per cent of its energy from renewable resources by 2030.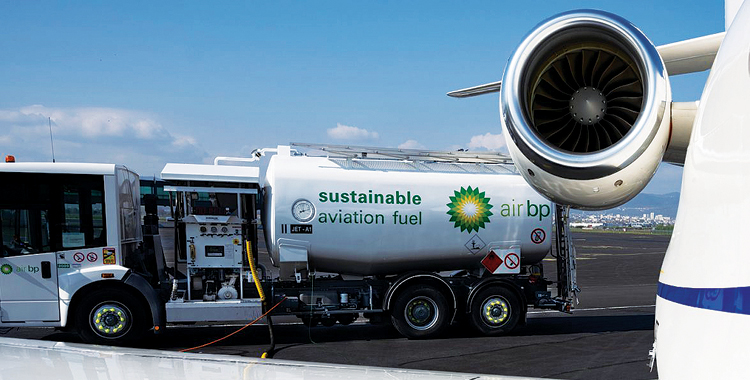 The environmental benefits of Sustainable Aviation Fuel (SAF) are clear but its cost needs to come down significantly to make a difference
Progressive reforms and policies in the last decade have demonstrated India's initiatives towards climate change and building the infrastructure required for a resilient future. However, transitioning to a low carbon economy needs comprehensive strategies for the sectors most responsible for GHGs and those hardest to decarbonise, such as its thriving aviation sector, which is expecting double-digit growth.
In India, carbon in agricultural residues, solid waste, and industrial off-gases can provide more than 30 billion litres per year of sustainable ethanol. Harnessing just five per cent of this potential with the ATJ pathway can meet India's 10 per cent SAF blending target and produce renewable diesel fuel.
JOURNEY SO FAR
IATA highlights some of the main milestones so far where SAFs have been put to practice:
2008: The first test flight with biojet fuel was performed by Virgin Atlantic.
2011–2015: 22 airlines performed over 2,500 commercial passenger flights with blends of up to 50 per cent biojet fuel from feedstock including used cooking oil, jatropha, camelina, and algae.
January 2016: Regular sustainable fuel supply through the common hydrant system started at Oslo Airport. Alternative fuel producer Neste and supplier SkyNRG as well as Air BP were involved.
March 2016: United became the first airline to introduce SAF into normal business operations by commencing daily flights from Los Angeles Airport (LAX), supplied by AltAir.
June 2017: At the 73rd IATA AGM in Cancun, IATA members unanimously agreed a resolution on the deployment of SAF, including calling for constructive government policies, and committing to only use fuels which conserve ecological balance and avoid depletion of natural resources.
November 2019: Commercial SAF flights exceed 2,50,000 and more than 45 airlines gain experience using SAF.
June 2020: Two new technical SAF certifications are approved by ASTM increasing the approved technical pathways for SAF production to seven.
October 2021: The 77th IATA AGM in Boston approved a resolution for the global air transport industry to achieve net-zero carbon emissions by 2050. This commitment will align with the Paris Agreement goal for global warming not to exceed 1.5°C. A potential scenario is that 65 per cent of this will be abated through SAF.
April 2022: To date, commercial flights exceed 4,50,000 and over 50 airlines are using SAF
In India, carbon in agricultural residues, solid waste, and industrial off-gases can provide more than 30 billion litres per year of sustainable ethanol. Harnessing just five per cent of this potential with the ATJ pathway can meet India's 10 per cent SAF blending target.
The industry recognises the need and urgency towards netzero carbon emissions and is consistently making efforts in the direction. Going forward, it is crucial to adopt globally recognised sustainability standards, encourage user-friendly SAF accounting methods, support SAF R&D and demonstration plants, and work to ensure existing policy incentive frameworks designed for ground transport, also include aviation and apply higher incentives for aviation over ground transport, which has other energy alternatives.