Since most aviation emissions are at high altitudes where they intensify the warming impact and since aviation emissions are among the fastest growing, the industry is under immense pressure to decarbonise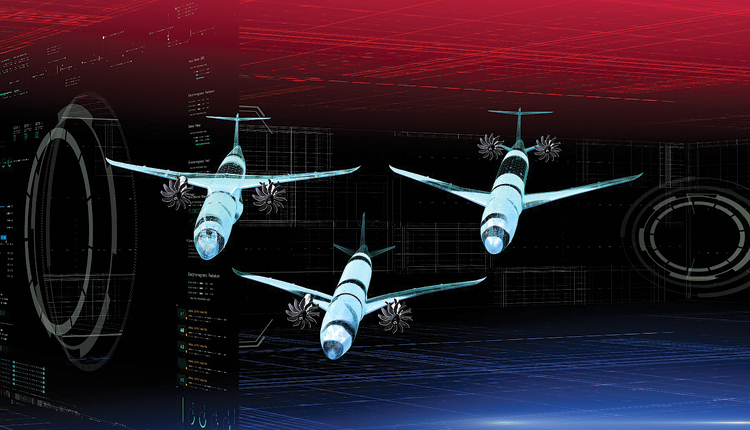 The CFM RISE (Revolutionary Innovation for Sustainable Engines) programme targets more than 20 per cent lower emissions and will demonstrate a range of new, disruptive technologies like open fan architecture and hybrid electric capability for future engines
The heat is on! The recently released World Meteorological Organisation (WMO) "State of the Global Climate in 2021" report confirmed that the past seven years have been the warmest seven years on record. According to the WMO, four key climate change indicators – greenhouse gas concentrations, sea level rise, ocean heat and ocean acidification – all set new records in 2021. It says "this is yet another clear sign that human activities are causing planetary scale changes on land, in the ocean, and in the atmosphere, with harmful and long-lasting ramifications for sustainable development and ecosystems."
The airline industry is currently not a major source of global greenhouse gases. Overall, it produces just 2.5 per cent of all human-induced carbon emissions. However, since most aviation emissions are at high altitudes where they intensify the warming impact and since aviation emissions are among the fastest growing, the industry is under immense pressure to decarbonise. In October 2021, a resolution was passed by the International Air Transport Association (IATA) committing member airlines to achieve 'Fly Net Zero' or net-zero carbon emissions from their operations by 2050. There is a difference between 'carbon neutral' and 'net zero'. Carbon neutral implies not increasing carbon emissions and of achieving carbon reduction through offsets. Net zero means making real changes to reduce carbon emissions to the lowest possible figure and offsetting only as a last resort.
Within the past few years, the four largest manufacturers of commercial engines have launched significant research projects to improve turbine engine efficiency, the aim being to achieve at least 20 per cent increase in fuel efficiency compared to today's engines. CFM International, GE Aviation, Pratt & Whitney/Pratt & Whitney Canada and Rolls-Royce are all working independently and sometimes in collaboration to substantially reduce CO2 and other emissions. And, apart from a major switch to Sustainable Aviation Fuel (SAF), the airlines are depending mainly on the above mentioned four manufacturers to achieve 'Fly Net Zero'.
RISE TO THE OCCASION
CFM International, the highly successful 50/50 joint venture between GE Aviation and Safran that was recently extended till 2050, is responsible for the all-time favourite CFM56 turbofan and the newer LEAP engine. The CFM International Revolutionary Innovation for Sustainable Engines (RISE) Technology Demonstration Programme launched on June 14, 2021, aims to produce the next-generation CFM engine by the mid-2030s. It could reduce fuel consumption and carbon emissions by over 20 per cent while being 100 per cent compatible with both SAF and hydrogen.
Pratt & Whitney has unveiled the GTF Advantage engine, the world's most fuel-efficient and sustainable single-aisle aircraft engine
The most striking aspect of RISE is its open-fan architecture. Unlike every other current jet engine, there will be no fan casing around the fan blades. The diameter of these blades will be much greater than those in the LEAP engine and they will rotate more slowly so their tips do not reach supersonic speeds. The engine core that holds the compressor, combustor, turbine and other components, will be smaller than those in today's engines. The open-fan configuration will offer significant improvement in propulsive efficiency – a key metric of reduced fuel consumption and emissions. The fan will probably be made from a special carbon fibre woven in three dimensions and injected with resin. Light and tough, this will permit rotors as large as 13 feet in diameter which in turn, will increase the propulsive efficiency and by-pass ratio. It is claimed the design will deliver an astounding bypass ratio of 75:1 as compared to the 11:1 ratio achieved by LEAP and other turbofans. The programme will also use hybridelectric capability to optimise engine efficiency while enabling electrification of many systems. The RISE team have promised that there would be no increase of noise level relative to that from CFM's latest LEAP engine.
PRATT'S PROGRES
As far as commercial engines go, Pratt & Whitney is practically synonymous with the PW1000G Geared Turbo Fan (GTF) engine. The unique feature of this engine is that the fan turns much slower than the compressor and turbine, giving it a 12:1 bypass ratio – the highest among current engines. The GTF provides a 16 per cent improvement in fuel consumption compared to previous generation engines like the IAE V2500 turbofan. And since the GTF is a new design, it has significant scope for improvement. Work is underway to increase the by-pass ratio further as well as to permit compatibility with 100 per cent SAF. And over the next several years, GTF technology will continue to evolve particularly in thermal efficiency and the use of advanced materials.
GE AVIATION – GROWING EVER LARGER
Apart from its CFM International collaboration, GE Aviation has produced some of the largest turbofans ever. This has helped hasten the transition from the four-engine configuration to twin-engine, even for wide-body airliners, which itself, means significant fuel savings. At the time of its entry into service in 1995, the GE90 was the world's largest jet engine and it was followed by the GEnx, another very large engine. GE Aviation's latest product is the GE9X, the most fuel-efficient engine it has ever produced. It has a 134-inch fan diameter. Being developed specifically for the Boeing 777X family and due to enter service in early 2025 – the GE9X is ten per cent more fuel efficient than the GE90 and produces fewer NOx emissions than any other GE engine.
ROLLS-ROYCE
Rolls-Royce Advance and Ultrafan CTi fan blade flies for the first time
Think Rolls-Royce, think Trent – a family of high-bypass turbo-fans that power several wide-body airliners. But the company's future is now tied to the UltraFan, designed mainly with SAF in mind. The UltraFan demonstrator which will be the largest engine in the world with a fan diameter of 140 inches, will go on test later this year and its first run will be with 100 per cent SAF. Current standards allow aircraft engines to use a 50-50 blend of conventional jet fuel and SAF, but the industry is using a dismal one per cent SAF currently. The UltraFan, expected to enter commercial service around 2030, will be 25 per cent more fuel-efficient than first-generation Trent engines. Rolls-Royce says that its line of variants will be scalable for both narrow body and wide-body aircraft.
EXCITING ELECTRIC OR HOPEFUL HYDROGEN?
It is a sign of the times that all four leading manufacturers of turbine engines have launched major projects to develop hybrid-electric propulsion systems for regional, narrow-body and ultimately widebody airliners. For instance, Pratt & Whitney is currently working on a hybrid-electric turboprop demonstrator with De Havilland Aircraft of Canada. Based on the De Havilland Canada DHC-8 regional turboprop, flight tests are expected in 2024. Boeing is in the concept and demonstration phase of a 30-seat turboprop with a mega watt-class hybrid-electric engine. Various other hybrid-electric propulsion systems, too numerous to mention, are under development. They are mostly for small, short-range aircraft.
The most discernible trend in aero-engine technology currently is to go green
Airbus has also publicly stated its goal of bringing a zero emissions hydrogen-powered airliner with more than 100 seats into service by 2035. If that date seems distant, in February this year, Airbus signed an agreement with CFM International to collaborate on a hydrogen-power demonstration programme including the first flight of an A380 powered by a modified GE Passport turbofan by the end of 2026. Equally ambitious, in December 2021, UK's Aerospace Technology Institute (ATI) unveiled its concept for a mid-size, long-haul airliner, powered by liquid hydrogen, that it says could carry 279 passengers on flights of up to 5,250 nm.
THE CHALLENGE OF NET ZERO
The most discernible trend in aero-engine technology currently is to go green. The airline industry's goal of 'Fly Net Zero' by 2050, is an extremely challenging one. As one analyst puts it, "It needs a continuous investment in fuel efficiency for gas turbines; validating 100 per cent SAF capability in its engines by the mid-2020s; the introduction of hybrid electric technology from 2030, and the use of hydrogen from 2035." None of these milestones can be taken for granted. Hydrogen especially presents formidable challenges – ranging from production, distribution and storage to its use in the air transport market. Significant hurdles also need to be crossed before operations and maintenance safety can be ensured. Hydrogen-powered airliners would have to be refuelled and serviced safely and efficiently alongside conventional aircraft.
Regional aircraft are likely to be the first targets of new, lowercarbon technologies like all-electric and hybrid-electric propulsion. Once these efforts succeed, they can be scaled up to benefit narrowbody and wide-body aircraft that together account for 93 per cent of aviation's carbon emissions. However, 'Fly Net Zero' will still remain a distant dream unless a far cleaner energy source is found especially for narrow-body and wide-body operations. And that source, despite all its problems and pitfalls, can only be hydrogen.