Launched in the market in 2013, Embraer believes E2 to be the ideal tool for operators wanting to enter new markets and take advantage of new opportunities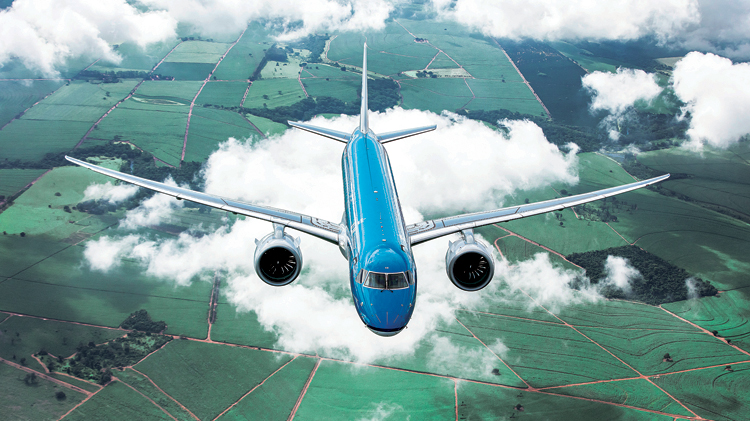 KLM Group is one of the largest operators of E-Jets in Europe
Since its foundation in 1969, Embraer has delivered more than 8,000 aircraft and is the leading manufacturer of commercial jets up to 150 seats in Brazil. Embraer delivered 14 commercial jets in 2Q21, bringing the year-to-date deliveries to 23 commercial jets. Following solid sales activity in the period across businesses, total company firm order backlog at the end of the second quarter of 2021 was $15.9 billion.
The E2 Profit Hunter is a next-generation aircraft, without a middle seat. For operators, the use of smart materials along with a newly designed high-aspect ratio wing, the aircraft promises to deliver class-leading performance and efficiencies. Embraer also gave its E2s new wings and landing gears, and the company says 75 per cent of all systems are new as well.
In this Next Gen E2 aircraft, Embraer offers three variants: the 80-90-seat E175-E2, 97-114-seat E190-E2 and the 120-146-seat E195-E2. PW1700Gs power E175-E2s, while more-powerful PW1900G engines are used on the two other variants.
It was in 2013 that Embraer launched the E2 programme. The E190-E2 entered service in early 2018 with launch customer Wideroe, in Norway, and the E195-E2 followed in September 2019 with launch customer Azul, the Brazilian airline. The E175-E2 is unlikely to enter service until 2024.
Some of the major operators of these E2 jets have been listed below.
AZUL BRAZILIAN AIRLINES
In September 2019, Embraer delivered the first E195-E2 to Azul Brazilian Airlines, making the airline the launch customer for the jet. Since then, Azul has added five more E2s and plans to eventually have a fleet of 75 E195-E2s and emerge as the largest operator of these second-generation Embraer aircraft.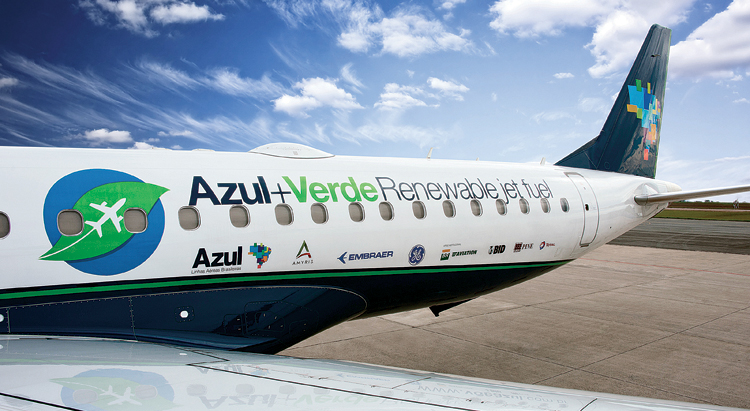 Azul was the launch customer for E195-E2 and has one of the largest fleet of E195 in the world
A key player of the Brazil air travel market, Azul already operates one of the largest fleets of E195s in the world. Flying to 110 destinations with a fleet of 51 E195s and six E190 (owned + leased aircraft), Azul was voted among the 10 best airlines in the world. Commanding a nearly one-third share of Brazil's domestic air travel market, Azul has played a defining role in transforming the low cost carrier market in Latin America. Fleet-wise, Azul has 178 aircraft, out of which nine are Embraer E2 and 57 are Embraer E1 aircraft.
HELVETIC AIRWAYS
Established in 2003, Swiss airline, Helvetic Airways is believed to be next generation Embraer jet (E2)'s largest operator having eight E190-E2s and four E195-E2s in its fleet. In June this year, Embraer had congratulated the airlines on taking delivery of the first of four E195-E2s. This delivery also made Helvetic the first in the world to operate both variants of the E2. In August, the final E195-E2 was delivered to Helvetic. This was the 12th E2 jet to fly for the airline, and the final new aircraft to finish the process of its fleet renewal.
Helvetic Airways boasts of one of the largest fleets for short and medium-haul regional flights in Europe. The addition of these aircraft would let the carrier possess 16 E-jets in their fleet – eight E190-E2s with capacity for 110 passengers each, four E195-E2 with the capacity for 134 passengers each and four first-generation E-Jets.
KLM CITYHOPPER
The KLM Group is the largest operator of E-Jets in Europe and is set to outnumber Helvetic with its ongoing order of E195-E2s. Four of these have been delivered. KLM CityHopper that operates a total of 53 Embraer jetliners, ordered 25 Embraer E195-E2 aircraft with an option for 10 more. The first aircraft was delivered in February at a special ceremony in Brazil and recently it has received four next-generation E195-E2s, which seat 132 passengers.
Dutch flag carrier and SkyTeam member KLM presently operates a large and diverse fleet of 164 jets, including those under its regional 'Cityhopper' brand, maximum among these being the Embraer E190. KLM Cityhopper operates 32 of these Brazilian-designed 100-seaters, accounting for more than 60 per cent of its fleet. In addition to these, it flies 17 88-seat Embraer E175s.
PORTER AIRLINES
Canadian Porter Airlines is E2's North American launch customer. The carrier has placed a firm order for a record 30 E195-E2s with purchase rights for an additional 50 aircraft with deliveries scheduled to begin in the second half of 2022. Embraer informed that the airline is pursuing an expansion plan that will complement its current route network. The new E2s are planned to serve popular business and leisure destinations across Canada, the US, the Caribbean, and Mexico from Toronto Pearson Airport, Montréal, Ottawa and Halifax. The airline highlighted that the E195-E2 is ideally-sized to open new nonstop markets and increase frequency on existing city pairs. With a possibility of up to 80 state-of-the-art, Embraer E195-E2 aircraft into its fleet, the airline is also in the league for becoming E2's largest operator. The aircraft are being acquired by Porter Airlines' sister company, Porter Aircraft Leasing Corp. The ability to convert purchase rights to smaller E190-E2s is included in the agreement.
AIR PEACE
In January this year West Africa's largest airline Air Peace took delivery of a brand new E195-E2 at Embraer's facility in São José dos Campos. This was the first of 13 of the big E2s that the carrier has ordered. The Nigerian airline is the launch operator for the E195-E2 in Africa. The airline already flies eight 50-seat E145s with Air Peace Hopper.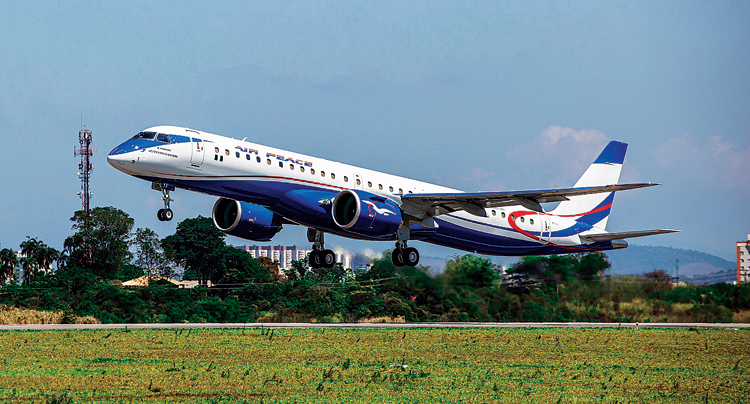 Air Peace is the launch operator of E195-E2 in Africa
Air Peace also became the first airline to configure a premium cabin with the manufacturer's staggered seat option. Embraer highlighted that each of the 12 Business Class seats is slightly offset from the other to give more space and privacy. There are three rows of seats arranged two-by-two at 51-inch pitch. Passengers by the windows have unobstructed access to the aisle. There are large overhead bins also on both sides of the aircraft. This is a differentiator from other configurations that come with a narrow bin along one side of the premium cabin which transitions to a larger bin at the start of the economy cabin.
SMALLER OPERATORS OF E2
While these are the major operators that are dominating Embraer's E2 profit hunter market with bulk orders, there are other players who are also flying the E2 with comparatively smaller numbers. Operating from their hub in Central Europe, Belavia Belarusian is a long time Embraer customer, and now has three new E195-E2 Profit Hunters in its fleet.
After acquiring five new E195-E2 aircraft from Embraer, Binter Canarias became the first European company to operate this model. The Canary Islands Company had ordered the E2 jets with a special configuration of 132 seats in a single class with a comfortable space of 79 cm between them.
African carrier Congo Airways also ordered the Embraer E2 regional jets, with an agreement to take two E195-E2s. The Kinshasa-based flag carrier has exercised options for two E195-E2s from a December 2019 contract for new E-Jets. The airline previously ordered two E190-E2s. Deliveries are planned to begin in 2022. The 120-seat E195-E2s is expected to have 12 business and 108 economy class seats.
The flag carrier of Kazakhstan, Air Astana has signed a lease agreement for five E190-E2 Profit Hunter, the first of which it has already received.
POTENTIAL OPERATORS OF E2
Apart from the existing ones, the future of Embraer's E2 generation looks promising too. The two major potential operators for the same include India's Star Air and the new US carrier Breeze Airways.
Star Air took its latest delivery of another 50-seat ERJ in February this year last month. In just two years, the airline has built a network serving 13 cities with an all-Embraer jet fleet despite the pandemic. Star Air's CEO, Simran Singh Tiwana, had underlined earlier that the airplane's excellent reliability, 50-seat capacity and spacious 2+1 seat configuration proved to be an asset during the pandemic. The carrier acquired all of its ERJs from Embraer's Asset Management division. Operating flights under the Indian Government's UDAN Regional Connectivity Scheme, Star Air is in a strong growth position and is likely to expand its fleet and explore E2 options.
In May 2021, the inaugural flight of Breeze Airways took off, operated with an E195. The US based carrier plans to deploy a fleet of 13 E190/E195s by this summer, comprising three E195s leased from Brazil's Azul Airlines and 10 E190s leased from Nordic Aviation Capital. With plans of growing the fleet further in the coming year, Breeze too holds a strong potential to become one of the major operators for the E2 in the near future.
In the context of E195s, Embraer noted that crossover narrow-bodies like these have been the first airplanes to return to service during the pandemic, enabling airlines to quickly adjust capacity with demand while maintaining frequencies. The next generation E2 aircraft of Embraer further uphold these attributes.
Also being stated as the quietest aircraft in the single-aisle category, the E2 already complies with ICAO'S (international Civil Aviation Organisation) rigorous Chapter 14 noise limits:
Up to 65 per cent reduction in noise footprint compared to E-Jet
More than 20 EPNdb cumulative margin to ICAO Stage IV limit ranges- Testing showed 4.0 EPNdB better than direct competitor
| 25.4% | 10% | 16% | 99.9% |
| --- | --- | --- | --- |
| Delivers 25.4% better fuel efficiency per seat* | Up to 10% reduction in fuel burn compared to competitors | Delivers 16% lower fuel consumption | Of all missions are within the E2's 2,450nm range |
With its combination of capacity and range in one high-performance aircraft family, Embraer believes E2 as the ideal tool for operators wanting to enter new markets and take advantage of new opportunities. It also boasts the E2 Profit Hunter as the world's most efficient single-aisle aircraft that has shaped the regional market with its sustainable technologies, superior cabin comfort, excellent economics and optimal range. "As operators look to the future by renewing ageing fleets and expanding networks, the E2 will be at the heart of this transformation," believes the Brazilian manufacturer.