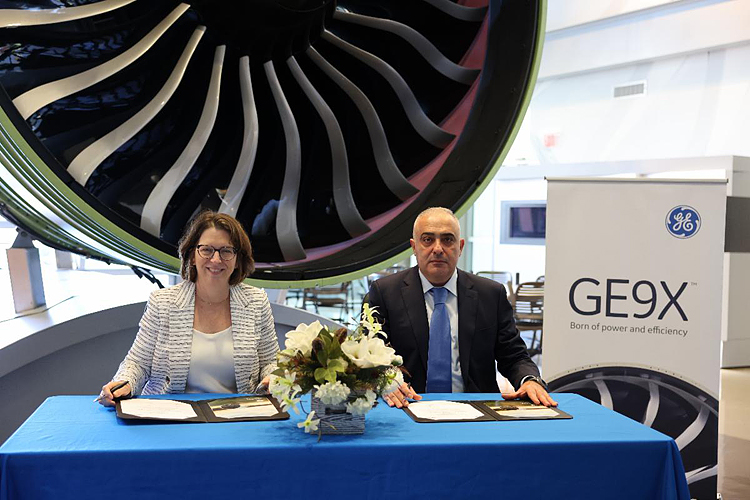 Kathy MacKenzie, President of Commercial Programs for GE Aerospace (left) and Mr. Zaur Akhundov, President of Silk Way Group, sign ceremonial documents at the GE Learning Centre in Cincinnati as part of Silk Way West's order announcement for GE9X and GE90 engines.
Silk Way West Airlines announced an order for a combined total of 16 GE9X and GE90 engines to power its fleet of long-haul Boeing 777 aircraft.
Silk Way West recently announced the purchase of GE9X-powered Boeing 777-8 Freighters and GE90-powered Boeing 777 Freighters to upgrade its cargo fleet. The engine order includes five GE9X engines and 11 GE90 engines.
"We are delighted to continue a successful, long-lasting cooperation with GE Aerospace," said Mr. Zaur Akhundov, President of Silk Way Group. "This agreement marks the strengthening of our relationship. This is a step forward to a more sustainable future. We believe that this partnership extension will help us to deliver our long-term strategy of sustainable growth and environmental commitments, allowing us to continuously improve the services provided to our valuable customers."
The GE9X is the most powerful aircraft engine in history and the quietest GE engine ever produced (pounds of thrust per decibel). The engine will bring up to 10% specific fuel consumption improvement compared to the GE90-115B. Like all GE commercial engines, both the GE9X and GE90 are compatible with any approved sustainable aviation fuel.
"The GE9X engine offers a combination of power and fuel efficiency that is unmatched in its class," said Kathy MacKenzie, President of Commercial Programs for GE Aerospace. "We are proud to continue building our relationship with Silk Way West as they continue to modernize their fleet for cargo operations."