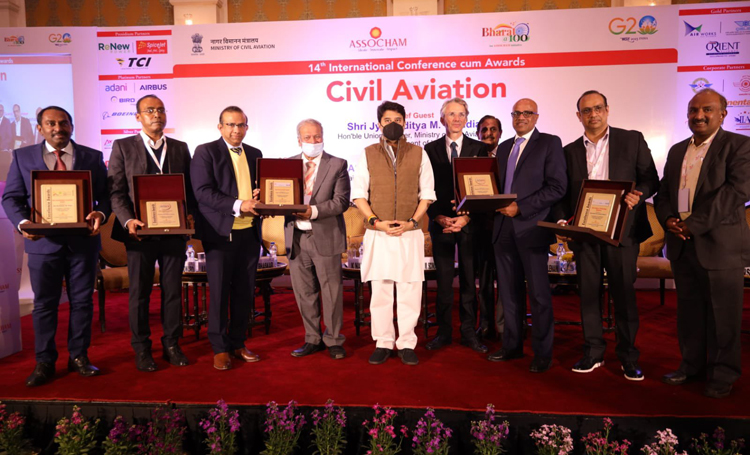 14th International Civil Aviation Conference and Awards organised by ASSOCHAM at Delhi
The adoption of facial recognition technology in civil aviation is a novel concept that is being pioneered through DigiYatra and the country will experience the true benefits of it as we are expanding from 3 airports currently to airports in Pune, Vijayawada, Kolkata and eventually throughout the country, said Jyotiraditya M. Scindia, Minister of Civil Aviation & Steel, on Wednesday. The Minister was speaking at the 14th International Civil Aviation Conference and Awards organised by ASSOCHAM at Delhi. Presently, the DigiYatra facility is available in Delhi, Bangalore & Varanasi Airports.
"Internationally, a 40 percent reduction in time for both passengers and aircrafts in terms of boarding which tremendously improves ease of travel for passengers and enhances the throughput capabilities for airlines and airports because of reduced processing time. The DigiYatra app has been downloaded 300,000 time," said Scindia, " The adoption rates in Delhi and Bengaluru are creeping up. In Varanasi it is almost 20 percent; one in 5 travellers from the airport is not using the orthodox old system of passing through the airport. I would urge the Delhi and Bengaluru airports to improve adoption rates and I would request the airlines to drive extremely hard to promote ease of travel for passengers."
In response to a question on promotion of Drone, Scindia said "The government is incentivizing and promoting the use of drones and as many as 12 line ministries are using drones for their day to day activities. From the agricultural ministry to spray pesticides, mining industry for explorations, the Rural Development ministry for surveys, checking of transmission towers by the Power ministry and agencies like the NDRF and SDRF under the Home ministry, drones are being used extensively. Today the government is the primary driver of demand for drones."
"Cargo is another area where we have a tremendous future for growth and by cargo we mean not just equipment and merchandise being moved. From horticulture products, poultry, fresh foods, fruits and vegetables from far flung areas of India are being moved not only domestically, but internationally to Germany, London and many other destinations. Post Covid COVID we have increased our number of freighters from seven to 29, and also our number of million tonnes that we've transported, it shows that this is a sector that holds tremendous promise. We are working to resolve the various pain points and the latest being the issue of cargo being double checked during transhipment which has already been resolved to a large extent. Cargo as an industry has tremendous potential and we must work together to enhance ease of business as the growth of the industry will also mean growth for all stakeholders." he added.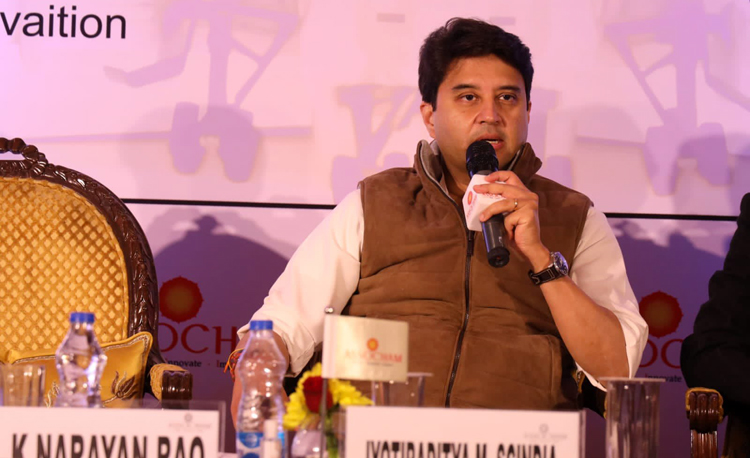 Jyotiraditya M. Scindia, Minister of Civil Aviation & Steel
In his address, Narayan Rao, Chairman ASSOCHAM National Council on Civil Aviation and Deputy MD, GMR Group said, "Civil aviation sector plays a major role in economy in terms of GDP and employment generation. India should focus on how to create a civil aviation hub in the country. New trends such as DigiYatra for touchless travel, use of local sectors, skill development should be encouraged so that country benefits. The most important stakeholders are airports. Tier 1 and 2 airports should be privatised. The government is planning another 25 airports in India for privatisation. India is looking forward to 10 million tonnes of cargo by 2030. India still has to go a long way in cargo and in terms of new policies. Civil aviation industry is also working towards environmental issues and airports are concentrating on green power. It requires support from all stakeholders."
P.K. Thakur, Deputy Director General, Ministry of Civil Aviation GOI said, "The government intends to increase Indians' access to and affordability of civil aviation. Civil aviation will propel India to become a $5 trillion economy by 2024, serving as a significant growth engine for the country. The latest renovations in the sector are enabling many people in India to participate in their first Udaan, as well as assisting the sector in catching up with the growth trajectory more quickly."
At the event, Civil Aviation Minister, gave away several awards honouring outstanding achievers in segments like Airports, Manufacturing, Airlines, Services, Construction & Consultancy, Institutes and young achievers.