| | |
| --- | --- |
| | The Author is Former Director General of Information Systems and A Special Forces Veteran, Indian Army |
PHANTOM 4 PRO
News reports of October 03 have confirmed that Hyderabad-headquartered TQ Cert Services has become India's first third-party certification body (CB) for drones. The approval came after a thorough evaluation process by the Quality Council of India (QCI), in line with the Directorate General of Civil Aviation (DGCA) guidelines. TQ Cert, a wholly owned subsidiary of Tata Projects, is accredited by the National Accreditation Board for Certification Bodies (NABCB) in India, and has presence across 40 countries. The DGCA on September 22 has notified the third-party drone certification scheme following which drones can now be tested and certified by certification bodies empanelled by the QCI. DGCA has signed a memorandum of understanding (MoU) with the QCI to develop and operate the scheme.
According to Amber Dubey, Joint Secretary, Ministry of Civil Aviation, it took eight years of hard work to arrive at the certification process. For implementation of the certification scheme, a Multi-Stakeholder Steering Committee (MSC) has been formed, supported by technical and certification committees, comprising officials and representatives from the Ministry of Civil Aviation, government institutions, regulatory bodies, certification agencies and key academia. The certification process will ensure that the Remotely Piloted Aircraft Systems (RPAS) meet applicable regulatory requirements and secure international acceptability. The certification bodies approved under the scheme would eventually be accredited as per the international standard ISO 17065, by the NABCB, a constituent Board of QCI.
Above is a good step but why should establishing such procedure take eight years considering the proliferation of drones in India? From the looks of it, there are a number of issues that appear ambiguous, such as:
Is the above certification for drones produced indigenously only and that too for their sale?
Can an indigenous drone developer sell the products without the above certification or is it mandatory? After all lakhs of other products are sold without ISO certification in India?
What about drones produced by the DRDO or other government entities? Would above certification be mandatory for them or is it applicable to only drones developed by the private sector?
How does the above relate to the Self Certification Scheme for Defence Public Sector Undertakings (DPSUs) and private sector announced vide Government of India, Department of Defence Production (DoPD) Letter No. 93244/SC/DGQA/Adm-19/D (QA)/19 dated May 13, 2019? Does this leave a choice to drone developers?
How will the process of certification in conjunction the regulatory requirements affect the drone industry in India? Will it inhibit and slow down India's drone industry growth say in comparison with China that produces 10,000 drones every day?
prime air
In 2014, India banned the use of civil drones following their use to deliver eatables in Mumbai. But the ban proved impractical with imported drones easily available both online and offline platforms as toys. Finally in 2018, Government of India came up with a regulatory policy for the use of drones. This policy classifies drones based on their 'all-up-weight' (cargo, battery and propellant) into five categories:
one, Nano - up to 250 gms;
two, Micro - from 250 gms to 2 kg;
three, Small - 2 kg to 25 kg;
four, Medium - 25 kg to 150 kg, and;
five, Large - higher than 150 kg.
Government also came up with a first-of-its-kind national Unmanned Traffic Management (UTM) called the "Digital Sky Platform". India also has a 'No Permission - No Takeoff' (NPNT) clause that requires drones to be 'configured with a special software and/or hardware' to obtain regulatory permission through the Digital Sky Platform, without which the drone cannot fly.
Digital Sky platform has divided airspace of India into three categories:
one, Red is 'no fly zone' that included airspace proximate to international borders, airports and other strategic locations;
two; Yellow is 'restricted zone' that includes airspaces requiring Air Defence Clearance/ Flight Information Centre (FIC) number from Air Traffic Control, and;
three, Green - 'unrestricted zone' but still needing permission from Digital Sky Platform.
The air space, drone and pilots all have to be registered. The pilot must be minimum 18 years of age, undergo drone flying training and should have a Remote Pilot license or an 'Unmanned Aerial Operator Permit' (UAOP) which cost 25,000. Digital Sky can still deny a drone permission to fly at any given time under the NPNT rule.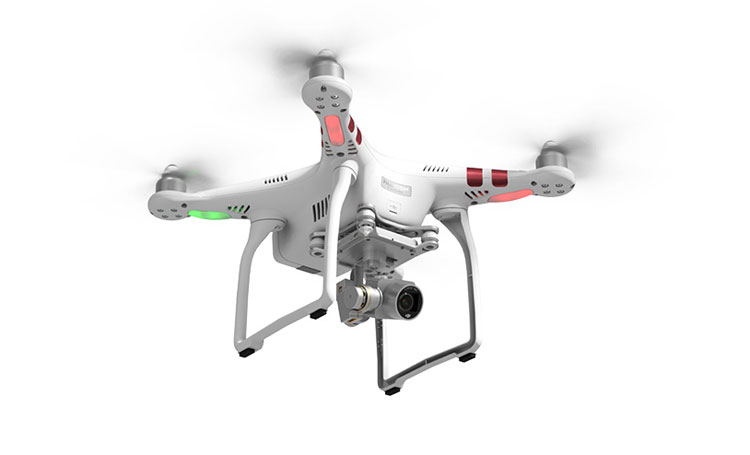 Phantom 3
Thousands of drones available online and offline have flooded India where NPNT does not even find a mention. Drones with ability to remotely "drop payloads" are available online for less than 10,000. In addition, a Unique Identification Number (UIN) which is similar to the number plate of a car needs to be issued for all drones (except for nano category) from DGCA. This costs user 1,000 and the number needs to be engraved on a fire-resistant plate and pasted on the drone. On July 14, 2018, 10 x Chinese DJI Phantom 4 PRO drones were seized from a passenger at Bengaluru International airport. These drones can fly at 6,000 metres (difficult to detect at that altitude) carrying half kg payload. Capable of live-streaming high definition images these are equipped with 'Tap-by-Use' feature enabling locking-on and tracking an individual in a crowd. Could these have been brought for terrorism purposes? These were obviously caught because a passenger was carrying them, but this drone costs 3,480 with free delivery by Amazon in India.
According to a very conservative estimate in December 2019, there are roughly 40,000 drones already flying in India, most of which are not NPNT compatible, and this number is expected to increase to over 1,000,000 in the next 4-5 years. So how are regulatory and certification authorities addressing this mammoth problem, which will keep multiplying, given that India is in crosshairs of terrorist organisations including ones that are state-supported, as well as inimical elements within India? Making laws is easy but controlling a pilotless, low cost and rather easy to manufacture device is an entirely different level of challenge.
An equally important issue is given the level of corruption in India (India ranked at 80th position among 180 countries in Corruption Perception Index (CPI) by Transparency International in January 2020), have we made regulations mired in red tape that will adversely effect our drone industry? China's biggest drone producing firm DJI was founded by a student in 2006. Today, it commands 70 per cent of the global drone market, is valued at over $15 billion and has an annual sale of $2 billion. Can we see this happening in India?