| | |
| --- | --- |
| | The Author is Former Director General of Information Systems and A Special Forces Veteran, Indian Army |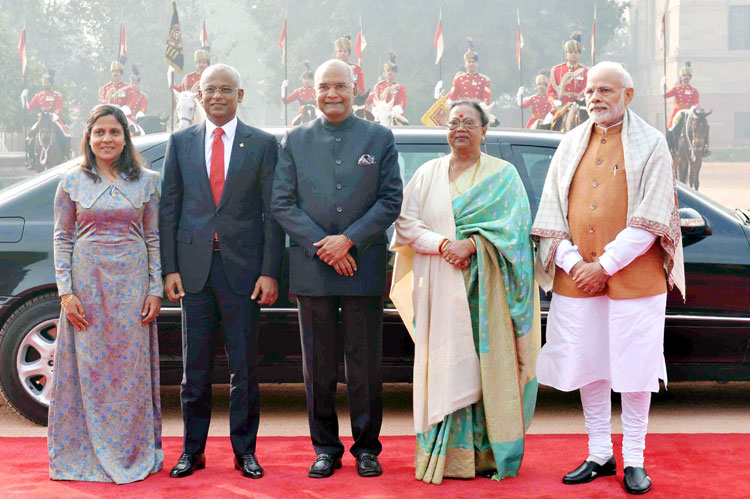 President, Ram Nath Kovind and Prime Minister, Narendra Modi with the President of Maldives, Ibrahim Mohamed Solih, during the Ceremonial Reception, at Rashtrapati Bhavan, New Delhi on December 17, 2018.
Maldives President Ibrahim Solih's three-day state visit to India commencing December 17 was his first foreign visit after becoming President. He was accompanied by the first lady and a high-level delegation including Ministers of Foreign Affairs, Finance, National Planning and Infrastructure, Transport and Civil Aviation and Economic Development, senior government officials, and a business delegation. Solih's visit to India was firmed in by both sides during Prime Minister Narendra Modi's visit to Maldives on November 17 for the swearing in ceremony of President Solih. Maldives Foreign Minister Abdullah Shahid had held several meetings during Modi's visit with Indian members of the delegation and highlighted Maldives' 'India First' policy while EAM Sushma Swaraj assured India's support for readmission of Maldives into the Commonwealth and welcomed Maldives as the newest member of the Indian Ocean Rim Association (IORA).
Abdullah Shahid announced then that India will help Maldives make up its budget deficit as immediate assistance to the strapped government. Shahid said Maldives has strong India first policy but will engage with all other countries. He also Solih government would undertake a review of the debt obligation by the Maldives to different countries, but mainly to China, adding that the Maldives-China FTA was rushed through parliament without a chance to opposition to look at it, and that he believed some Chinese projects were taken at an "inflated" price with no scope left to renegotiate them. Minister of Economic Development Fayyaz Ismail said Maldives had asked India to extend an existing currency swap agreement to six months from existing three months, increase the amount to $200, and Maldives is looking to India to lead the IHavan Project (SEZ and Transshipment Port) where previous government had blocked Indian participation.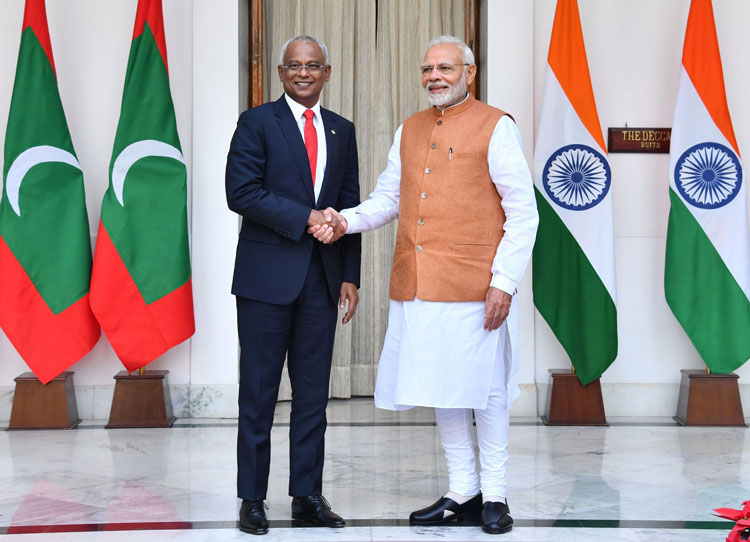 Prime Minister, Narendra Modi meeting the President of Maldives, Ibrahim Mohamed Solih at Hyderabad House, New Delhi on December 17, 2018.
President Solih has written to the 53 member Commonwealth on December 7, 2018, seeking readmission two years after his predecessor had pulled Maldives out. On arrival in India, President Solih described India as Maldives' closest friend and also one of its most important trading partners. Solih held talks with Prime Minister Narendra Modi and met President Ram Nath Kovind, Vice President Venkaiah Naidu and EAM Sushma Swaraj. He also visited Taj Mahal before returning to Maldives. Prime Minister Narendra Modi announced the provision of financial assistance up to $1.4 billion in the form of budgetary support, currency swap and concessional lines of credit to fulfill the socio-economic development programs of the Maldives.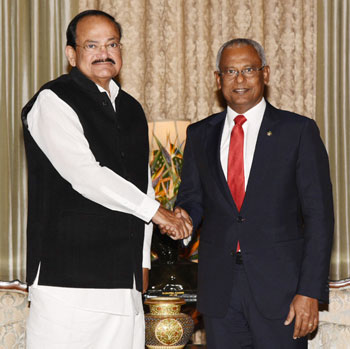 Vice President, M. Venkaiah Naidu meeting the President of Maldives, Ibrahim Mohamed Solih at Rashtrapati Bhawan
According to a Reuters, Maldives owes approximately $3.2 billion to Beijing. Modi and Solih held wide ranging discussions. The two countries signed four MoUs, agreements and joint declarations as follows:
Agreement on the Facilitation of Visa Arrangements;
MoU on Cultural Cooperation;
MoU for Establishing Mutual Cooperation to Improve the Ecosystem for Agribusiness, and;
Joint declaration of Intent on Cooperation in the field of Information & Communications Technology and Electronics
Highlights of the joint statement on occasion of President Solih's visit are: both sides agreed to establish framework of cooperation in: health cooperation issues particularly cancer treatment; mutual legal assistance on criminal matters, investment promotion, human resource development and tourism; commitment to further strengthening traditionally strong and friendly mutual relations; commitment to democracy, development and peaceful co-existence; Modi reiterated India's assurance of all possible support to Maldives under the policy of 'Neighbours First'; Solih reaffirmed his government's "India-First Policy"; India to provide 1000 additional slots over next 5 years for training and capacity building in diverse fields; both leaders agreed on the importance of maintaining peace and security in the IOR and strengthen cooperation to enhance maritime security through coordinated patrolling and aerial surveillance, exchange of information and capacity building; cooperation in combating terrorism in all its forms and enhance bilateral cooperation in spheres of piracy, terrorism, organized crime, drugs and human trafficking; cooperation in training and capacity building of Maldives Police Service and Maldives National Defence Force; promote bilateral trade and investment and closer economic cooperation in sectors like fisheries, tourism, transportation, connectivity, health, education, IT, energy and communications; need to reform UNGA and UNSC; Maldives' supports India's candidature for permanent membership of expanded UNSC and candidature for non-permanent seat in 2020-21; agreement on importance of combating impacts of climate change and cooperation to strengthen global response to climate change, through UNFCCC, and the Paris Agreement, and; need for strengthening and reforming multilateral financial institutions. As mentioned, China has indebted Maldives by some $3.2 billion.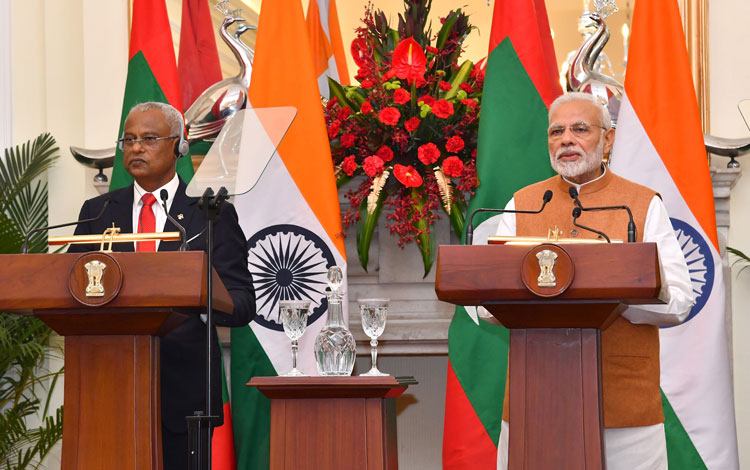 Prime Minister, Narendra Modi and President of Maldives, Ibrahim Mohamed Solih at the Joint Press Statement at Hyderabad House, New Delhi
Chinese firms are engaged in some 17 projects in Maldives; these financing mechanisms imply China gaining control of large areas of Maldives. IMF predicts Maldivian debt to reach 121per cent of GDP by 2020. Maldives' markets are flush with Chinese goods without import duty because of the FTA. Tourism accounts for 28per cent of Maldives' GDP and more than 60per cent of its foreign exchange receipts. Chinese tourists are the largest in number visiting Maldives, averaging over 300,000 annually (equaling 70per cent of Maldives' population) in comparison to around 60,000 Indian tourists annually. China will continue to exert pressure at multiple levels to keep Maldives firmly in its clutches; diplomatically, economically, even attempt breaking the fragile opposition unity through political warfare.
India needs to assess public expectations in Maldives and export high-quality consumer products accordingly. During the third edition of the Maldives Investment Forum at New Delhi in November 2016, Indian industry had sought a bilateral investment promotion and protection treaty with the Maldives in backdrop of abrupt termination of a major international contract with GMR Infrastructure Ltd four years ago. Such an agreement is essential to encourage Indian industry investments in Maldives. At the same time, should our public sector take up projects in Maldives, we must ensure timely completion, record for which in foreign lands has been rather poor. India should also engage US to invest in Maldives, under its investment project in Asia parallel to China's BRI. We must also bear in mind that radicalization is on the rise in Maldives and former President Yameen enjoys radical support. Solih government has seized $6.5 million from Yameen in a corruption case but he would wait his turn to return to power with support from China, Pakistan and Saudi Arabia. The need is of sustained engagement at multiple levels in conjunction strategic partnerships.