| | |
| --- | --- |
| | The Author is Former Director General of Information Systems and A Special Forces Veteran, Indian Army |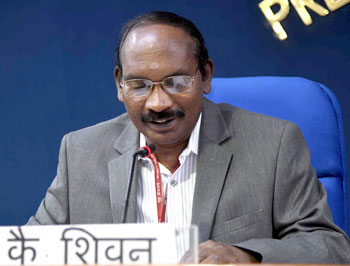 K. Sivan, Chairman, ISRO
Speaking to the media on November 26, ISRO Chairman K. Sivan stated ISRO recently discussed a proposal with the Kerala government to set up a space museum in Thiruvananthapuram, to which the state government responded positively and even allotted land for the purpose. Sivan had proposed establishment of the 'The Dr Kalam Knowledge Centre', named after former President A.P.J. Abdul Kalam in the Kerala State capital under the space museums program that are to come up across India, including in Delhi. Sivan had met Chief Minister of Kerala to hand over a cheque of Rs 2.7 crore for flood relief on behalf of ISRO. During the meeting, the CM proposed setting up a space technology park in Thiruvananthapuram. Sivan also said that the space museums that will come across the country will put up on display satellites, rockets and models of various space assets, and will also organise different programmes in order to educate and inform people about space technologies.
The Kerala Government proposal for setting up a space technology park envisages much more than just a space museum, its aim being to act as a hub for manufacturing small satellites and rocket equipment. Proposed near ISRO's Vikram Sarabhai State Centre, it will give ISRO the advantage of easy and greater access to rockets and small satellites being manufactured in the park. The park will also help ISRO promote R&D in space technologies. ISRO is currently busy setting up six incubation centres as also six research centres across the country as part of expanding its base and giving a platform to youth interested in space research, entrepreneurs, startups and private industry. ISRO also has some 20 space centres across India specialising in various areas of space technologies. The announcement of setting up of space museums across India comes like a breath of fresh air amidst the infructuous and enormous amounts of tax payers money being wasted in the country on whims and fancies of vote-hungry politicians while huge segment of population are battling hunger, malnutrition, access to drinking water, medicines, education and the like. The Chief Minister of Telangana has spent crores of rupees for a new residence for himself, even getting his toilet bulletproof. Following the recent installation of the 'Statue of Unity', the fever to have other statues of big heights has gripped the country. Now, Chief Minister of Andhra Pradesh has announced that the proposed building for the State Assembly in Amravati will be taller than the 182 metre tall Statue of Unity. How one wishes, ISRO could find an propagate a cure for madness of such politicians through mind control as part of its Telemedicine application of space technology that has been connecting remote/rural/medical college hospitals and Mobile Units through indigenous satellites to major specialty hospitals in cities and towns since 2001; the network covering states/regions including J&K, Andaman & Nicobar Islands, Lakshadweep Islands, North Eastern States, other mainland states and all tribal areas. The Development and Educational Communication Unit (DECU) unit of ISRO started a Continued Medical Education (CME) program in 2014; allowing doctors and medical professionals interact and keep abreast with latest medicinal developments. There are 119 telemedicine nodes across India with central hub in Bengaluru - one teacher node and balance student nodes.
In 2016 it was reported that materials and mechanisms used on Indian rockets have been tweaked by ISRO to make a device which some describe as a step towards the making of an 'artificial heart' that assists the human heart to pump blood especially in cases where the left ventricle, the most powerful part of a human heart, starts to fail. This heart-assist device had been tested on animals and found to be successful. ISRO scientists made this heart pump as a spinoff technology development; cardiologists are naturally excited with this development as it offers a lease of life to terminally-ill patients especially since heart transplant remains out of reach for most. So ISRO is not just about satellites and rockets in space but is making terrific contributions to the society at large. In fact in May 2015, then ISRO Chief had told media that more than 1600 technologies developed by ISRO as byproducts of space technologies had revolutionised lives of the common man and more innovations were coming up with new missions. The 1600 plus technologies that ISRO helped alleviate life of the common man, include MRI machines and the mega-pixel cameras. Sometimes a key innovation does not come from a new technology, but from application of existing technology in ways that offer cost and performance benefits unforeseen earlier. The mega-pixel cameras used in cell-phones was designed for space photography. The MRI machine was developed for moon observation during the Apollo Mission. Velcro used in bags, shoes and purses were popularised to bind equipment in zero gravity solutions. These are aspects of ISRO contributing significantly to the development and rise of India that most may be unaware of. These must be part of the proposed space museums to holistically ignite the fire of space research in the youth of India.