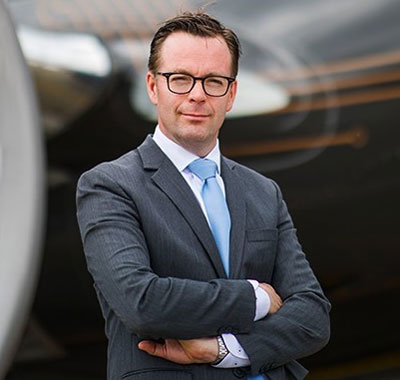 AT THE HELM: ARJAN MEIJER HAS RECENTLY TAKEN OVER AS PRESIDENT & CEO OF EMBRAER COMMERCIAL AVIATION
Following the appointment of Arjan Meijer as President & CEO of Embraer's Commercial Aviation business in June, Embraer is making a number of key leadership appointments in its global commercial team.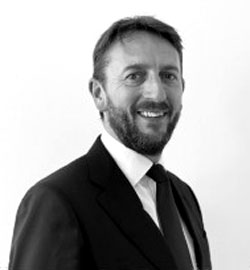 MARTYN HOLMES APPOINTED AS CHIEF
COMMERCIAL OFFICER, EMBRAER
COMMERCIAL AVIATION
Martyn Holmes has been appointed Chief Commercial Officer of Embraer's commercial unit. Martyn, who joined the company in 2012, is moving on from his previous role, as Vice President for Europe, Russia and Central Asia. Martyn will continue to be based in Amsterdam at Embraer's EMEA head office, and will report to President & CEO, Arjan Meijer. Previously with a major engine manufacturer, Martyn has over 20 years' experience in the aviation business. In support of Martyn's new role, there are also three new appointments at the regional level.
Cesar Pereira, has been appointed Vice President of Europe, Middle East and Africa (EMEA), Embraer Commercial Aviation, relocating from Singapore to the Amsterdam office. Cesar has held a number of senior roles in market intelligence, product development and sales engineering during his 17 year career at Embraer.
Raul Villaron moves on from his role as Vice President Middle East and Africa to Singapore, as Vice President Asia Pacific, looking after Embraer's Commercial Aviation for the Asia Pacific region (not including China). Raul has been with Embraer for 15 years, and prior to this current appointment was the Marketing Director for the EMEA region. Guo Qing remains as the Vice President of China for Embraer Commercial Aviation.
Mark Neely has been appointed Vice President of The Americas for Embraer Commercial Aviation. In this role, Mark will cover both continents of the Americas from his base in the United Sates. Mark has been with Embraer for 10 years and was the Regional Vice President of Sales in North America.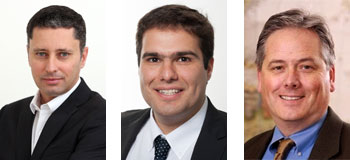 (LEFT TO RIGHT) CESAR PEREIRA TAKES OVER AS VICE PRESIDENT, EUROPE, MIDDLE EAST AND AFRICA (EMEA); RAUL VILLARON BECOMES VICE PRESIDENT, ASIA PACIFIC AND MARK NEELY IS THE NEW VICE PRESIDENT, AMERICAS
"These moves are part of Embraer's strategy to better harness and cross-pollinate our global experience and work closer with our customers and partners as we all navigate these challenging times", said Arjan Meijer, President & CEO of Embraer's Commercial Aviation.
Martyn Holmes, CCO Embraer Commercial Aviation, said, "We have a diverse and first-rate sales team across the world led by experienced operatives. Embraer's E-Jets and E2 family of aircraft are very well positioned to provide airlines with flexibility, and competitive edge as we emerge from this global crisis. In fact despite these unprecedented times we are still seeing real opportunities in the market for E-Jets and the E2 the most efficient and environmentally sustainable single-aisle aircraft available."
In another consolidation within the Commercial Aviation business unit, Simon Newitt will add the asset management responsibility to his current role becoming, Vice President, Contracts & Asset Management, Embraer Commercial Aviation also reporting to Arjan Meijer.
Arjan Meijer added, "after many years of delivering success for Embraer, Reinaldo Krugner, Charlie Hillis and Paulo Estevâo de Carvalho Tullio have decided to look for new opportunities outside Embraer. We thank them for their dedication and contributions to Embraer, and wish them all the best."
Embraer is the world's leading manufacturer of commercial aircraft up to 150 seats with more than 100 customers from all over the world. For the E-Jets program alone, Embraer has logged more than 1,900 orders and 1,600 aircraft have been delivered. Today, E-Jets are flying in the fleet of more than 80 customers in some 50 countries. The versatile 70 to 150-seat family is flying with low-cost airlines as well as with regional and mainline carriers.