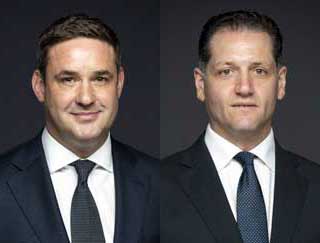 L-R: Chris Edwards and Alessandro Scarpellini
Gulfstream Aerospace Corp. today announced it has expanded its European sales team with the addition of two new regional vice presidents.
Chris Edwards was recently appointed regional vice president of Sales for Northern Europe, covering the United Kingdom, Ireland, the Netherlands and Scandinavia. Edwards brings to Gulfstream 14 years of experience in the aviation industry and has held positions at NetJets Europe, Hawker Beechcraft in the Asia-Pacific region and Embraer Executive Jets in Europe and Asia Pacific. He is also a former Royal Air Force pilot.
Alessandro Scarpellini has been named regional vice president of Sales for Southern Europe, including Switzerland. Prior to joining Gulfstream, Scarpellini was director of sales for Embraer Executive Jets in Africa and Western Europe. Before joining the business-aviation industry, Scarpellini worked in the oil and gas sector. He also served as the personal assistant to an Italian prime minister.
Edwards and Scarpellini report to Trevor Esling, Gulfstream's senior regional vice president of Sales for Europe, the Middle East, Africa and the Indian subcontinent. Edwards is based at Gulfstream's London Sales and Design Center, and Scarpellini is based in Rimini, Italy.