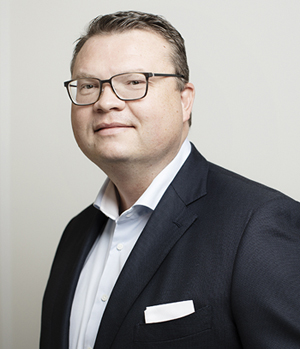 Martin Friis-Petersen
On 1st January 2019, Martin Friis-Petersen (45) will take on the role of Senior Vice President MRO Programs at MTU Aero Engines, heading up the sales and marketing organization for MTU Maintenance. He takes over from Leo Koppers (60), who is retiring after 16 years with MTU.
"We are extremely grateful to Leo Koppers for his great skill and personal dedication. In the time he has been with MTU, he has been the go-to expert for MRO, well-known and respected among key industry players and highly regarded by customers and colleagues alike," says Michael Schreyögg, Chief Program Officer, MTU Aero Engines. During Koppers tenure, MTU Maintenance's yearly sales volume has tripled and many key campaigns have been won. "Leo has been a remarkable leader and, as a talented salesman bringing in around 25 billion in deals, a tremendous asset to the company. Together with his team he set major cornerstones for the future growth of our MRO business. We wish Leo the very best for his retirement years."
Koppers successor, Martin Friis-Petersen, has been the Managing Director of MTU Maintenance Lease Services B.V. since 2014. Friis-Petersen joined MTU in 1999 and has held various leadership roles throughout the company, including as Chief Financial Officer of MTU Maintenance Zhuhai and SVP MRO Operations at MTU Maintenance Hannover. "We are delighted that Martin Friis-Petersen will be following in the footsteps of Leo as SVP MRO Programs. He has demonstrated a strong ability to build and grow business, create innovative solutions in anticipation of market needs, and put customers in the center of all he does. Through this experience and a total of over 20 years in the aviation industry, we are confident he will help MTU's MRO division realize the next stage of growth," Schreyögg adds.
Friis-Petersen's successor at MTU Maintenance Lease Services B.V. will be Andrea Lübke, currently Vice President of Purchasing at MTU Maintenance, who will also take on the new role from 1st January.
MTU Maintenance is the largest independent MRO provider worldwide and specialized in creating customized solutions for aero engines. In 2017, MTU Maintenance secured over 3.7 billion US dollars in contract wins and signed around 270 new contracts. The company operates a global network with facilities in the Americas, Asia and Europe. Around 4,500 employees from over 60 nationalities provide customers with a wide range of service solutions encompasses all aspects of engine MRO, asset management and leasing. With over 30 engines in its portfolio, MTU Maintenance has performed more than 19,000 shop visits in nearly 40 years.