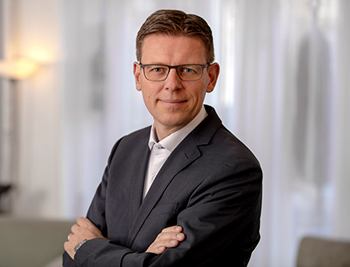 Jes Munk Hansen will be new President & CEO of Terma
At present, Jes Munk Hansen holds a position as CEO for Osram USA and Head of Osram Global Sales Function. He joined the Osram Group in 2013. Osram is a global leader within semiconductor-based light solutions, primarily for the car and electronics industries. In Osram, he has held a number of executive posts, including CEO for the Americas region.
During 2015-2017, he was CEO of Ledvance, an Osram spin-off which was established as an independent company as a consequence of the development within LED lighting. The company comprises the entire supply chain from development and production to sales and marketing and had at the time of establishment 9,000 employees, sales in 120 countries, and an annual revenue of approx. EUR 2 billion.
Before joining Osram, Jes Munk Hansen served 13 years in Grundfos, initially as Director, Group eBusiness. The following six years, he was Group Senior Vice President and globally responsible for the business unit Dosing and Disinfection. In 2008, he became President and CEO of Grundfos North America where he led the establishment of a local R&D center and the acquisition of several companies.
Jes Munk Hansen holds a Master of Science in Forestry from Copenhagen University (1995) and an MBA from London Business School (1997).
Chairman of the Board of Directors in Terma A/S Flemming H. Tomdrup says:
"With Jes Munk Hansen, Terma will have a President & CEO with great experience within the establishment and development of global technology-based companies. Based on his commercial, technological, and management experience, he has the professional and personal background needed to secure Terma's continued growth and development."
About his reasons for selecting Terma, Jes Munk Hansen says: "I have followed Terma for many years and have always been impressed with the company and its approach to technology development. I see a significant growth potential and an exciting match between Terma's future and my professional experience."
Jes Munk Hansen (50) holds a U.S. and Danish citizenship. He and his family will relocate to Denmark when he takes up his new position in Terma.
He will join Terma on 1 April 2019 and become President & CEO on 1 June 2019 when Jens Maaløe leaves Terma at the end of May 2019.