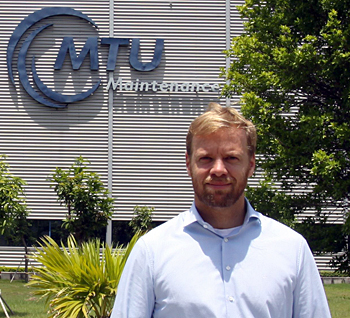 On 1st July 2018, Jaap Beijer (40) became the General Manager of MTU Maintenance Zhuhai. The company is a 50/50 joint venture between MTU Aero Engines, Ger-many's leading aero engine manufacturer, and China Southern Air Holding Company Limited, China's largest airline group. He joins the MTU subsidiary from his role as Senior Vice President Aftermarket IAE AG, following Frank Bodenhage (49), who will be taking on a new role within the MTU Maintenance organization as a Senior Vice President in Hannover, supporting the expansion of MTU's global footprint.
"We heartily thank Frank Bodenhage for his six year tenure. In that time, MTU Maintenance Zhuhai has more than doubled in revenue and workload, surpassed the 1,000th shop visit mile-stone for both the CFM56 and V2500 engine families in which it is specialized, and cemented its position as number one engine MRO provider in China. We wish him every success in his new role," says Michael Schreyögg, Chief Program Officer, MTU Aero Engines.
Schreyögg continues: "We are also delighted to welcome Jaap Beijer to the helm of MTU Maintenance Zhuhai. He comes on board at an exciting time. We are currently expanding the facility by 50 percent and want to become the number one engine MRO in the Asian region, where we are already number two by number of shop visits."
MTU Maintenance Zhuhai is located in Zhuhai's free trade zone and benefits from its proximity to Hong Kong, Guangzhou, Shenzhen and Macao. Service teams can be dispatched to the customers in the region in no time. The Zhuhai shop has an advanced machinery and performs 80% of parts re-pairs in-house. MTU Maintenance Zhuhai serves customers from China, Asia and around the world and has completed over 2,400 shop visits in nearly 17 years of operation. In addition to China Southern, the facility serves over 70 customers, including International Aero Engines, Saudia Airlines and All Nippon Airways, as well as Chinese Shenzhen Airlines, Xiamen Airlines and Hainan Airlines. Last year, over 50 percent of the engines sent in for a shop visit came from airlines based outside of China. The company employs a workforce of around 850 qualified professionals.