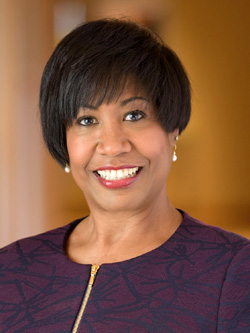 The board of directors of Raytheon Company (NYSE: RTN) has elected Adriane M. Brown as a director, effective immediately.
Brown, 59, has held positions of increasing responsibility over the course of her distinguished 34-year career, leading aerospace, automotive, electronics and technology companies.
"Adriane is an accomplished executive who brings a wealth of business and technology expertise to our board," said Thomas A. Kennedy, Raytheon's chairman and CEO. "She has broad international experience across a variety of industries and we welcome her insights as we continue to position Raytheon as a global defense and cybersecurity leader."
Brown was previously president and chief operating officer of Intellectual Ventures, LLC. Before that, she was senior vice president of Energy Strategy at Honeywell International Inc. and held a series of other senior positions, including president and CEO, Transportation Systems, during her 10 years with the company.
Prior to Honeywell, Brown spent 20 years at Corning, ultimately serving as vice president and general manager of the Environmental Products Division.
Brown serves on the board of directors of eBay and Allergan. She is also on the board of the Pacific Science Center, whose mission is to inspire lifelong interest in science, technology, engineering and math; and Jobs for America's Graduates, the nation's leading drop-out prevention program.
Brown received both a Bachelor of Science in Environmental Health and a Ph.D. in Humane Letters from Old Dominion University. Brown was also a Sloan Fellow at the Massachusetts Institute of Technology, where she earned a Master of Science degree in Management.