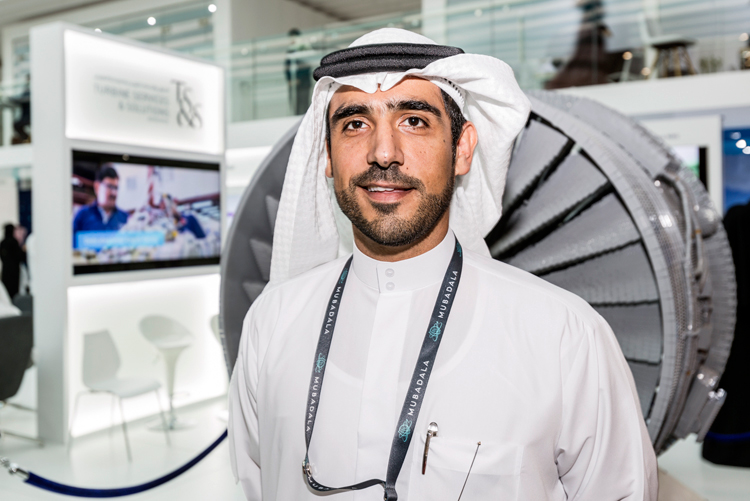 Mubadala, the Abu Dhabi strategic investment fund, today announced that Mansoor Janahi has been appointed Deputy Chief Executive Officer (CEO) of its wholly-owned business, Turbine Services & Solutions Group (TS&S), a specialized solutions, maintenance, repair and overhaul (MRO) provider for aircraft and industrial engines.
The new Deputy CEO will work closely with the TS&S executive team to ensure the Abu Dhabi-based aerospace business remains at the forefront of offering integrated solutions to an international network of industry partners while supporting the emirate's vision to become an established global aerospace hub.
"Mansoor brings a wealth of experience to his new role at TS&S, a premier MRO and services business that is a crucial part of Abu Dhabi's industrial ecosystem," said Khaled Abdulla Al Qubaisi, CEO of Mubadala's Aerospace, Renewables and ICT platform. "He has made impactful contributions to the development and management of our aerospace portfolio for nearly a decade, and with his exceptional leadership skills and strategic capabilities, I am confident that he will excel in his new capacity as Deputy CEO."
The appointment came on the sidelines of Dubai Airshow, where Mubadala's Aerospace division recently announced partnerships with Honeywell and IBM to collaborate on maintenance, repair and overhaul of aerospace products across the Middle East. Mansoor will be taking forward the agreements that include the regional Auxiliary Power Unit (APU) Centre of Excellence and predictive technology that is set to transform MRO servicing as we know it. In addition, the Deputy CEO will have access to Mubadala's renewed research and development (R&D) investment fund of AED 82.5 million announced only yesterday, to accelerate business growth through innovation for TS&S.
Badr Al-Olama, Director of Mubadala's Aerospace Division stated: "The UAE's aerospace industry is poised to reach new heights through emerging transformative solutions, and I am positive Mansoor will propel our business into new strategic directions. Mansoor joins a distinguished cadre of top Emirati talent that leads many of Mubadala's key businesses. His appointment reflects Mubadala's commitment to providing top-tier career opportunities for UAE nationals across the aerospace sector."
During his tenure with Mubadala as Vice President, Janahi has spearheaded business development and asset management activities for several leading aerospace initiatives, including, most recently, the Strata-Solvay Joint Venture. He sits on the Senior Management Board of the Aerospace Research and Innovation Center at Khalifa University.
Commenting on the announcement, Janahi said: "It is an honor to be contributing towards the next phase of growth at TS&S. Building on recent successes, I look forward to building on our global partnerships with GE, Rolls-Royce and International Aero-Engines, and together with our talented workforce, elevating our position in the global aerospace industry."
TS&S CEO Abdul Khaliq Saeed will work closely with Janahi over the coming months as the former completes his transition to the CEO role of Etihad Airways Engineering.
During ADIPEC this week, TS&S announced the successful delivery of the first full-life overhaul 50,000-hour service on a Siemens Industrial Trent (SGT-A65TR) gas turbine, which marks the very first completion of this type of service, and cements TS&S' standing as a world-renowned center for skilled turbine repair services in the UAE, and broader Middle East.