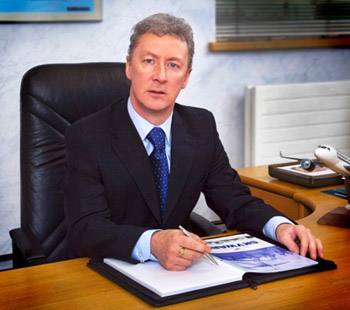 Bombardier Inc. today announced the appointment of Michael Ryan as President, Aerostructures and Engineering Services; effective July 1, 2017. Mr. Ryan, who previously served as Vice President and General Manager of Bombardier's Belfast Aerostructures facility, will succeed Jean Séguin who is retiring after a very successful 36-year career with Bombardier. Mr. Ryan will report directly to Alain Bellemare, President and Chief Executive Officer, Bombardier Inc.
"I am very pleased to announce Michael's appointment to Bombardier's senior leadership team," said Mr. Bellemare. "His strong leadership skills, deep experience in the aerospace industry and track record of execution make him the right choice to lead Bombardier's Aerostructures business as we continue to transform our Company."
Michael Ryan joined Bombardier through the acquisition of Short Brothers plc in 1989, and has held a number of leadership positions including General Manager, Advanced Composites Production, General Manager, Fabrications and General Manager, Procurement for Bombardier Aerospace. In his most recent position as Vice President and General Manager of Bombardier's Belfast facility, Mr. Ryan supported the design, development and production ramp-up of some of Bombardier's largest growth programs.
Jean Séguin retires after a long and successful career with Bombardier. In addition to playing a key role in supporting the Company's turnaround plan by improving productivity and reducing costs in our Aerostructures operations, Mr. Séguin was integral in the development of many of Bombardier's most successful programs.
"Jean has been instrumental in transforming Bombardier's product portfolio and improving the efficiency of our operations," Bellemare said. "His leadership and vision has helped to position Bombardier as a world leader in both the commercial and business aircraft markets. I thank Jean for his many contributions to Bombardier, and wish him a healthy, happy and long retirement."