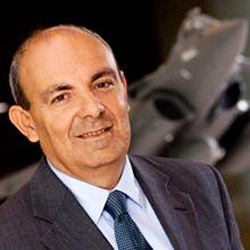 ASD is pleased to announce the appointment of Mr Eric Trappier, the French Chairman and Chief Executive Officer (CEO) of Dassault Aviation, as President of the AeroSpace and Defence Industries Association of Europe (ASD).
Mr Trappier brings a long track record and experience as an industry executive. With an engineering degree from Paris' Sud Telecom, Eric Trappier joined Dassault Aviation after graduation and spent most of his career in the defence sector of the French manufacturer. Before assuming the position of Chairman and CEO, Eric Trappier led Dassault Aviation's international activities for many years. He also has been serving as Vice-President of the ASD Board since 2015. With such experience, he is well placed to take now the lead at ASD.
Commenting on his appointment, Mr Trappier said: "I'm delighted to take on the mantle of ASD President. ASD shall be an association to gather European industry in the field of aeronautics, defence and security, in order to promote high technology development in Europe, contributing to strategic autonomy. Industry is the economic power of Europe in a new globalised world. Our business is a major contributor in job creation. I want the association to be the focus for elaborating our future in Europe. I would like also to thank Mauro Moretti for his great work as former President of ASD."