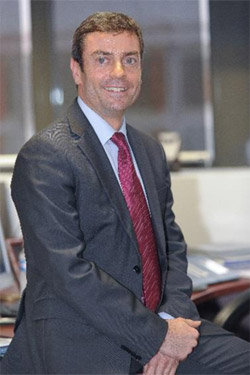 Philippe Couteaux was named Vice President, Sales & Marketing at Safran Aircraft Engines, effective February 1, 2017. He replaces Gaël Méheust who was named President and Chief Executive Officer of CFM International on the same date.
Philippe Couteaux started his career with Safran in 1987 as an engineer at Messier-Bugatti*. He first worked on landing gear, then in sales & marketing for braking systems. In 1994 he participated in the creation of the French-British company Messier-Dowty*. Based at company headquarters in England, he was first placed in charge of marketing and strategy, then, in 1997, in charge of sales and programs.
He moved to Snecma** in 2000 as head of testing, then head of industrial development for space engines. In 2003, he was named head of large commercial engines programs in the Commercial Engines division. In 2006, Philippe Couteaux moved to Turbomeca*** as head of business development, trade, sales administration and program management.
He was appointed Senior Vice President at the company in 2008, in charge of relations with aircraft manufacturers, subsequently managing the company's strategy and development, especially in emerging markets.
At the end of 2015, Philippe Couteaux moved to Safran Nacelles as head of Support and Services, while at the same time acting as Vice President for Strategy and Development.
Philippe Couteaux, 54, holds degrees from the Ecole Spéciale de Travaux Publics and the Ecole Supérieure des Techniques Aérospatiales engineering schools.
* Messier-Bugatti and Messier-Dowty became Messier-Bugatti-Dowty en 2011, then Safran Landing Systems en 2016.
** Snecma was renamed Safran Aircraft Engines in 2016.
*** Turbomeca was renamed Safran Helicopter Engines in 2016.