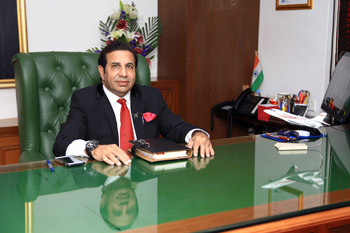 CLUB ONE AIR (COA), one of India's leading Business Aviation Company and the leader in the luxury charter services will now be headed by Mr. Rajan Mehra, who joins them as Chief Operating Officer (COO). Prior joining COA Rajan was the MD, Indian Subcontinent of Universal weather and Aviation Company, a US based leader in the business aviation sector.
In his new role, Rajan will bring a wealth of rich experience, knowledge and expertise in almost all facets of the business aviation in COA. Rajan has played leadership role in Airport Management & Operations, Marketing, Corporate Strategy, Network Planning, Start-ups & Launches and government relations in some of the world's leading airlines. In addition, he played a key role in the launch and business set up of Qatar Airways, Finnair and Asiana Airlines in India.
His multi- faceted skill and his role in these launches earned him "The most versatile Aviation Professional of the decade" award from the honorable Minister of Tourism, Shri Sultan Ahmed at the fifth Annual Aviation & Tourism Award ceremony in New Delhi in October 2009.
Commenting on his new responsibility Rajan said, "It gives immense pleasure to join this prestigious company. We will bring about some great innovations and initiations in positioning CLUB ONE AIR to new heights."
Rajan has been a sought Speaker at several National and International forums, seminars and conferences on Aviation issues. He has also contributed to several publications on aviation matters, and is on the "Aviation experts" panel of several TV Channels.
Rajan holds an MBA in Aviation systems & Managements from the University of Pennsylvania, USA and a degree in English Literature from Delhi University.