Jean-Christophe Gallagher named Vice President and General Manager of the Customer Experience team
Andy Nureddin named Vice President, Customer Support and Training
Peter Likoray named Senior Vice President, Sales and Marketing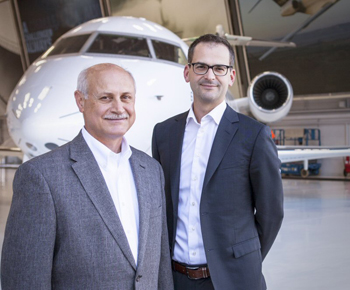 Left to right: Andy Nureddin, Vice President, Customer Support and Training; Jean-Christophe Gallagher, Vice President and General Manager, Customer Experience
Bombardier Business Aircraft today announced strategic changes to its leadership team and organizational structure. The changes, which take effect immediately, are designed to optimize functional alignment and strengthen the company's customer experience.
Jean-Christophe Gallagher, formerly Vice President, Strategy, Marketing and Innovation, has been named Vice President and General Manager, Customer Experience. Mr. Gallagher brings his proven insight and marketing leadership skills to an already strong and highly experienced Customer Services and Support team. He will report to David Coleal, President, Bombardier Business Aircraft.
Andy Nureddin, a knowledgeable leader and the long-time face of customer support at Bombardier Business Aircraft, has been appointed Vice President, Customer Support and Training, reporting to Mr. Gallagher. Mr. Nureddin will be responsible for all aspects of customer support, including warranty administration, worldwide field support and customer care, technical publications and technical services, as well as the Business Aircraft training centres.
Mr. Gallagher and Mr. Nureddin will work closely together to build stronger relationships with customers, increase customer satisfaction and loyalty and accelerate the growth of the company's aftermarket business.
"Our customers are at the heart of everything we do and these changes will allow us to maintain a sharper focus on their needs and further enhance our overall services offering," said Mr. Gallagher. "I look forward to working with Andy and the rest of the team to create an exceptional experience for Bombardier Business Aircraft customers."
Peter Likoray, formerly Senior Vice President, Sales, was named Senior Vice President of the newly combined Sales and Marketing organizations. Mr. Likoray is an accomplished sales leader and, under his stewardship, the Sales and Marketing team will build on its new synergy to grow and capitalize on sales opportunities for Bombardier's market-leading business aircraft. Mr. Likoray will continue to report to David Coleal.