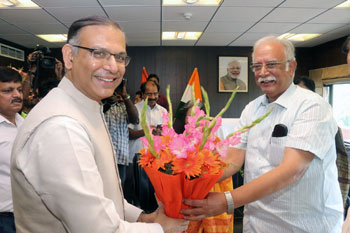 The Union Minister for Civil Aviation, Shri Ashok Gajapathi Raju Pusapati greeting the Minister of State for Civil Aviation, Shri Jayant Sinha as he assumes his office, in New Delhi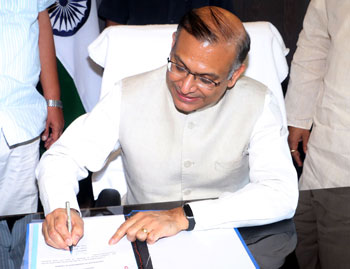 Jayant Sinha takes charge as Minister of State for Civil Aviation
Jayant Sinha took charge as Minister of State in the Civil Aviation Ministry today. Shri Sinha is the BJP MP from Hazaribagh constituency in Jharkhand. He was elected to the Lok Sabha in May 2014. He was a Member of Parliament's Committee on Subordinate Legislation and Standing Committee on Finance from 1st September 2014 to 9th November, 2014. He took over as Union Minister of State for Finance on 9th November 2014, and remained in the position till yesterday, the 5th July 2016.
Shri Jayant Sinha was born in Giridih in Jharkhand, on 21st April 1963 to Shri Yashwant Sinha and Smt Nilima Sinha. He was Educated at I.I.T., Delhi, University of Pennsylvania and Harvard Business School and has a B. Tech degree with Distinction, in Chemical Engineering, an M.Sc. in Energy Management and Policy, and an M.B.A, also with Distinction.
By profession Shri Sinha is Venture Capital Management Consultant and Hedge Fund Manager. He is a global expert on entrepreneurship and technology. He has published articles in leading magazines (Harvard Business Review, Business Today, etc); and newspapers (Financial Times, Economic Times, etc).
Shri Jayant Sinha is married to Smt Punita Sinha and has two sons. Apart from his professional work he holds active interest in tennis, writing (articles, movie scripts) and social work. Reading and sports are his favourite pastimes. Lived in the USA for about twenty years (in Philadelphia and Boston).