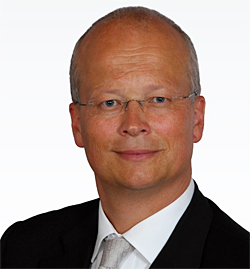 Nico Buchholz, Senior Vice President and Chief Procurement Officer (CPO), Bombardier Inc
Today, Bombardier Inc. announced the appointment of Nico Buchholz as Senior Vice President and Chief Procurement Officer (CPO). In this new position, Mr. Buchholz will lead the Corporation's supply chain activities and closely manage relations with suppliers across the global value chain. With his team, he will ensure that goods and services purchased by Bombardier's four business segments meet the highest standards in terms of quality, on-time delivery and cost-efficiency. Mr. Buchholz will report directly to Alain Bellemare, President and Chief Executive Officer.
"Nico Buchholz is the perfect fit for the CPO role given his unique talent for strategic planning and execution as well as his deep understanding of aerospace and the industrial sector," said Mr. Bellemare. "His impressive track record as Lufthansa Group's fleet manager shows that Nico has both the forward-looking vision and the operational and practical know-how that Bombardier needs to increase its competitiveness. Strategic sourcing is key to achieving best-in-class performance. Our new Chief Procurement Officer will develop a company-wide approach, structure and clear actionable plans to make it happen."
Prior to joining Bombardier, Mr. Buchholz spent 14 years at Lufthansa, first as Senior Vice President, Corporate Fleet and then as Executive Vice President, Fleet Management, Lufthansa Group. In this second role, he managed a portfolio of approximately 700 aircraft, was responsible for fleet planning, commercial and technical evaluation, procurement of airframes and engines, specifications, accounting and disposition of used aircraft for all airlines within the Group. He notably led the purchase of a large fleet of wide-body aircraft in 2013, representing the biggest single private-sector investment in the history of German industry.
Previously, Nico Buchholz was Head of Customer Business and Marketing (civil, corporate and military) at Rolls-Royce, where he managed several strategic accounts, including Bombardier, Dassault and Gulfstream. Prior to that, he worked for Airbus for nearly ten years, initially as Senior Engineer, Product Marketing and later as Regional Director, Sales for Europe.
Mr. Buchholz holds degrees in Aeronautical Engineering (aircraft design, operation and flight simulation) from the Technical University of Berlin and in Air Transport Management from Cranfield University in the United Kingdom. He is currently a visiting professor at several European universities.