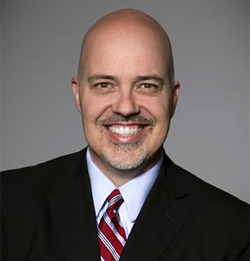 Gulfstream Aerospace Corp. today announced that Derek Zimmerman, vice president, Customer Support and Materials, will succeed Mark Burns as president of Gulfstream's Product Support organization when Burns becomes president of Gulfstream on July 1.
Zimmerman joined Gulfstream in 2011 as vice president of Product Support Materials, where he oversaw parts distribution and the materials supply chain. In 2014, he was named vice president of Customer Support, directing a group that comprises Material Services, Publications, the Computerized Maintenance Program, Customer Relations, Field Service and Technical Operations.
"Derek has an impressive aviation background combined with a wealth of customer service experience, making him ideally suited to lead the largest product support organization in business aviation," Burns said. "He has repeatedly demonstrated his commitment to our customers and to ensuring the continued growth and enhancement of the Gulfstream Product Support network for their benefit."
Prior to joining Gulfstream, Zimmerman was vice president of Supply Chain and Aftermarket Development at Piper Aircraft in Vero Beach, Florida. Zimmerman earned a bachelor's degree in international operations from the University of Minnesota in Minneapolis and a master's degree in business administration from Auburn University in Auburn, Alabama.
Zimmerman's promotion prompts other changes within the Product Support organization. Barry Russell, formerly the vice president of East Coast and International Operations, will become the vice president of Worldwide Service Center Operations. Mitchell Choquette, formerly the director of Customer Support and Field Service, will be promoted to vice president, Customer Support. Joseph Rivera, formerly the general manager of the Savannah Service Center, will be vice president, Savannah Service Center Operations.
Russell, a 37-year Gulfstream veteran, will oversee operations at Gulfstream's 11 company-owned service centers, with a goal of creating a consistent service center experience. Russell previously oversaw Gulfstream service centers in Savannah; Brunswick, Georgia; Westfield, Massachusetts; West Palm Beach, Florida; Luton, England; Sorocaba, Brazil; and Beijing. Before that, Russell served as vice president of Customer Support for nearly six years. He has also been vice president/general manager of Gulfstream's facilities in Long Beach, California, and Brunswick.
Russell earned a bachelor's degree in professional aeronautics from Embry-Riddle Aeronautical University in Daytona Beach, Florida, and has master's degrees in business administration from California Coast University in Santa Ana, California, and theology from Fundamental Baptist Bible College in Long Beach, California. He also has an airframe and powerplant (A&P) license.
A nearly 40-year aviation veteran, Choquette joined Gulfstream in 1996 as a Technical Operations systems specialist. He was promoted to manager and then director of Technical Services before becoming director, Customer Support, in 2005 and director, Customer Support and Field Service in 2013. In that role, Choquette was responsible for Technical Operations, Field Service and Over-the-Counter Parts Sales. He provided technical assistance, spare parts and logistics support to Gulfstream customers around the world.
Before coming to Gulfstream, Choquette, a licensed A&P mechanic, held various maintenance roles aircraft technician, chief of aircraft maintenance and chief inspector with a number of companies. He also served as an aircraft technician in the U.S. Marine Corps from 1977-1981.
Rivera has been the general manager of Gulfstream's Savannah Service Center, the largest purpose-built maintenance facility in business aviation, since 2014. Before that he was Gulfstream's director of International Operations. In his new role, Rivera is responsible for the day-to-day operations at the nearly 700,000-square-foot/65,032-square-meter service center.
Rivera's 34-year aviation career includes more than six years with Bombardier as general manager of its Tucson, Arizona, and Fort Lauderdale, Florida, service centers after working nearly nine years with Gulfstream. He earned bachelor's and master's degrees in professional aeronautics and management, respectively, from Embry-Riddle Aeronautical University. Rivera is a licensed A&P mechanic and an authorized aircraft inspector.