In India a long term vision on how to develop civil aircraft manufacturing industry is sadly lacking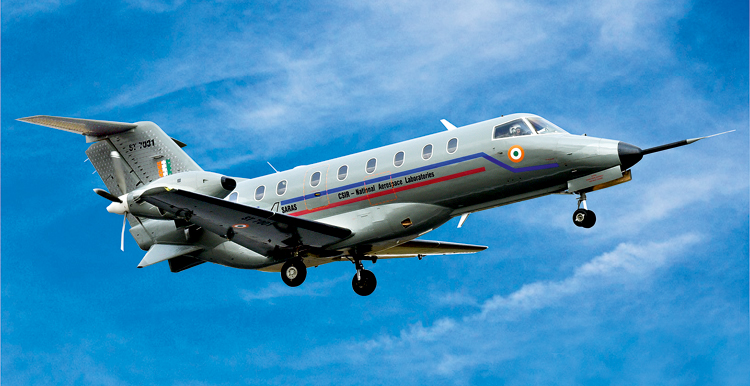 NAL's 19-seater improved version, Saras, has completed its second of 20 air-test profiles on February 23, 2018
India, has been immensely successful in space technology, but has still not made a significant leap in the civil aerospace market. India is having a long history of dual use aircraft manufacturing under licence production but has not been able to build indigenous aircraft of 9 seat turboprop for commuter service, forget about 19-90 seat aircraft used by civil aviation sector. The National Aeronautical Laboratory (NAL) did build and flight test a passenger aircraft, Saras, but the crash on March 6, 2009, killed the entire flight testing crew on board. In January 2016, it was reported that the project has been cancelled, but in February 2017, the project was revived. Saras, a 19-seater improved version, has now completed its second of 20 air-test profiles on February 23, 2018, before freezing its production version which is expected to be completed by June-July 2018. The national civil aircraft development (NCAD) programme, which was started in 1991 collapsed when Russia which was aiding India with the aircraft design, dropped out of the project. After an estimated expenditure of about 1,000 crore over 20 years, the project came to a complete halt after India was hit by US sanctions in 1998 for testing the nuclear bomb. We need to manufacture our own aircraft for civil aviation sector, because a made in India airplane would cut down the cost of travel for Indians. India civil aviation companies are paying every year Leasing fees and for purchase of aircraft's manufactured in other countries. It will also slash the country's ballooning imports and will add an important item to its exports list.
THRUST AIRCRAFT PVT LTD, TAC-003
The hot news in the last few months was an aircraft built by Amol Yadav of Thrust Aircraft Pvt Ltd, which was given a registration certificate by the Directorate General of Civil Aviation (DGCA). The six-seater aircraft received DGCA registration certification, VT-NMD, on November 20, 2017, but is yet to acquire a flying licence from the safety body. The Maharashtra government signed a Memorandum of Understanding (MoU) with Thrust Aircraft Pvt Ltd to manufacture 19-seater planes at Palghar in Dahanu. According to the MoU, the government will allot 157 acres of land in Palghar to set up aircraft manufacturing unit to build at least one 19-seater aircraft by the end of 2018. In the coming six years, the company expects an investment of 35,000 crore in the aerospace sector in the state through the aircraft manufacturing unit. This would be invested by small and medium scale operators who would want their aircraft to be manufactured in the state. Officials said the MoU with Thrust Aircraft is the first step towards an indigenous aircraft manufacturing company in the state and want to make many more Amols from this initiative. Thrust Aircraft Private Limited is the first company in India to propose manufacturing of aircraft as the main goal of a company. They have built a made in India aircraft which is an experimental type. Company has indicated that all the said norms in the DGCA policy and AAI directed sections/schedules have been followed while manufacturing this aircraft.
There is wide scepticism over the project. Aviation experts suggest that the Maharashtra government's decision to sign the MoU seems to be taken in haste as a similar opportunity should have been given to other entrepreneurs as the sole purpose of 'Make in India' is to encourage maximum participation from young minds. There are set international aviation body guidelines that need to be followed before finalising the product. The government seems to have given green signal to the project without a detailed analysis and the process involved in this activity. The time lines at best can be stated as very optimistic.
DGCA LETHARGY
Amol Yadav of Thrust Aircraft Pvt Ltd, had applied to register his six-seater plane under the experimental aircraft category in 2011 with DGCA. In 2014, DGCA arbitrarily deleted the entire set of regulations making it impossible for anyone building experimental aircraft to apply for the same. The new rules allow only planes manufactured by companies to fly. One revised provision stipulates the maximum weight of a new aircraft should not exceed 1,500 kg, just below the 1,600 kg Yadav mentioned in his application. This is unusual because in countries that encourage aircraft manufacturing such as the US, there are no weight restrictions. The DGCA also states in several places that aircraft should be built as per minimum standards, without specifying what those norms are.
THE CIVIL AIRCRAFT MANUFAC TURING INDUSTRY MUST ALWAYS BE SUPPORTED BY THE GOVERNMENT
The DGCA has been entrusted with the responsibilities of continuing airworthiness functions related to registration of aircraft, certificate of airworthiness and approval of organisations engaged in manufacture and maintenance of aircraft. It is stuck in the traditional operational mould and not waking up to the reality that in the 'Make in India' there will be players entering into the design and manufacture of aircraft as prototypes or experimental aircraft. The DGCA must align its organisation, thought process and skill sets to regulate this particular activity. Centre for Military Airworthiness and Certification (CEMILAC) has been in this field and has very clearly defined SOPs and regulations for design, development, production, flight testing of the aircraft and their systems. The design houses, producers and testers are CEMILAC approved to ensure the safety of design and flight. Exchange of information and knowledge including skilled expertise needs to be proactively considered by DGCA with CEMILAC formally to regulate the design and developmental activity of civil aircraft in India. DGCA role in this activity requires it to have more teeth and an organisational change is necessary. The Government of India was planning to replace the organisation with a Civil Aviation Authority (CAA), modelled on the lines of the American Federal Aviation Administration (FAA) as an autonomous regulatory body. This was expected to redefine the regulator's role and better equip it to face the challenges of the growing Aviation sector in the country. However, the Civil Aviation Authority of India Bill, 2013, though wanting in many aspects has been dropped by the present government. The bill needs to be revisited and strengthened to include the design and development of civil aircraft in the country.
MAHINDRA AEROSPACE, AIRVAN 10
Meanwhile, Mahindra Aerospace,10-seater turboprop plane Airvan 10 powered by Rolls-Royce M250, has been awarded its FAR 23 type certificate from the Australian Civil Aviation Safety Authority, which was followed by the US Type Certificate being issued by the Federal Aviation Administration. FAR 23 type certification is for small aircraft. The company, Australia's Gipps Aero, which is part of diversified Mahindra group, has indicated that the certification would help expand its existing markets. The first aircraft is expected to be delivered in 2018 itself and there has been a significant demand for such aircraft in expanding general aviation turboprop market.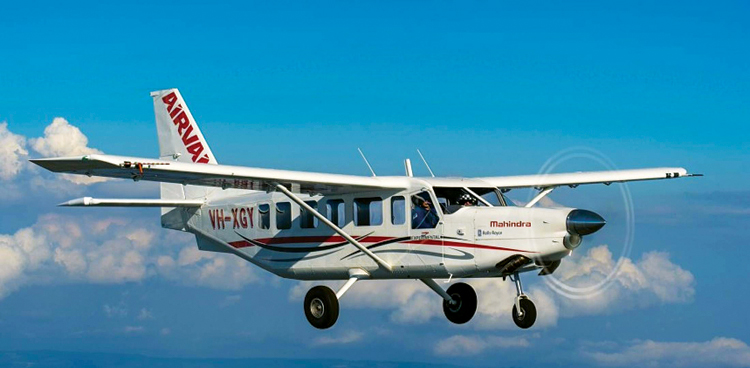 Mahindra's Airvan 10
Mahindra plans to sell planes built by its Australian facility to Indian customers and may also consider manufacturing the planes in India if sales pick up. The next step could be to make in India. Why these plane continues to be made in Australia? The standard of CASA (Australian aviation regulator) is quite proactive and CASA has a reciprocal arrangement with FAA (US aviation regulator) in the US, which has a reciprocal arrangement with Europe. And therefore, it makes sense if you have approvals in Australia to continue assembling in Australia. Aircraft certifications are tough to get and without them, it's difficult to find buyers. Gipps Aero's, Airvan is designed for single-pilot operation. However, DGCA insists that planes above 1,500 kg must have two pilots for commercial flights. Therefore, the cockpit needs to be redesigned and re-certified if Mahindra wants to sell these aircraft in India. For private use, they can still fly, but they have to change the design and give provision for two pilots if they want clearance for commercial operations. They will have to first get approval from CASA and then by DGCA.
Type Acceptance of Turbocharged Airvan 8 has been accorded by DGCA on May 19, 2018. Customers in India can now choose between the 300 HP Airvan 8 NA (Normally Aspirated) or 320 HP Airvan 8 TC (Turbocharged). Mahindra Aerospace had received a FAR 23 type certificate from Australia's Civil Aviation Safety Authority for its Airvan 10 last year. Airvan 10 is the turbocharged version of the Airvan 8. The Airvan 10 is powered by a Rolls-Royce 250 B-17, which produces 450-shaft horsepower. Now since the company's Airvan 8 has received type acceptance certificate from DGCA it will allow Mahindra to make this aircraft operational in India.
THE TATA GROUP
The Tata group is keen to make planes in India, venturing into an area where Indian companies have traditionally not done well. The Tata group has four joint ventures, with American Lockheed Martin Corp, RUAG Aviation, Sikorsky Aircraft Corp and Pilatus Aircraft Ltd. Tata Advanced Systems Limited (TASL) now has the capability to build an entire aircraft structure and is making parts of aircraft and wishes to send an aircraft out of India in a so-called fly-away condition over the next few years.
With a base in Hyderabad, Tata is making Pilatus PC-12, Dornier 228, the main tail and fuselage parts of the Lockheed Martin C-130J Super Hercules turboprop military transport aircraft, and Sirkosky helicopter cabins. Tata makes two empennages (tail assembly) for the Lockheed Martin C-130 as the sole supplier to Lockheed Martin for this empennage. Tatas have partnered with Airbus for the Avro replacement project. The Ministry of Defence is currently processing the case, and if Tata is cleared to make cargo planes, its next step could be passenger jets. In the private sector, Tata is ahead of others in the aviation sector and is doing more value addition and complex work. But having said that, right now no company in the private sector is ready to make a full plane. The Tata group can always have a tie-up for avionics and engine like the foreign aircraft makers and enter into the aircraft manufacture at some point soon.
HINDUSTAN AERONAUTICS LTD, DORNIER 228
The DGCA has cleared Hindustan Aeronautics Ltd (HAL) manufactured Dornier 228 to be used for civilian flights in regional routes. It has been developed specifically to meet the requirements of utility and commuter transport, third level services and air-taxi operations, coast guard duties and maritime surveillance. The non-pressurised plane has maximum cruise speed of 428 kmph with a range of 700 km and is capable of night flying. Till now, the 19-seater aircraft has only been used by the defence forces. It will soon be the first plane to be made in the country for commercial flights. After DGCA certification, HAL can now sell this plane to airlines in India for use under government's ambitious UDAN scheme. Some special incentives may be given to operators using this plane in India. HAL may also look at selling this plane for civil use in neighbouring countries such as Nepal and Sri Lanka. HAL's 'transport aircraft division' in Kanpur has commenced manufacture of the civil variant of Dornier 228 aircraft as per the HAL website.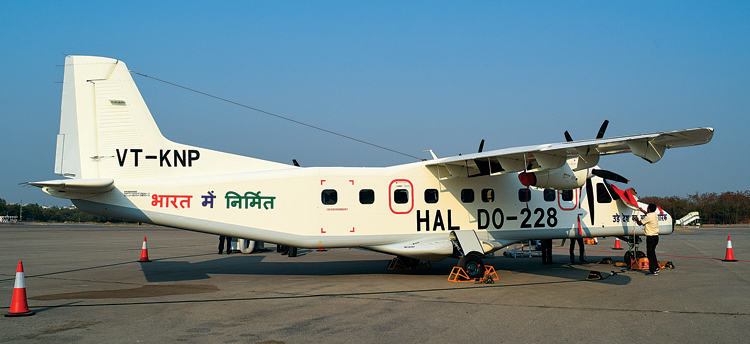 HAL manufactured civil variant of Dornier 228 aircraft
RELIANCE DEFENCE
Reliance Defence had signed an agreement with the Ukraine based state corporation Antonov to cooperate on dual version transport aircraft for military, para military and commercial use in India which will manufacture 50-80 seater passenger aircraft in India. The Plan of action was a 51:49 joint venture between Reliance and Antonov which would initially start assembling aircraft with completely knocked down (CKD) units at its aerospace park in Nagpur, coming up at 6,500 crore, and complete the indigenisation over the next 15-20 years. It appears to be a non-starter as of now.
SUCCESS FACTORS IN CIVIL AIRCRAFT MANUFACTURE
Brazil and China succeeded in Aviation Sector only due to initial government support and privatisation. In case of China, a focus on indigenous home production since 1970 with taxation regime which enforces aircraft manufacturers to assemble their aircraft's in China for their domestic orders. Aircraft assembly of large aircraft's in China gave confidence and know-how of aircraft manufacturing which enabled China to launch ARJ21, Comac C919 and MA 60. However, India is placed far behind China and Brazil in civil aircraft manufacture primarily because of being mostly associated with HAL manufactured Aircraft's like HS 748 / Do 228 under licence production and without transfer of technology. HAL being government agency has been mostly associated with military hardware manufacturer, never had a considered approach for domestic civil aviation requirement and with no private participation.
The aircraft industry must always be supported by the government. In India a long term vision on how to develop this industry is sadly lacking. One the one hand we want HAL to develop civilian aircraft and (on the other), the Tata group is seeking to replace the Avro. You can't have large number of people in this business, it has to be a consolidated country effort and driven by the government to make the UDAN connectivity through 'Make in India' aircraft.