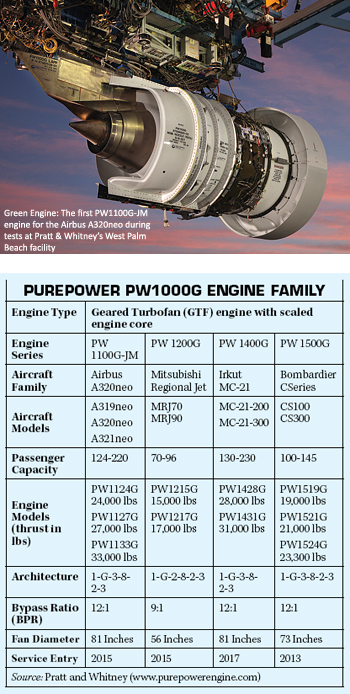 With its path-breaking technology and maintenance cost advantage combined with higher efficiency and more than 3,000 firm orders, the GTF engine is likely to be a game changer, a winner and an engine of choice for the decades ahead
Airlines all over the world have been facing unprecedented economic challenges with the rising cost of aviation turbine fuel (ATF) constituting more than 40 per cent of their operating expenses. Also, there has been tremendous pressure to induct the technologies that would effectively reduce the environmental impact of emission and noise. Therefore, in addition to operational strategies by the airlines to address these challenges, there have been industry initiatives in developing lighter, quieter, more fuel-efficient and environment-friendly aircraft engines. Pratt & Whitney has taken on this challenge with the PurePower geared turbofan (GTF) engines that claim not only higher fuel efficiency, better fuel burn and environmental benefits but also lower life-cycle costs.
Around 1998, Pratt & Whitney upgraded its PW6000 to PW8000 by replacing the fan section with a gear system and new single-stage fan. However, PW8000 was discontinued in favour of using the PW6000 turbo machinery with a new gearbox and a single-stage fan. This further evolved into the geared turbofan programme. Subsequently, in July 2008, the GTF was renamed as PW1000G. This engine was tested on the Boeing 747SP with the second phase of flight testing on Airbus A340-600. While the testing of the PW1524G variant began in October 2010, the PW1500G was type certified in February 2013 by Transport Canada.
Till about three years ago, no one was giving any credence to Pratt & Whitney's GTF engines, with industry analysts describing the technology as unworkable. But with Bombardier and Mitsubishi reposing faith in the technology which lowers fuel burn and operating cost, perspectives across the industry have changed radically. PurePower has now been selected as an exclusive engine for the Bombardier CSeries, Mitsubishi Regional Jet, Embraer's second generation E-Jets as well as an option on the Irkut MS-21 and Airbus A320neo.
As per the company, the PurePower PW1000G GTF engine provides 16 per cent improvement in fuel burn and carbon emissions over conventional engines. Also, along with reduced maintenance costs, the noise level of the PW1000G GTF engine compared to other engines of comparable performance is lower by 50 per cent. As the phrase "geared turbofan" suggests, the promised efficiency is made possible by a combination of a large quiet fan, and a fast and efficient turbine. PurePower PW1100G engine boasts of advanced aerodynamics, light-weight materials along with technological improvements in the high-pressure spool, low pressure turbine, combustors, controls, as well as in engine health monitoring. The company's PurePower PW 1100G-JM, which it classifies as its 'greenest engine', has been scheduled for introduction by Airbus in 2015 on its "neo" series of short- to mediumrange, narrow-body aircraft.
PurePower engines have a number of variants with the numbering scheme for each PW1000G engine model based on the historical Pratt & Whitney pattern. Whereas the first number represents the generation (1 or 1,000), the second number denotes the customer (1- Airbus, 2- Mitsubishi, 4- Irkut and 5- Bombardier). While the last two numbers indicate the thrust class (24 for 24,000 pounds of thrust), "G" stands for a geared turbofan. (See Table for a snapshot of the PW1000G engines along with their characteristics and aircraft model.)
The PW1100G-JM (Airbus)
This engine has been selected by Airbus for the A320neo aircraft. With superior operating efficiency along with higher fuel efficiency, noise reduction and lower CO2 and NOX emissions, this engine is expected to be a boon for Airbus. Since the engine has fewer stages, fewer parts and consequently the requirement for fewer component replacements, maintenance and operating costs will be lower. As brought out earlier, this engine offers 15 per cent lower fuel burn and reduction in CO2 emissions. With 50 per cent margin to CAEP/6 and 35 per cent margin to CAEP/8 meeting NOX emissions requirements, there is significant noise reduction due to 15dB margin to Stage IV noise requirements. Engine certification is scheduled in the fourth quarter of 2014 and the entry into service with A320neo is scheduled a year later. While PW1124G would power A319neo, the PW1127G and PW1133G engines would power the A320neo and A321neo respectively.
PurePower PW1200G (MRJ)
PW1200G with advanced 3D aerodynamics incorporates light-weight materials such as a composite fan case with technologically superior compressor, combustor and turbine including engine health monitoring system. It has now entered the validation and certification phase of the programme. With the first flight of the MRJ planned later this year, its entry into service is scheduled in the third quarter of 2015. While PW1215G engine shall power the MRJ70STD, MRJ70ER and MRJ70LR, power plants for the MRJ90STD, MRJ90ER and MRJ90LR would be the PW1217G.
PW1400G (Irkut MC-21)
The PW1400G engine selected for the Irkut MC-21 aircraft is scheduled to enter into service in 2017. This engine is also expected to deliver excellent fuel efficiency with 50 per cent noise reduction along with reduced CO2 and NOX emissions. The PW1400G engine will also have reduced engine operating costs and maintenance due to fewer stages and parts. While PW1428G engine will power the MC-21-200, the PW1431G engine is scheduled to be the power plant for the MC-21-300.
PurePower PW1500G (Bombardier)
The Bombardier CSeries is being powered by PW1500G engine, with planned entry into service in the fourth quarter of 2013. Pratt & Whitney claims that this engine would be exceptionally beneficial providing 20 per cent less fuel burn. While geared turbofan engine architecture reduces the number of stages and parts, there is a significant improvement in engine efficiency. With 20dB margin to Chapter IV noise together with high-efficiency components and advanced combustor technologies to reduce CO2 and NOX emissions, the engine is environmentally beneficial. While PW1519G, PW1521G & PW1524G engines would power CS100, the PW1521G & PW1524G would power the CS300.