Airlines in India have risen up to this increase in demand of cargo volumes and have requisitioned the services of Indian MROs to temporarily convert their aircraft from passenger to cargo/freighters
Heavy Maintenance at AIESL
The Novel Corona pandemic has had the greatest impact on the global economy in general and the aviation industry in particular. The global aviation industry is now limping back with some restrictions. Needless to say, that the global MRO industry has also taken a beating.
On March 24, 2020, the Government of India under Prime Minister Narendra Modi ordered a nationwide lockdown for 21 days, limiting movement of the entire 1.3 billion population of India as a preventive measure against the COVID-19 pandemic in India, bringing the country to a standstill.
At the time of the lockdown the Indian Aircraft Registry had a total of 690 aircraft on its books of various airlines. IndiGo fleet is the largest with a total of 274 aircraft, a mix of A320 family and ATRs, followed by the Indian national carrier with 155 aircraft consisting of Boeings, Airbus and ATRs, followed by SpiceJet with 109 aircraft consisting of Boeing 737s and Q400s.
With the Government launching its Vande Bharat Mission to evacuate Indian and other nationals stuck in various destination all over the world, Air India initially played a vital role and other airlines followed suit.
After a two-month long shutdown, domestic flights were allowed to resume operations in a staggered manner starting May 25, 2020. The Government put a restriction on the load to be carried by the Indian carriers at 30 per cent of their capacity. Now this restriction has been increased to 50 per cent of their capacity. However, in the initially, there were very few passengers traveling by air. This has somehow increased due to festive season.
GOVERNMENT SUPPORT FOR MRO
The year 2020 saw a few silver linings for the Aviation Industry, including MRO. First good news came for the industry on April 1, 2020 with the announcement of reduction of GST from the prevailing 18 per cent at that time on MRO services to five per cent. A tremendous boost to the Indian MRO industry, which was still not functioning due to the Lockdown.
Then came the announcement of the Finance Minister's statement on MRO. Nirmala Sitharaman said that the Government will take steps to make India MRO hub. She went on to say, "Tax regime for MRO ecosystem has been rationalised. India has all the capacities, manpower and soft skills required. Aircraft component repairs and airframe maintenance segment is worth around 800 crore and would increase to 2,000 crore in three years. Convergence between Defence sector and the civil MROs will be established to create economies of scale. This will lead to maintenance cost of airlines to come down."
This has given a great boost to the Indian MRO Industry. Subsequent to the FM's statement, a joint working group has been formed under the Joint Chairmanship of V.L. Kantha Rao, Additional Secretary (DP), Ministry of Defence, Vandana Aggarwal, Senior Economic Advisor, Ministry of Civil Aviation with six other members in order to establish convergence between Defence sector MRO and civil Aviation MRO operations. This group is working currently and very soon will give its recommendations to the Government.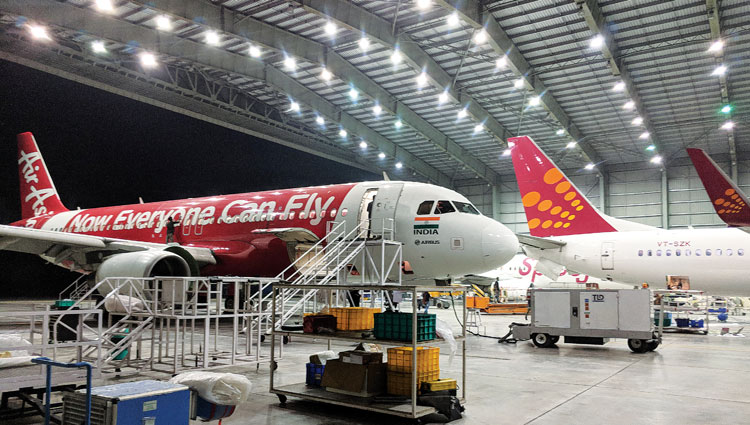 Air Works is India's largest, privately-owned, integrated provider of aviation services
Leasing of Aircraft, Aeroengines and Financing of aviation component has traditionally been very expensive as these are done from foreign lands. With active participation by Ministry of Civil Aviation and the industry stakeholders, on October 16, 2020, the Ministry of Finance, Department of Economic Affairs in an Extraordinary Notice sub-section (1) of section 3 of the International Financial Services Centres Authority Act, 2019 (50 of 2019), the Central Government has notified that aircraft lease which shall include operating and financial lease and any hybrid of operating and financial lease of aircraft or helicopter and engines of aircraft or helicopter or any other part thereof, as financial product. This a huge boost to the Indian aviation industry.
Indian companies which will enter into this field of leasefinancing are opening up their offices in the GIFT City located in Gandhi Nagar Gujarat. Changes to the tax regulations introduced by the Government will provide special incentive for foreign funds who choose to shift their base from Singapore or Mauritius to International Financial Services Centre (IFSC), Gift City.
NEW AVENUES FOR REVENUE
With the spurt in demand for carrying tonnes of medical supply by air around the world has given a new direction to the global airlines, including those in India too. Airlines in India have risen up to this demand of cargo volumes and have requisitioned the services of Indian MRO to temporarily converting their aircraft from passenger to cargo/freighters. This has opened up a new scope of work by Indian MROs and thereby creation of a revenue stream.
SpiceJet Technic, the engineering arm of SpiceJet, has taken on lease six Q400s and converted them to an all-cargo version for this new task. They have also converted five Boeing 737s. The airline recently announced it will soon induct its first Airbus A340 cargo aircraft in its freighters fleet. The induction of the first wide-body freighter will help the airline to primarily operate cargo flights on long-haul routes including to destinations in Europe, CIS and African region.
"The induction of our first wide-body cargo aircraft will be a huge game changer in our journey as the country's largest cargo operator," SpiceJet Chairman and Managing Director Ajay Singh said.
According to IndiGo Chief Executive Officer Ronojoy Dutta, the airline operated some international cargo flights early on during the lockdown period and the segment emerged as a "bright spot" for airline. The airline has converted ten aircraft in its fleet.
"We are looking at cargo even when we come back to full operations, should we do some all-cargo operations to international destinations because there are some channels that we have discovered and these are some strong niche markets. So, I expect cargo operations to do well in the future," Dutta said. The airline is reported to be in talks with Airbus to get dedicated freighters and create a cargo division in the airline.
LEVERAGING THE OPPORTUNITIES
According to study done by the author, the global pandemic has thrown open new avenues for business opportunities to the Indian MRO Industry and the third-party MROs in India have their hangars full with work.
The author is the Founder Secretary General of MRO Association of India.