Indian demand for 2,380 new jet aircraft worth $330 Billion projected, but no plans to shift assembly lines out of US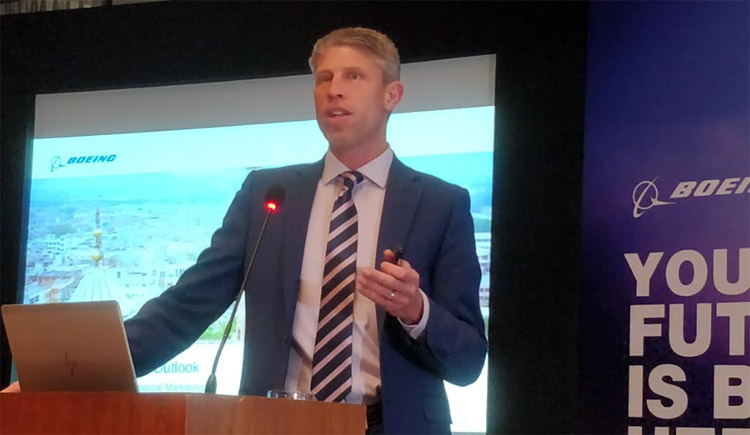 Boeing's Darren Hulst presenting India Commercial Market Outlook (CMO) in New Delhi on November 6
India will be a $ 770 Billion (54,67,365 Crore) market for civil aviation over the next 20 years, and drive a demand for 2,380 new jet aircraft, according to Boeing's Commercial Market Outlook (CMO) which was released in New Delhi on November 6.
Presenting a bullish forecast based on the current trend of India/South Asia being the fastest growing aviation market, Boeing's Darren Hulst said the 2,380 new commercial aircraft, besides replacing the existing fleet, would quadruple India's civil aviation fleet by the year 2038.
The projected demand for the new aircraft is valued at $330 Billion (23,43,319.9 Crore) while another $440 Billion (31,24,679.8 Crore) is expected to be spent on operating and maintaining this fleet.
Beyond India, the global commercial jet fleet is expected to double in size by 2038 as airlines will need 44,000 new airplanes valued at $6.8 Trillion, and demand more than $9 Trillion in aviation services, according to the Boeing forecast. All aircraft manufacturers globally produced 1,700 aircraft in 2018. The market outlook for 44,000 new airplanes over the next 20 years suggests an average demand for 2,200 annually, which will drive growth for the aircraft manufacturing Industry, Hulst, Boeing's Senior Managing Director Market Analysis & Sales Support (Commercial Airplanes), said.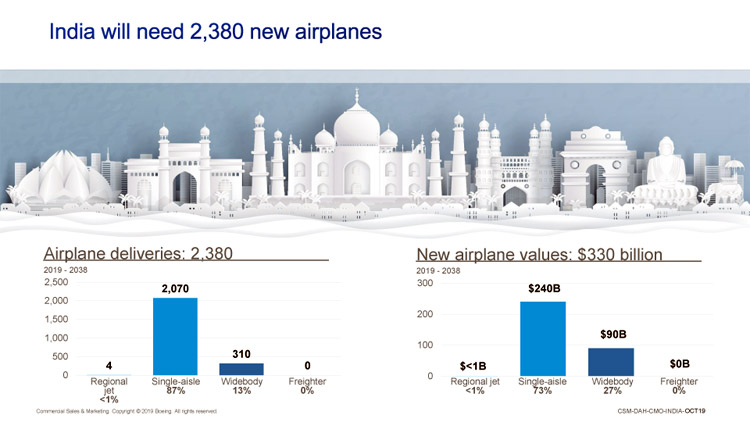 In India, single-aisles will drive the demand for aircraft - accounting for 87 per cent of all new requirements, or 2,070 aircraft - to meet requirements for domestic network connections and shorter-haul regional flights. Wide body airplanes will make up 13 per cent of new deliveries - or 310 aircraft - for long-haul flights.
"India drivers are more compelling than anywhere else," Hulst said, reeling off statistics to justify the optimism. At an anticipated 5 per cent growth rate, India is set to become a $50 Trillion economy by 2045, and will be the world's the world's third largest at that time. It will surpass China as the world's most populous nation by 2024, and will have 299 million middle-class households with an income of above $20,000 by 2028, which will fuel consumer demand.
Air Passenger traffic is growing by 8 per cent - which is double the global average. The number of Indian passengers has grown by 2.6 times in the last 10 years. There's a 400 per cent growth in weekly flights over the same period (4,501 weekly flights), and a 37 per cent growth in the number of airports (up to 111) on the civil aviation map.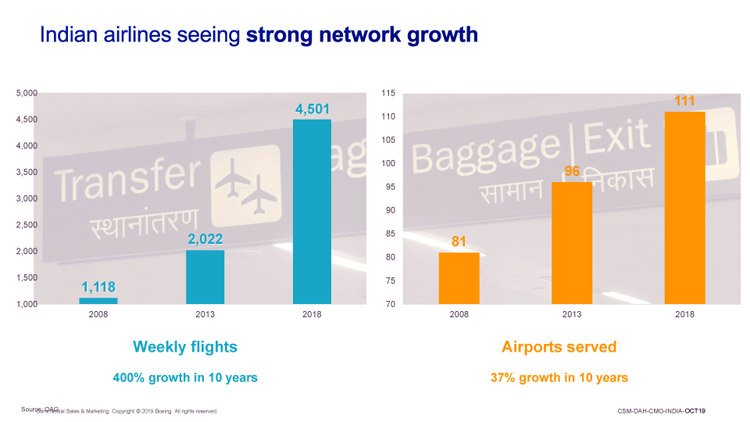 Since 2009, operations by Low Cost Carriers (LCC) have increased from 392 flights to 28 airports up to 2,380 flights to 54 airports. This reflects a six-fold increase in the number of flights by LCCs.
In the wide body, long-haul segment, there are now over 300 international city pairs from India, of which 30 new pairs have been added over the last one year.
"It is impressive to witness the passenger growth in India. This market continues to be one of the fastest-growing in the world. Over the past decade, domestic air traffic has tripled, while international air traffic has more than doubled. And we see tremendous potential for even more growth as India's middle class expands and more consumers are able to fly," said Hulst.
"In the next few years, we see commercial operators expanding their networks to offer more direct flights domestically and open new long-distance options for passengers." he added.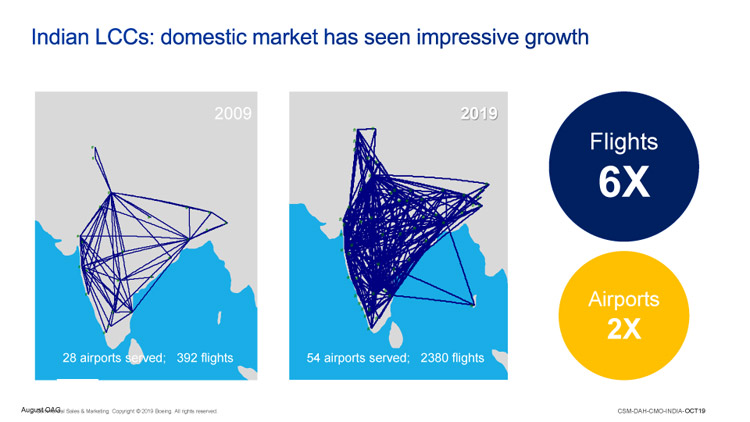 "To support this successful and continued growth of the aviation market in India, Boeing is committed to developing the Indian aerospace ecosystem," said Salil Gupte, president of Boeing India. "Our ongoing investments in India span across development of aerospace technology, innovation, production capacity, supply chain, aerospace skilling centres, manufacturing and modernization of airport infrastructure and airspace," added Gupte.
Significantly, there are no plans to set up a Boeing assembly line in the fastest growing market. "There's no roadmap to shift airframe assembly outside of the US," Gupte said in a response to a question by Jayant Baranwal, Editor-in-Chief of the SP Guide Group of Publications.