The certification of the SONACA 200: a strategic step for Sonaca Aircraft and a historic moment for Belgian aviation!
Sonaca Aircraft has been given EASA CS-VLA certification for the Sonaca 200
The delivery of the first SONACA 200 models is scheduled for September 2018
Two versions are available for sale: The Sonaca 200 Trainer & The Sonaca 200 Trainer Pro
Sonaca Aircraft is working on developing two new versions of the plane: UPRT and IFR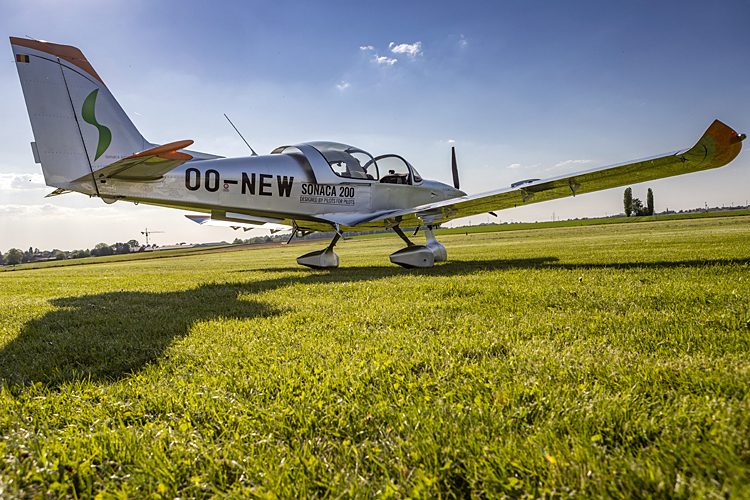 At the end of a three-year procedure¹, Sonaca Aircraft has just received the Type Certificate for the Sonaca 200 which certifies that the aircraft, by its type definition, perfectly meets the airworthiness technical characteristics. The technical characteristics and operational limitations are summarized in the "Type-Certificate Data Sheet" document.
"The Sonaca 200 certification application was filed in August 2015 and the Type Certificate was issued in just under three years after the initial filing. This is an exceptional performance. On behalf of the whole Sonaca Aircraft team, I would like to thank the EASA experts and particularly the DGAC for their advice and support throughout the certification project," said Harold van der Straten, CEO at Sonaca Aircraft.
Thanks to the Type certification, Sonaca Aircraft is now authorized to fly the Sonaca 200 under a European Airworthiness Certificate both in Europe and worldwide. "Naturally, this is a strategic step in the project as well as a symbolic moment for Belgium which had not produced a certified aircraft for several decades!" said Carl Mengdehl, Head of Design Organization and Co-Founder at Sonaca Aircraft.
Deliveries and models available for sale in 2018
The first Sonaca 200 deliveries will take place after the certification." As we had started industrial production several months ago, we will be ready to deliver the first 4 planes in September 2018 and a dozen planes by the end of the year," said Pierre Van Wetter, Chief Commercial Officer and Co-Founder at Sonaca Aircraft.
Two versions are currently available for sale: The Sonaca 200 Trainer for the analog version and the Sonaca 200 Trainer Pro for Glass Cockpit version.
"In the context of an increased demand for pilots by the airlines, we are faced with schools which need to replace and expand their existing fleet. In order to respond to this need, Sonaca Aircraft will have a brand new assembly hall starting next January, which will enable us to deliver over 80 aircraft per year. Not less than 40 aircraft will already be delivered in 2019," said Harold Van der Straten, CEO at Sonaca Aircraft.

¹ EASA Type Certification Application Date: 05 August 2015, EASA Type Certification Date: 12 June 2018.
New developments in progress
Sonaca Aircraft does not intend to stop with the first two versions of the Sonaca 200, the company is currently working on the certification of a utility version for "Upset Prevention and Recovery Training" (UPRT) training courses² as well as an IFR version³..