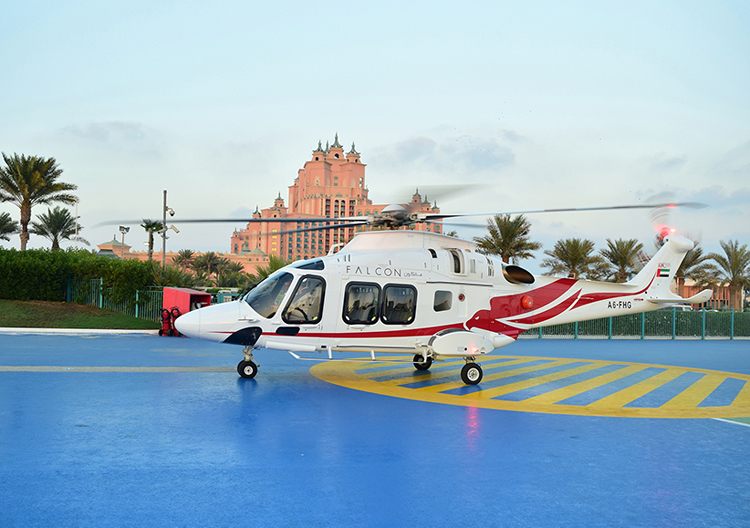 Falcon Aviation, the growing Abu Dhabi-based aviation services company, is marking its biggest ever presence at the Dubai Airshow this week. 12th to 16th November (Stand 1284). On the opening day of the Show the Company formally ratified an order for three additional new Leonardo AW169 helicopters, in readiness to start a significant new offshore contract from early 2018. The new aircraft will bolster Falcon Aviation's fleet of the type to five.
As a pioneer of the AW169 in the Middle East since 2016, Falcon Aviation has successfully logged 500 incident free hours with the popular multi-role Class I Performance medium category helicopter, flying private charters and in fulfilling offshore contract with oil company TOTAL. Falcon Aviation has quickly grown to become fleet leader in the offshore fraternity worldwide, flying 100 hours in the past month, reflecting an overall increase in helicopter flying following the launch of the Falcon Aviation managed heliport at Dubai DWC Airport this May.
Capt Raman Oberoi, COO of Falcon Aviation noted: "I am pleased to report that we have enjoyed an exceptional year in 2017 and I pay tribute to the team for their hard work and dedication. I foresee that 2018 will be an even stronger year with the expansion of activity in Dubai and in particular, expansion into new territories we look forward to confirming in due course. Dubai Airshow this week is therefore an important show and showcase for our capabilities, to meet our customers and partners and greet new friends, who may work with us in the future."
Three aircraft in the static park
Falcon will showcase both the AW169 in VIP configuration and one of its two multi-role 19-seat AW189 helicopters. Complementing the static line up is a Bombardier Q400 NG in Falcon Aviation colours. The latter will show outside Bombardier's chalet.
Falcon Aviation plans IS-BAH status for its Dubai DWC FBO
Falcon Aviation has been undertaking its own handling at its one year old FBO at Dubai South DWC, just as it does at its Al Bateen Executive Airport, Abu Dhabi HQ. And now with newly appointed FBO Manager Ahmad Badreddine who joins with aviation experience from a large international FBO brand, leading an 24-strong experienced team, Falcon Aviation will pursue recognised IS-BAH accreditation.
Ahmed Badreddine commented; "I am very pleased to join Falcon Aviation Services as FBO Manager. I believe with my experience and the talented team we can take the FBO forward and build up our customer base in GCC and beyond.'
Falcon Aviationis pleased to host Dubai Airshow guests at its FBO on13th, 14th and 15th November.
"We are very satisfied with our expansion in Dubai these past 12 months, building up a loyal and diverse customer base at our DWC FBO," Capt Raman added.More operators are coming to us for MRO and AOG line maintenance too as we build up that side of the business to mirror our expertise at Al Bateen." One of the company's biggest customers is Dubai-based Empire Aviation.
Most recently, Falcon Aviation has added the Pilatus PC-12, as exclusive maintenance provider to its capabilities, a relationship that will be expanded to the PC-24 light jet, says Nicolas Tejera, Director of Maintenance. Falcon Aviation is UAE launch customer of the aircraft and will introduce two to service in 2019.
Some 450 employees from 54 nationalities are helping Falcon Aviation realise its exciting expansion plans, which centre on a brand new 20,000sqm MRO hangar project taking shape in DWC,to be ready for the last quarter of 2018. Construction started earlier this year.
"Our whole ethos and focus is diversity," says Captain Raman. "We are unique in the aviation business, in the UAE and probably internationally, in offering such an extensive range of services. "He attributes the company's success to being quick to seize opportunities and also having the confidence and expertise to recommend enhancements in the pursuit of new contracts. Working with our suppliers and customers in close partnership is crucial to us.