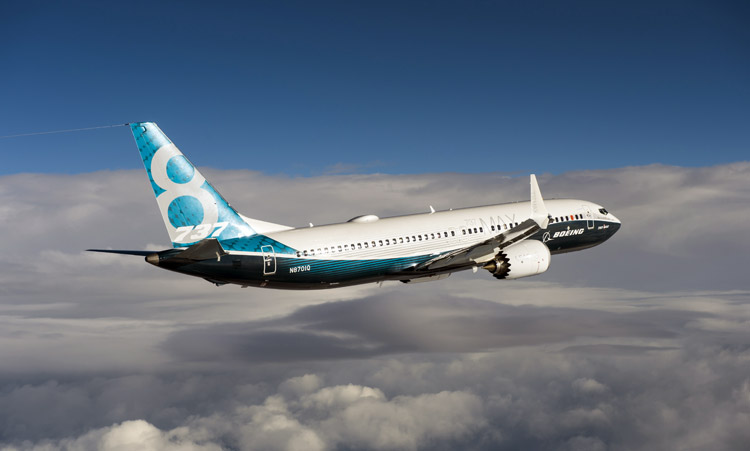 India joins the chorus across the world for modifications in the Boeing 737 Max series to set doubts about its airworthiness to rest before flying this aircraft again
India has joined the growing list of countries to not just ground the Boeing 737 Max aircraft but also bar the flight of these aircraft across their airspace. This follows the second catastrophic crash involving this variant in less than five months on March 10 in Ethiopia.
"Additionally no B737 Max aircraft will be allowed to enter or transit Indian airspace effective 1600hrs IST or 1030 UTC. The time line is to cater to situations where aircraft can be positioned at maintenance facilities & international flights can reach their destinations," India's Ministry of Civil Aviation announced on Twitter on March 13.
Earlier, in a late night Tweet on March 12, the Ministry announced the decision of its regulator, the Directorate-General of Civil Aviation (DGCA) to ground the Boeing 737-MAX planes immediately. These planes will be grounded till appropriate modifications and safety measures are undertaken to ensure their safe operations".
Spicejet and Jet Airways are the two Indian operators of the Boeing 737 Max. Jet had previously grounded its five 737 Max aircraft due to the financial crisis in the airline. Spicejet grounded its twelve aircraft from the Max fleet on Wednesday following the DGCA directive.
India joins Europe, China, Australia, Singapore, Indonesia in grounding the 737 Max amidst a growing chorus across the world calling for correctives before the aircraft can be put to flight again. The US has so far not taken this step.
India's action follows a directive by Civil Aviation Minister Suresh Prabhu to conduct a safety assessment of the Boeing 737 Max. "Directed officials of DGCA to undertake safety assessment of Boeing 737-MAX (being flown by domestic carriers). Safety of passengers is out utmost concern. Directed Secretary and DGCA to take appropriate action immediately," the Minister Tweeted on March 11.
While announcing the bar on the 737 Max, the Ministry of Civil Aviation reiterated the Minister's concern about passenger safety being a top priority.
"We continue to consult closely with regulators around the world, airlines and aircraft manufacturers to ensure passenger safety," the Ministry Tweeted.